Evonik enhances safe transport of hydrogen peroxide
Evonik has developed a container made of pure aluminum with a 220-litre capacity for the safe transport of highly concentrated hydrogen peroxide.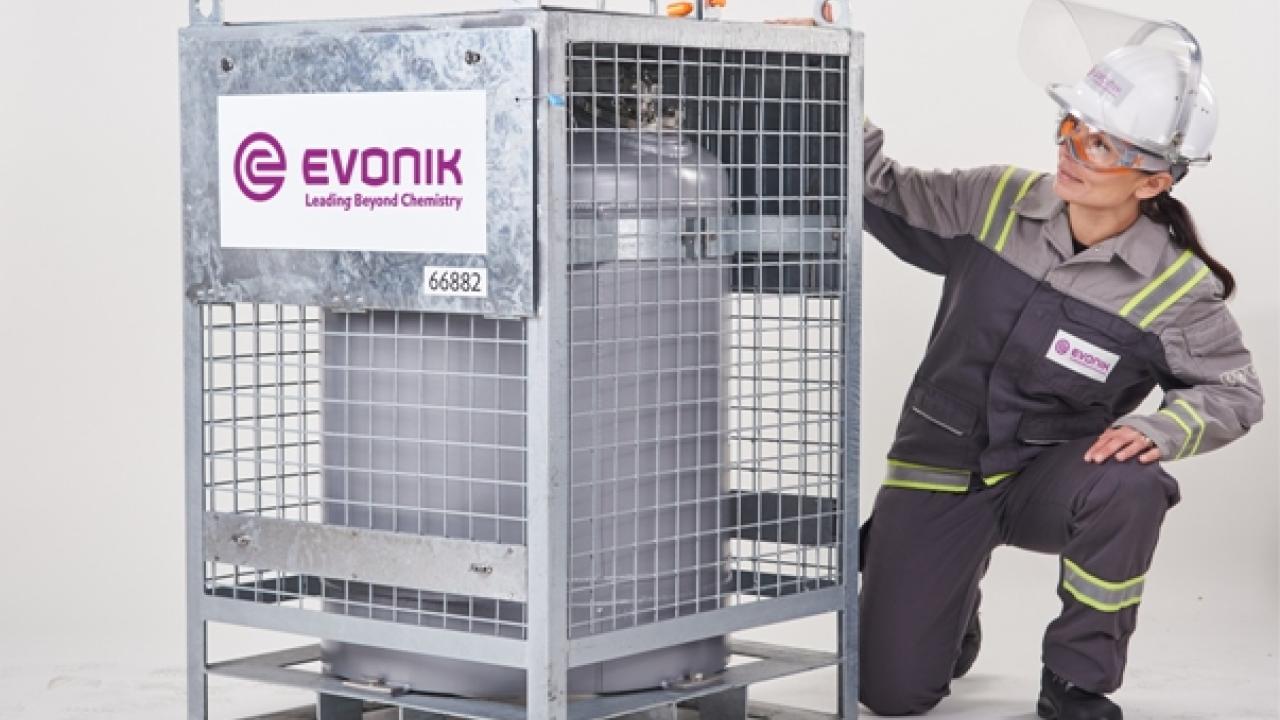 Image courtesy Evonik

With this patented container, the company is closing a logistical gap that had opened up in the safe delivery of highly concentrated hydrogen peroxide to customers in the aerospace industry: until this point, they could only select highly concentrated hydrogen peroxide from several very small containers with a capacity of up to 12.5 litres, or a tank container with 20 m3.

The decomposition properties of hydrogen peroxide mean that there are special safety requirements for transport and the containers used for this purpose, especially at high concentrations. "We searched internationally in early 2018 for an appropriate, approved transport container but were unable to find anything suitable," explains Anna Kunkel, Marketing Manager at Evonik. "We worked closely with a packaging specialist for designing new transport containers," says Kunkel.

The result is an aluminum transport container with a 220-litre capacity. The container is installed in a lattice box with protective steel frame to protect the actual container from damage during transport. The pure aluminum in the inner tank serves to ensure the quality of the hydrogen peroxide.

Thanks to a specially developed removal device, the hydrogen peroxide can be safely removed from the container by the customer.
Hydrogen peroxide in concentrations of 82.5% to 98% has been used as a propellant for rocket engines since the mid-20th century. With PROPULSE, Evonik is supplying a highly concentrated hydrogen peroxide for this purpose, which is more powerful and easier to handle in comparison with other fuels.

Over recent years, the dependence on satellites has increased tremendously and has had a decisive impact on our everyday lives: in satellite navigation, imaging, telecommunications, in trading goods and in science. The latest generations of small, flexible rockets also rely on high-concentrated hydrogen peroxide as a direct fuel.

"We see ourselves as far more than just a material supplier. This is why we consider it crucial to support our customers in overcoming their challenges," said Kunkel. Evonik therefore supports customers in a wide range of issues relating to the ground handling of hydrogen peroxide.

After utility model protection for the reusable container was granted in 2019, the publication of the international patent application followed in April 2021.

For small rocket operators in particular, this packaging represents a real solution to safely transport and store propellant quantities from 300 kg to 3,000 kg across the globe.

As required by law, the container developed by Evonik has been approved by the German Federal Institute for Materials Testing (BAM) for the global transport of high-concentrated hydrogen peroxide.

Stay up to date
Subscribe to the free Times Aerospace newsletter and receive the latest content every week. We'll never share your email address.