Commercial opportunities to be broadened across the UAE space-ecosystem
Bayanat, Yahsat and ICEYE have announced a comprehensive Space Programme.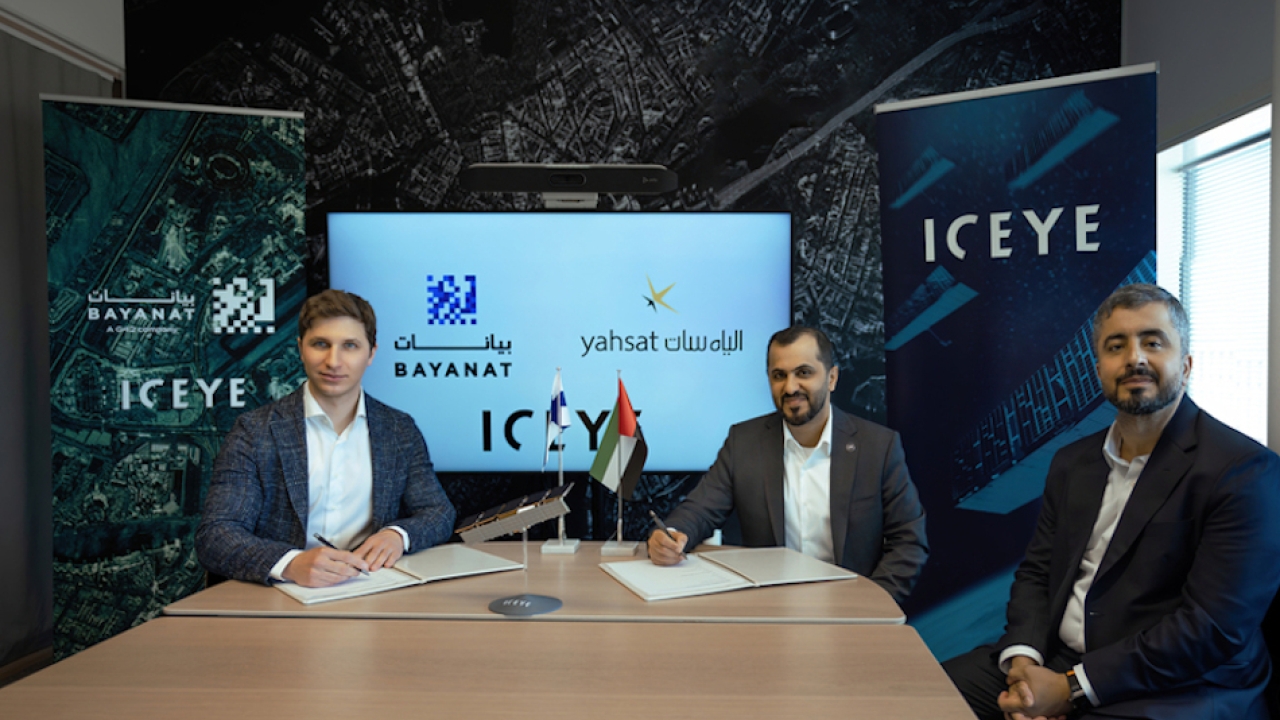 The programme is aimed at building national satellite remote sensing and Earth Observation (EO) capabilities within the UAE to commercially address business opportunities in the local and global EO market.
The programme forms part of the two companies' partnership with ICEYE, a renowned SAR satellite manufacturer based in Finland. The expansion of Bayanat's capabilities into the space sector positions the company to drive its growth strategy and become a prominent player in the industry.
SAR is an active sensing system that illuminates the Earth's surface and measures the reflected signal to generate high-resolution images. Unlike traditional optical imaging satellites, SAR can capture images day and night, regardless of weather conditions or solar illumination. Compared to other New Space SAR satellite services, ICEYE's radar antenna covers much larger geographical areas or, at the other end of the scale, provides higher resolution images of smaller areas.
Bayanat's programme aims to develop a constellation of at least five SAR low Earth orbit (LEO) satellites to provide a consistent data stream for end-to-end solutions for SAR applications. It will cover the entire value chain by leveraging the available synergies in Yahsat's upstream and midstream capabilities, including its leading satellite infrastructure as well as the wide spectrum of its rapidly growing satellite-enabled innovative solutions, and Bayanat's downstream capabilities such as advanced AI and data analytics and will significantly enhance Bayanat's commercial offerings by providing valuable geospatial insights to various industries in a timely and accurate manner.
The programme is a steppingstone towards realising a broader space-ecosystem in the UAE, including the development of in-country satellite manufacturing capabilities. It will deliver a range of strategic benefits for the nation, including access to sovereign SAR data acquisition, enhancing data privacy, and further building the nation's resident capabilities for space exploration. In addition, the program will fuel collaboration between vital strategic players in the UAE's space ecosystem, strengthen UAE's position in space technology and open new possibilities for Bayanat, Yahsat and the country's future space exploration endeavours.
Hasan AlHosani, CEO of Bayanat, said: "The launch of the first LEO satellite scheduled for Q1 2024 will significantly enhance Bayanat's existing offerings to provide more comprehensive and high-quality services to clients both locally and internationally. The partnership between Bayanat and Iceye, in collaboration with Yahsat, will drive the development of a sovereign EO ecosystem which will enable us to provide cutting-edge solutions, whilst contributing to skill development, scientific advancements, and sustained economic growth. We are excited to be at the forefront of this dynamic and rapidly evolving field and looking forward to developing a commercial space programme in the UAE."
Stay up to date
Subscribe to the free Times Aerospace newsletter and receive the latest content every week. We'll never share your email address.