Egypt grows its modern family
Egypt is continuing a major modernisation of its armed forces – and especially the air force. This has, in recent years, discarded its last F-4E Phantoms, Dassault Mirage 5s, and Chinese built F-7 'Fishbeds', and is replacing them with more modern fighter types.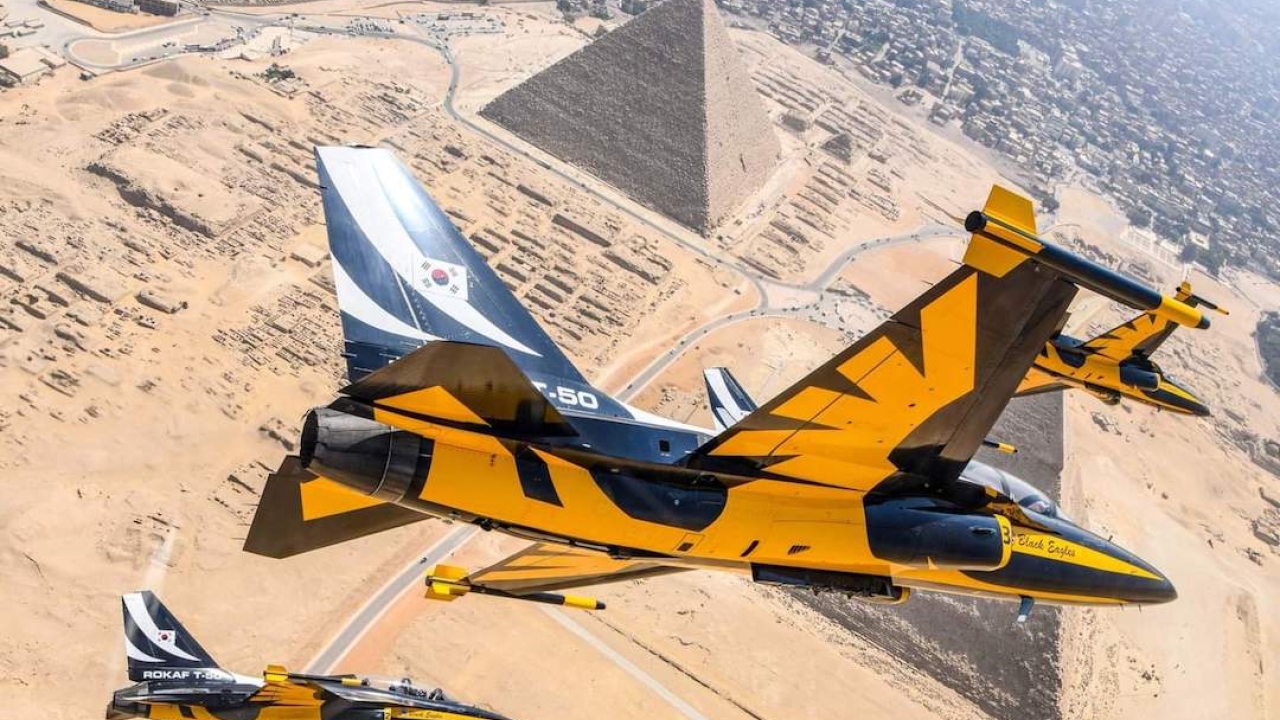 The latest stage in the modernisation programme now seems likely to include the acquisition of 24 Eurofighter EF-2000 Typhoon aircraft, as part of a wider $10-12 billion arms package from Italy.
This will also reportedly include 24 Leonardo M346 Master training aircraft, 20-24 more AW-149 medium-lift/utility helicopters, four FREMM heavy frigates (additional to the two already being discussed), 20 Falaj-II class patrol boats to be co-manufactured in Alexandria Shipyard, and a Telespazio radar-equipped military surveillance and reconnaissance satellite.
Egyptian President Abdel Fattah El-Sisi is reportedly committed to acquiring the Eurofighter Typhoon from Italy to further diversify and modernise the Egyptian Air Force, and is determined to prevent ongoing US efforts to blunt Egyptian capabilities in an effort to maintain Israel's qualitative military edge (QME).
Egypt is, therefore, determined to have a 'full spec' Typhoon with AESA radar and the Meteor beyond-visual-range air-to-air missile (BVRAAM).
All the Typhoons will be new-build aircraft assembled in Italy, and not second-hand Italian Tranche 1 jets, as was once expected, although delivery details have yet to be disclosed.
Egypt's fighter modernisation began in earnest in February 2015, with an order for 24 Dassault Rafales, followed by an order for 46 MiG-29M/M2s in April 2015.
In 2018, Egypt ordered 24 Sukhoi Su-35S heavy fighters, but in 2019, US Secretary of State, Mike Pompeo, threatened that if the sale went through, the USA's countering America's adversaries through sanctions act (CAATSA) would require sanctions to be imposed on Egypt. After a brief stand-off, Egypt refused delivery of the aircraft (several of which were by then flying) and they were eventually sold instead to Iran.
Abandoning the Su-35 purchase proved to be a blessing in disguise, as testing had shown that the Su-35's Irbis phased array radar was vulnerable to jamming (notably by the Rafale's Spectra electronic warfare system).
This, in turn, led to the decision to order 30 additional Rafales, while the United States has undertaken to deliver Boeing F-15 Advanced Eagle aircraft to Egypt, according General Frank McKenzie, the commander of US Central Command (USCENTCOM), when he gave evidence to a session of the Senate armed services committee. These would probably be similar to the F-15SA for Saudi Arabia, or the Qatari F-15QA, and the USAF's new F-15EX variant.
The backbone of the fighter fleet will continue to be provided by six wings of approximately 200 F-16s, which may be upgraded in the near future. A single squadron of elderly Mirage 2000s is widely expected to be bolstered by about half of the UAE Mirage 2000-9s, once these are supplanted by the Emiratis' new Rafales.
With Typhoons and Advanced F-15s augmenting F-16s, Mirage 2000s, Rafales and MiG-29M/M2s, the Egyptian Air Force will have probably the most diverse fighter fleet in the world, and one of the most modern in the region.
This will 'buy' a degree of geopolitical goodwill from all of the disparate supplier nations, and will provide a wide spectrum of capabilities, some of which will not be intimately familiar to Israel.
However, such diversity could also complicate the air force's logistics and support arrangements, and may make operational integration more difficult, although Egypt is understood to have a compatible identification friend or foe (IFF) system for all types, and an intent to develop a universal datalink.
For now, though, Egypt faces real difficulties in integrating its MiG-29M/M2s into command and control networks that are predominantly of western origin.
The Egyptian Air Force's next priority is likely to be pilot training. The dwindling fleet of ageing Alpha Jets is increasingly in need of replacement and, while Egypt's Hongdu K-8Es are newer, they are unrepresentative of the more modern aircraft types that now form the backbone of the fighter force.
Dassault delivered the first four Alpha Jet MS1 trainers from French production in June 1983, while the remaining 26 aircraft were supplied in kit form for assembly in Egypt. Some 15 further Alpha Jet MS2s, ordered in the early 1980s, were manufactured by Dassault.
Egypt licence-assembled 80 K-8E (JL-8) Karakorum advanced trainers using Chinese-supplied kits, and these were delivered from 2005. License production of a further batch of 40 K-8Es began in time for deliveries to continue uninterrupted.
Even if Egypt does acquire 24 M-346s as part of the reported arms package from Italy, this would barely scratch the surface of Egypt's trainer requirement. Though the Alpha Jets and K-8Es will not be replaced 'one-for-one', there is still likely to be a requirement for at least 100 advanced trainer/light attack aircraft, and some sources suggest that Egypt plans to select an aircraft by 2023. Aircraft known to have been under evaluation in Egypt include the KAI T-50, the Leonardo M-346, the Aero L-39NG and the turboprop-powered Embraer Super Tucano.
Korea Aerospace Industries (KAI) has reportedly said that Egypt is interested in acquiring up to 100 FA-50 Fighting Eagle armed trainers, and Lee Bong-geun, the general manager of KAI's Export Innovation Centre, has said that KAI will promote joint production of the aircraft in Egypt.
In support of the KAI sales and marketing campaign in Egypt, the Republic of Korea Air Force dispatched the Black Eagles aerobatic team to participate in the Pyramids Air Show on August 3 2022. The team is equipped with nine T-50B aircraft (eight display aircraft and one spare).
Stay up to date
Subscribe to the free Times Aerospace newsletter and receive the latest content every week. We'll never share your email address.