The SAF route to sustainability
The UAE has declared 2023 the 'Year of Sustainability', showcasing its commitment to seek innovative solutions to energy and climate change challenges.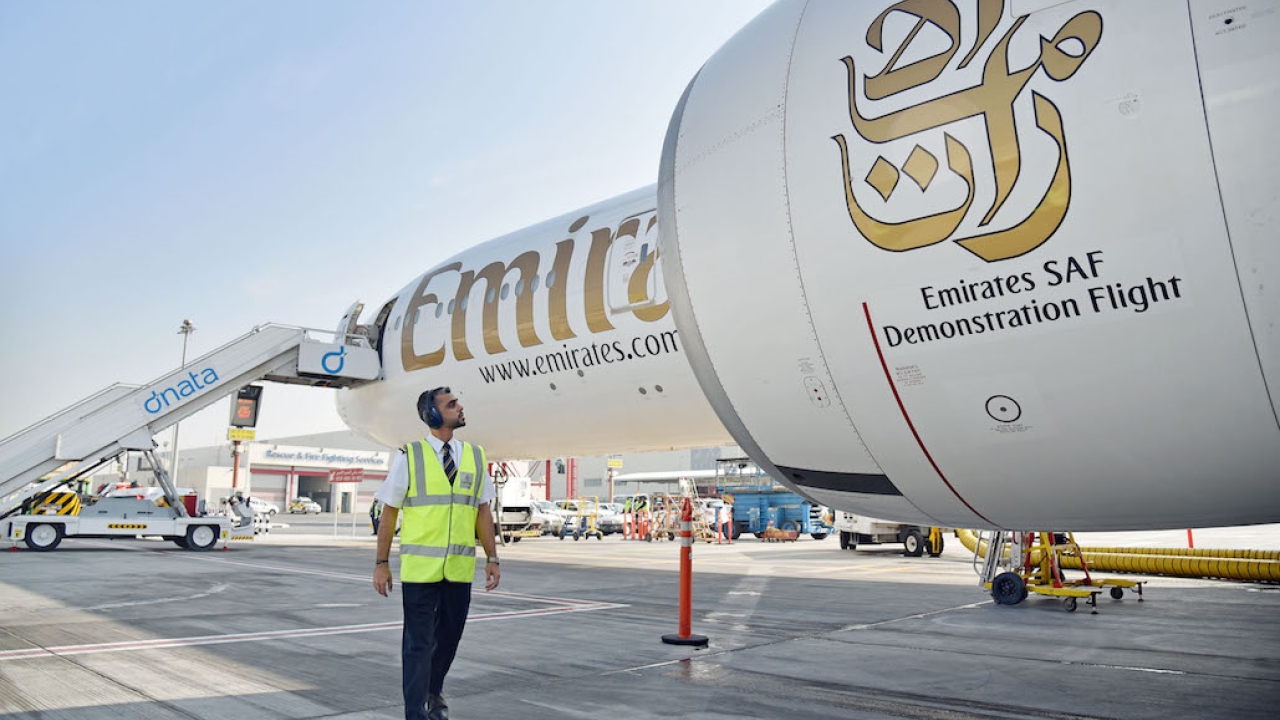 IATA estimates show that Middle Eastern airlines posted a 38% traffic increase last April compared to 2022. Capacity climbed 27.8% and load factor rose 5.6 percentage points to 76.2%. The sector will pursue its recovery with international tourist arrivals likely to reach 85-90 of pre-pandemic levels in 2023.
Airlines and airports are thus priotising sustainability and innovation to enhance operational efficiency and passenger experience. Governments and the aviation ecosystem in the Middle East, home to the world's top suppliers of fossil fuel, are tackling these challenges through pragmatic roadmaps.
Hubs like Dubai International Airport, Hamad International Airport in Qatar or Istambul International Airport in Turkey are paving the way to sustainable growth to cater for the growing apetite of travellers globally.
Airlines are also aiming at reducing their carbon footprint by investing in new generation aircraft and supporting SAF production initiatives.
According to the latest study published by the Oxford Business Group (OBG), SAFs would have to account for 65% of aviation fuel usage worldwide, requiring approximately 450bn litres annually to meet global 2050 zero-emissions targets set by the industry.
Dubai-based Emirates announced earlier this year that it wants to reach 50% sustainable fuel for its flights by 2030.
The airline has committed US$ 200 million to fund research and development (R&D) projects focussed on reducing the impact of fossil fuels in commercial aviation.
Last January, Emirates operated its first milestone demonstration flight in Middle East and North Africa on a Boeing 777-300ER, powering one of its engines with 100% SAF. It was in partnership with GE Aerospace, Boeing, Honeywell, Neste and Virent.
The test flight demonstrated the compatibility of the specially blended SAF as a safe and reliable fuel source. It also enriched industry data and research around SAF blends in higher proportions, paving the way for standardisation and future approval of 100% drop-in SAF as a replacement for jet fuel, well above the current 50% blend limit.
If renewable energy production reaches 69 billion liters by 2028 as estimated, the trajectory to 100 billion liters (80 million tonnes) by 2030 would be on track. If just 30% of that produced SAF, the industry could achieve 30 billion liters (24 million tonnes) of SAF production by 2030. SAF is expected to provide about 62% of the carbon mitigation needed in 2050.
"Achieving the necessary SAF percentage output from these new and expanding facilities is not a given. But with governments the world-over agreeing at ICAO to a long-term aspirational goal (LTAG) of net zero by 2050, they now share accountability for aviation's decarbonisation. That means establishing a policy framework to ensure that aviation gets the needed share of renewable energy production in SAF," says Willie Walsh, IATA's Director General.
Qatar Airways will also be reducing emissions on flights from Amsterdam by approximately 7,500 tons of CO2 for the fiscal year.
Furthermore, renewable energy company Masdar, oil major Abu Dhabi National Oil Company and international oil company BP are going to undertake a joint feasibility study for the production of SAFs in the UAE. They will use renewable hydrogen and solid municipal waste amongst other sources.
Saudi Arabia is also investing massively to support its economic development and diversification strategy underpinned by a long term sustainable vision. The youngest airline in the region, Riyadh Air, will take off in 2025 with a strong sustaibility vision to carry 100 million passengers by 2030.
Riyadh Air will create 200,000 jobs expected to generate $20bn in non-hydrocarbons revenue.
SAFs will play a crucial role in reducing the emissions of air travel but to fully leverage its decarbonisation potential there must be 100% SAF use according to specialists.
Stay up to date
Subscribe to the free Times Aerospace newsletter and receive the latest content every week. We'll never share your email address.