So just how green is green?
Will aviation ever be 'green' or just differing shades of 'brown'? It's a challenging question increasingly confronting the whole industry.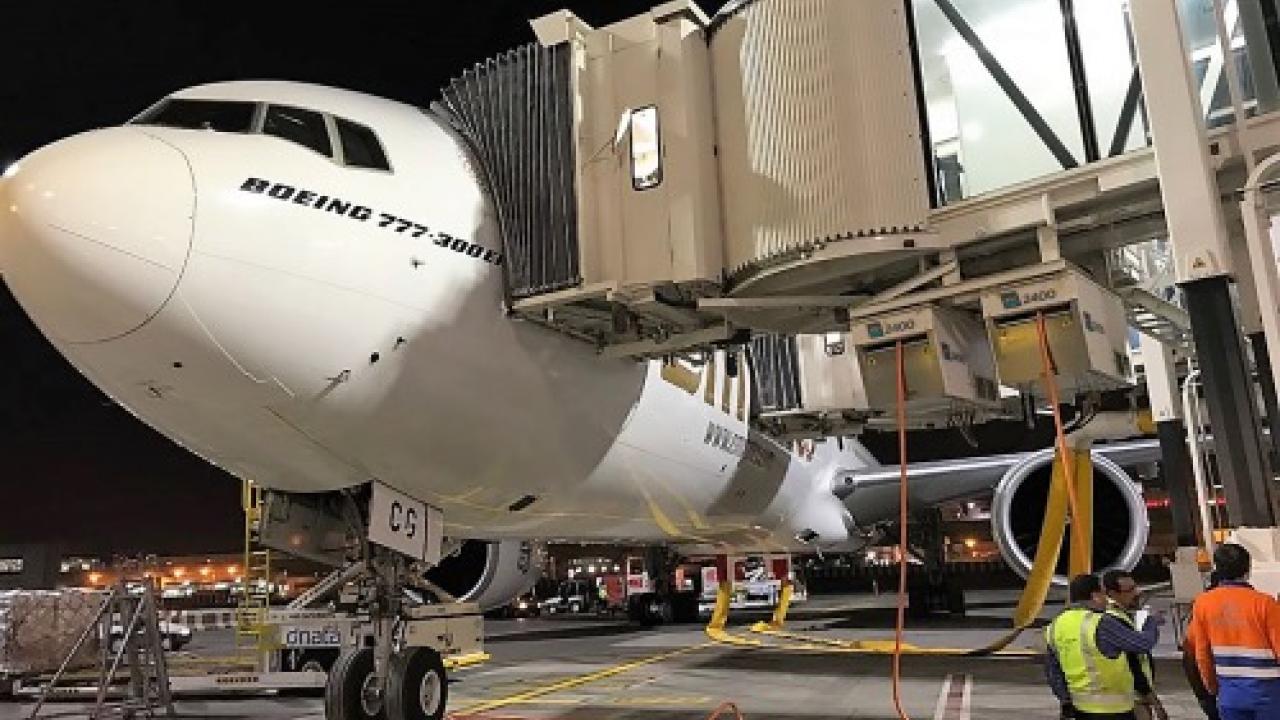 Helping the planet: Electrical power from ITW GSE bridge-mounted GPUs help reduce Dubai International Airport's carbon footprint. Picture: ITW GSE.
Veteran aviation observer, Phil Seymour, sees sustainability 'in the round', and his view is that carbon reduction and offset are the only realistic paths to a cleaner long-term future until a feasible CO2 extraction process is developed.
Seymour, president of award-winning aviation appraiser and analyst, IBA, said that translates, in the near term for larger aircraft, to fuel-saving strategies, air traffic control (ATC) improvements, airport congestion planning (less time taxiing) and sustainable aviation fuel (SAF).
Better battery and hydrogen fuel technology may have an impact on the longer-term picture if their issues of weight, heat, production and on-board storage can be resolved, he said.
While IBA was conducting research for its ground-breaking carbon emissions calculator (CEC), launched earlier this year, the Greenliner initiative of Etihad Airways, plus Abu Dhabi's work on developing SAF, was "obviously very interesting", said Seymour.
The Greenliner highlighted the paradox of oil as both an economic mainstay for the region and a target for environmentalists. Seymour said it puts the Middle East at the forefront of 'green' considerations, because the countries and their aviation industries "need to invest in the new technologies. They just have to look forward with enough vision."
SAF is one such area. Tim Boon, IBA senior analyst and sustainability specialist, said despite their being 27 different SAF feedstocks in the world, there's not enough to go around. "We did some modelling and, by 2030, it's only going to serve 7% of the worldwide fleet consumption."
Additionally, the production of some SAF feedstocks emits more than burning Jet A. "It's crazy when you think about that," said Boon.

The CEC, which can analyse fuel burn on individual flights and is primarily targeted at investors, has attracted surprise interest from airports and travel agencies – airports due to their responsibility for airspace below 3,000ft; agencies in response to growing demand among travellers for carbon offsetting.
Picking up on this interest in carbon-neutral air travel, Rolls-Royce has launched a global scheme called SAFinity that lets the users of business aircraft – irrespective of the make of their engines – offset their carbon footprint by investing directly in the development and use of SAF.
Middle East clients of ExecuJet, part of Luxaviation Group, which is the launch customer of SAFinity, are among those covered by the initiative.
Described as a first of its kind, the programme positions Rolls-Royce as a broker facilitating carbon offset payments to independently verified sustainability projects and SAF suppliers.
At the top of the supply chain, tier-1 OEMs are also adopting a full-life approach. One such is Liebherr-Aerospace, whose commitment to sustainability in many cases goes beyond compliance minima to limit waste and promote repair, re-use and recycling.
Joël Cadaux, Liebherr's Dubai-based director of business and customer services, said sustainability for Liebherr means eco-responsibility, business performance and customer satisfaction. "It means everything we apply in eco-responsibility will be linked to performance," he added.
Liebherr's logistics centre in Dubai is one of a global network of service centres that make new and used serviceable materials (USM) parts available locally, thus avoiding unnecessary transits, while shortening turnaround times.
Chuck Grieve reports.
Stay up to date
Subscribe to the free Times Aerospace newsletter and receive the latest content every week. We'll never share your email address.