Embraer propels into the regional market
Brazilian aircraft manufacturer Embraer has unveiled its plans for the future, including its hopes for the Middle East commercial and military markets.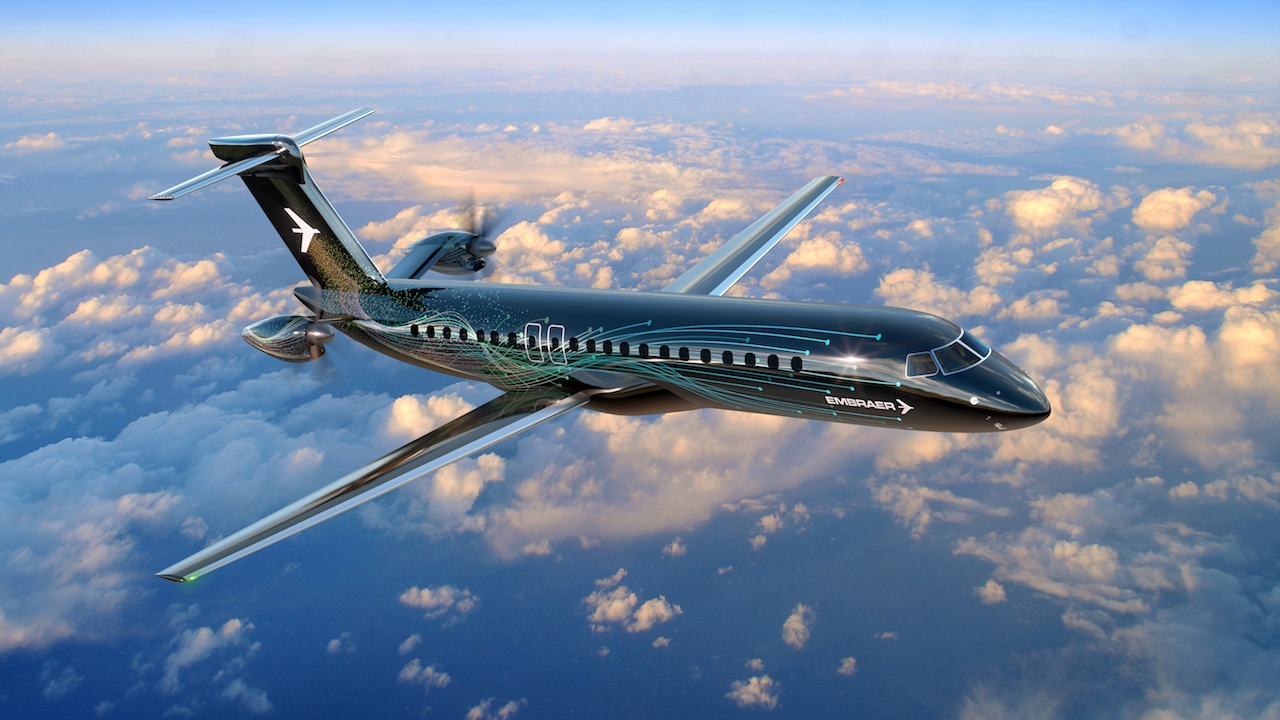 The Middle East has always been a difficult area for regional jet sales. Few airlines use them.
One of those that does is Royal Jordanian, which operates four Embraer 175s and 195s. Israel's Arkia operates a handful, as does Petro Air in Libya. However, the Brazilian type has been phased out in recent years by both EgyptAir Express and Oman Air.
"It has always been a distinct, different market from the rest of the world. It's mainly long-haul to long-haul transit [traffic]," noted Arjan Meijer, Embraer Commercial president and CEO, at a briefing at the company's Sao Jose dos Campos site in late May.
Regional connectivity in the area remained important, said Meijer, and discussions were ongoing with several potential Middle East customers. The scale of business remained different compared to other regions of the world, but Embraer continued to believe that there was "real opportunity in the Middle East to feed wide-bodied aircraft" operating out of the region's major hubs.
The Middle East – and particularly the Gulf – is also not a happy hunting ground for turboprop manufacturers. The type has long been disdained by consumers in the region, some of whom regard them as too small to be credible, noisy and slow.
Embraer hopes to dispel these impressions with its new 70 to 90-seat turboprop. The aircraft has been significantly changed during the design process, with the engines moved from the wings to the rear fuselage. This will enable it to use jetways at airports, as well as significantly reducing noise in the cabin, Embraer says. It will also use the same cabin cross-section as the E-Jets.
These factors, says the Brazilian airframer, will make the aircraft look and feel very different to passengers from today's turboprops and the new design is aimed at replacing both current models and older regional jets. Whether this will be enough to sway customers remains to be seen.
A decision on whether to formally launch the aircraft, which will be capable of running on 100% sustainable aviation fuel (SAF), is expected in early 2023.
Looking further to the future, Embraer is planning a family of aircraft under the Energia banner that will take advantage of new propulsion systems.
The company's intention is to gradually work its way up in both size and complexity of new engines, starting with a nine-seat electrically powered platform with a 200-mile range by 2035, with a hybrid-electric model in the 10 to 19-seat category, possibly leading to as many as 50 seats.
However, believes Embraer, that is probably the viable limit for electrically powered aircraft, given the weight of batteries that they will need to carry.
Beyond that, the industry is looking at hydrogen for its power source – either in the form of a hydrogen fuel cell in which the gas is burned to power an electric motor, or through a hydrogen-powered gas turbine. The last of these, the company believes, could power a 150-seat aircraft. It reckons that the industry is looking at the 2045-2050 timeframe for the replacement of engines with completely new powerplants.
On the military front, Embraer is pinning its hopes on its C-390 Millennium multi-role transport (the aircraft's original designation was KC-390, reflecting its air-to-air refuelling role, but acting as a tanker is now considered to be just one of the duties that the aircraft will be capable of performing).
The aircraft recently embarked on an eight-nation Middle East tour to drum up interest. The company believes that with the average age of the world's medium transport fleet being a remarkable 31.2 years, replacements for many of these aircraft cannot be delayed for much longer and it hopes to tap into this forthcoming demand.
Jackson Schneider, president of Embraer Defense and Security, said that demand has been greatly heightened by recent conflicts that have pointed up the importance of logistic back-up for combat troops.
The war in Ukraine has seen Nato nations shuttling weapons into airfields in Poland, for example, for onward transmission to Ukraine, while last August's chaotic withdrawal of western forces from Afghanistan highlighted the critical role that transport aircraft play in troop movements and evacuations.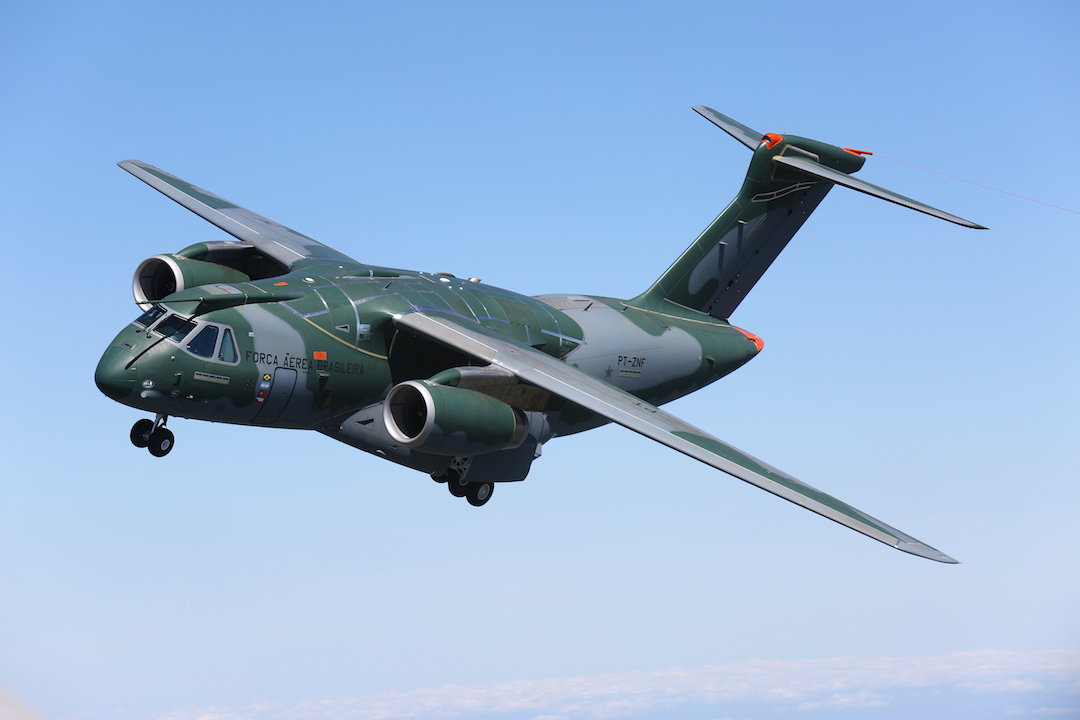 In the light of these events, many countries have realised that their current logistic set-ups are not up to the required standard and they are actively looking around for new transport aircraft, said Schneider. Embraer hopes to take a share of any new orders for medium transports.
There are around 1,500 in the medium transport category currently in service, the company estimates.
By far the largest number of aircraft in the category are variants of Lockheed Martin's legendary C-130 Hercules. Many countries may well see the best replacement for a C-130 as a new (or newer) C-130 and there are likely to be some bargains around. The UK, for example, is retiring around 10 of its fleet of 25 C-130Js and stretched C-130J-30s earlier than planned and these are likely to be sold off. Bahrain has already acquired two, for example.
The British examples were heavily used in the UK's involvement in Afghanistan but have been well maintained and will give several years' more service to new owners, especially if they fly the aircraft at a lower tempo than in recent years. And they will be much cheaper than buying new aircraft such as the C-390. However, Embraer believes that the price tag of the C-390 will be lower than that of a new C-130J.
Schneider said during the briefing that Embraer respected the C-130J-30 as a "great product" but that the C-390 represented a new generation of equipment.
The two aircraft's cargo compartments are roughly similar in size. The C-390's is slightly larger in all three dimensions and Embraer says that the C-390 will carry 26 tonnes, compared to the C-130J-30's 20 tonnes.
Following its Middle East tour, the aircraft was scheduled to tour Asia-Pacific and, in early June, Embraer announced that it was in talks with India over the aircraft.
Commentators have estimated that India requires 25-30 aircraft in the medium transport category, following the 2017 ending of the Indo-Russian Medium Transport Aircraft project. India is facing increasing pressure from China on its north-eastern border, with austere airfields in the region requiring rugged transporters. The Indian Air Force operates both C-130s and C-17 Globemaster strategic transports, but observers believe the C-390 could add useful capacity.
Closer to home for Embraer, the Forca Aérea Brasileira ordered 28 C-390s, with the first being delivered in 2019, but the Service has cut back its order for the type from 28 to 22. A decrease or increase of up to 25% of the initial 28-strong order was allowed by the terms of the contract.
However earlier this year, the FAB said it wanted to cut the order further, to only 15, with a senior officer citing budget unpredictability as the reason for being unable to afford more, at least in the short term.
The eventual outcome remains uncertain, but Embraer says it still retains a contract for 22 of the twin-turbofan aircraft. A further five have been ordered by Portugal to replace its C-130s – the first of these was on the final assembly line at Gavião Peixoto in late May – together with two examples from Hungary.
Argentina has said it plans to order four, but that country's ongoing severe economic problems have prevented it from signing a firm order and there is, as yet, no indication as to when this will happen. The aircraft has also been shortlisted by the Netherlands to replace its existing C-130s.
Overall, Embraer believes that it has a range of platforms in both the civil and military sectors that can help propel its fortunes in an upward trajectory over coming years.
Stay up to date
Subscribe to the free Times Aerospace newsletter and receive the latest content every week. We'll never share your email address.