ASRAAM's six appeal
A new 'block 6' version of MBDA's advanced short-range air-to-air missile (ASRAAM) is on the verge of entering service, with Oman and Qatar having already ordered the type.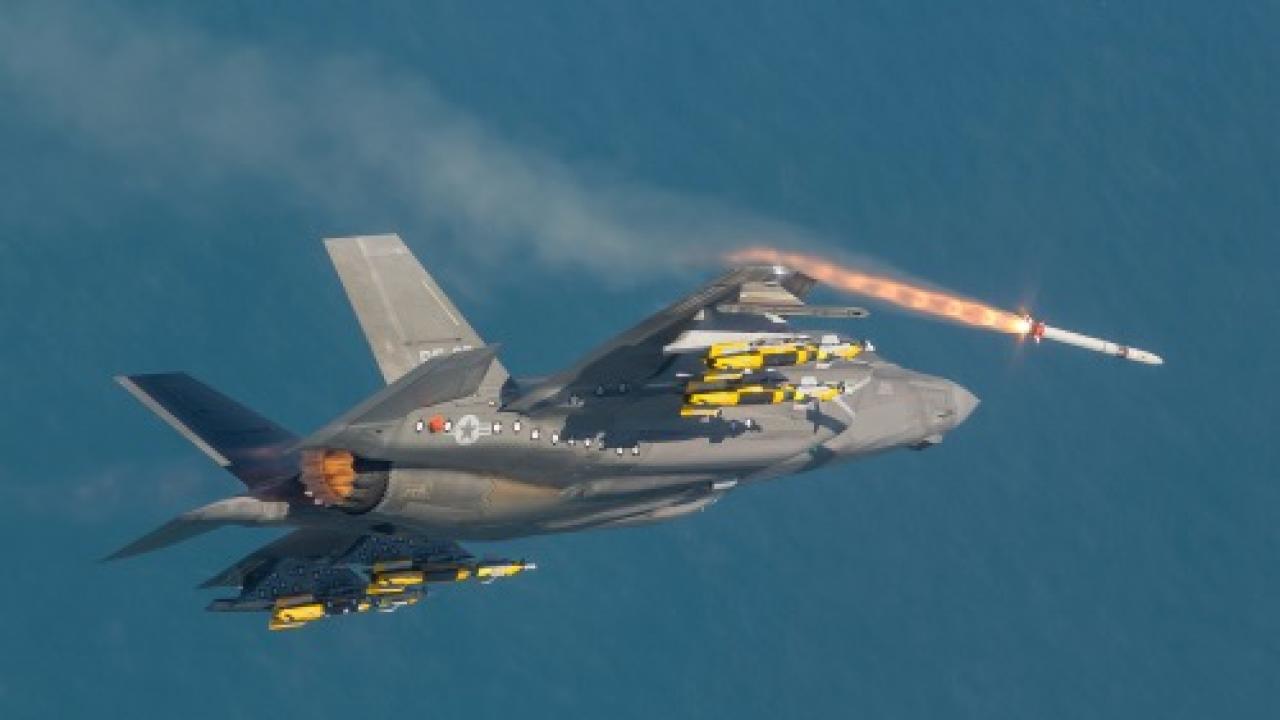 Game-changer: The ASRAAM has been cleared only for external carriage on the F-35B. Picture: Lockheed Martin US DoD.
The existing block 4 ASRAAM is already widely reckoned to be the best short-range AAM in the world, with an unmatched combination of lethality, agility and range.
The new block 6 looks set to be even better, promising to give its users a powerful edge in air combat.
And, unlike its predecessor, it is cleared for widespread exports.
Oman and Qatar have already ordered the weapon for their Typhoons, and further orders are imminent.
ASRAAM was developed as part of a wider missile agreement, under which the US Government proposed that if NATO adopted the new Raytheon AIM-120 advanced medium-range air-to-air missile (AMRAAM), and dropped its own medium-range missile programmes, the US would reciprocally procure the then Anglo-German ASRAAM as the AIM-132.
The original ASRAAM programme fell apart as the US prioritised the indigenous Sidewinder, while Germany was unhappy with its 'share' of the programme, was suffering funding difficulties, and was coming under pressure from the Luftwaffe to prioritise agility over range.
In late 1989, the UK decided to continue with ASRAAM as a national programme, designing a new version of the missile to meet the Royal Air Force's operational specification, with no operational or technical compromises required to satisfy the requirements of other customers.
The resulting weapon was much more than just another short-range missile.
The revolutionary focal plane array (FPA) seeker allowed targets to be acquired at significant beyond-visual-range (BVR) distances, while the high-energy motor gave range performance that was comparable with the last generation of radar-guided BVR missiles, out to as far as 15-30 miles.
ASRAAM was very quick off the rail, with significantly greater range and higher manoeuvrability than the AIM-9L, and it proved very hard to see as the rocket motor produced little smoke and had a reduced infrared signature.
ASRAAM frequently defeated targets that tried to break off an engagement, as they were unable to achieve sufficient separation to avoid being shot down.
On the Typhoon, with a full digital integration, including the use of a helmet-mounted sight, ASRAAM demonstrated unmatched high off-bore sight capabilities, able to engage targets behind the launch aircraft, and with unmatched end-game performance.
Unfortunately, BAE Systems Dynamics (now MBDA) had selected a US-manufactured missile seeker, though this had actually been designed by BAE and transferred to the US as part of the transatlantic workshare agreement.
Despite its UK origins, this is understood to have made the seeker subject to US international traffic in arms regulations (ITAR), preventing many potential exports.
The US refused to allow ASRAAM to be exported to Saudi Arabia, for example, and Saudi Eurofighter Typhoons, therefore, used the German IRIS-T missile.
A new block 6 ASRAAM was developed to meet UK requirements, and this incorporated new and updated sub-systems, including a new-generation seeker of increased pixel density, and a built-in cryogenic cooling system.
This new seeker is manufactured in Bolton, England, and is entirely ITAR-free. Consequently, it has broken the export log jam, and the new variant has already been ordered by Oman and Qatar for their Typhoons, and by India.
There have also been reports that Saudi Arabia will order the block 6 missile as part of its much-anticipated follow-on 48-aircraft Typhoon buy.
Saudi Arabian Military Industries (SAMI) has agreements in place with MBDA, which could facilitate local support.
The new model should improve upon ASRAAM's already world-leading performance in acquisition range, responsiveness, accuracy, agility, counter-measures resistance, and end-game performance, as well as system availability. It ought to provide a transformational capability for its customers.
Jon Lake reports.
Stay up to date
Subscribe to the free Times Aerospace newsletter and receive the latest content every week. We'll never share your email address.