WAGA strengthens the aero dynamic
The Airports Council International (ACI) Africa/world annual general assembly (WAGA) in Marrakech addressed key issues facing the airport ecosystem and highlighted the paradigm shift in the post-Covid 19 era and the wake of the new global geopolitical context.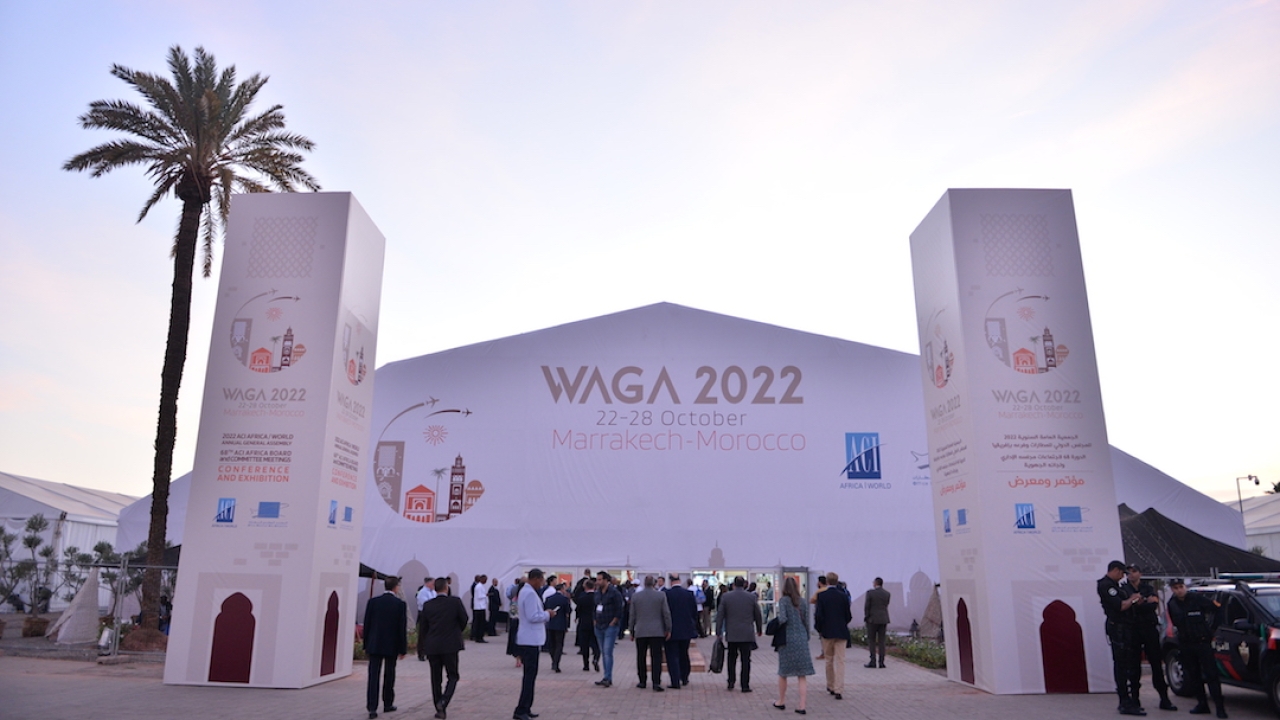 A trio of resolutions to strengthen the sustainability and resilience of airports as key players in the aviation ecosystem were approved by the assembly.
It called on governments to support global electrical grid transitioning, update the regulatory framework to accommodate the integration of alternative fuel sources at airports, and incentivise infrastructure development with appropriate financial mechanisms.
"These resolutions will help airports deliver the long-term net zero carbon goal, restore economic equilibrium, support small, emerging, and regional airports, and build aviation's workforce," said ACI world director Luis Felipe de Oliveira.
The assembly heard that ACI recognises the important role that small, emerging, and regional airports play within global connectivity and the socio-economic development of communities worldwide. Therefore, governments and the industry must support their capital and human resource development plans and facilitate their transition to renewable energy.
Emanuel Chaves, ACI Africa president and CEO of Aeroportos de Mocambique, said the association would relentlessly uphold "the strategy and roadmap of all African airports towards enhanced safety, security, best industry practices, decarbonisation, digital transformation and sustainability through various programmes and assistance services".
At the regional level, poor connectivity, protectionism and systemic constraints continue to plague the aviation industry. ACI Africa urged its members to implement the single African air transport market (SAATM).
African Civil Aviation Commission (AFCAC) secretary general, Adefunke Adeyemi, said liberalisation would bring huge benefits to air traffic, especially intra-African, and national economies through increased trade, tourism and job creation.
Habiba Laklalech, CEO of the Moroccan Airports Authority (ONDA), was even more direct: "The need to anticipate and transform our models is a question of survival for the aviation industry in the low-carbon world of tomorrow. It's therefore vital to embrace energy transition and digital transformation, and face cybersecurity issues together.
"We (ONDA) are going to include the environmental component in all our infrastructure projects from the design stage to operations and management," he said.
Ali Tounsi ACI Africa secretary general, underlined the fact that sustainability should be a priority for African airports. It should be embedded within their overall vision and development strategy.
"At ACI Africa, we are fully aware that staying competitive and up-to-date can be challenging. We are, therefore, pursuing our knowledge-oriented vision to reskill or upskill airport workforces with the setting up of the Sustainable Aviation Academy (SAA) under the African airports development programme. This is yet another effective and user-friendly tool to accompany Africa's airports on the path to net zero carbon," he said.
According to Sharon Mahony, sustainability expert and commercial partner of ACI Africa, the SAA aims to improve the level of training and awareness to move up on the sustainability journey.
Another major issue addressed was aerodrome certification in compliance with International Civil Aviation Organization (ICAO) standards.
It was pointed out that only 45% of aerodromes are certified in Africa, despite approximately 55 APEX ACI reviews led by industry peers and experts to optimise airport operations, regulatory compliance, and aviation standards worldwide, being conducted across the continent.
AENA, the organisation which manages 46 airports in Spain, will host WAGA 2023 in Barcelona, in partnership with ACI Europe.
Stay up to date
Subscribe to the free Times Aerospace newsletter and receive the latest content every week. We'll never share your email address.