Competition will give us an extra edge
Etihad Airways believes that the more airlines – even direct competitors – that start operating into its Abu Dhabi base, the better. Alan Dron finds out why.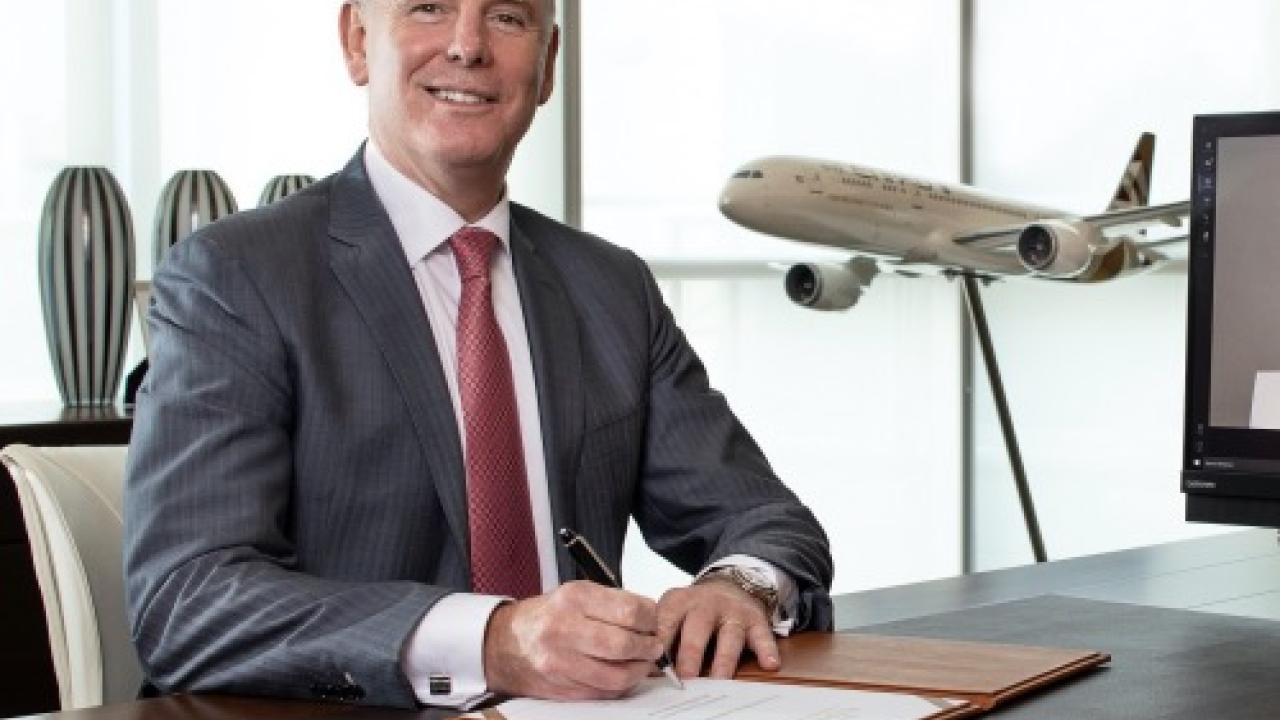 Tony Douglas: "The more feed into Abu Dhabi, the more the home-based carrier will take benefits from it." Picture: Etihad Airways.
Etihad Airways' fleet will see major changes in the next few years as the airline comes out of the pandemic in its new, mid-sized format, according to Etihad Aviation Group CEO, Tony Douglas.
The Abu Dhabi-based carrier will not only be ditching its 10 Airbus A380s – "It's entirely likely we will not be utilising them going forward," said Douglas – but will also drop the next-largest type in its inventory, the Boeing 777-300ER.
Etihad has 19 of the Boeing wide-bodies, but current plans are that "we will progressively exit them reasonably quickly".
The new backbone of the fleet will be the Boeing 787, of which Etihad has 40 -9 and -10s. Douglas speaks highly of the twinjet: "Its operational economics and its scale means that we can be a lot more agile. I can operate two 787-9s on the same route as one A380 and make more money. What that means is that if there's only half the volume I can take one of them off. You can't do that with an A380."
Etihad has made it clear that its future lies very much with long-haul services. But this does not mean a shaky future for its fleet of 30 Airbus A320 and A321s.
"Obviously a long-haul network can't sustain itself without appropriate feed and connectivity, so the narrow-body fleet will continue to be important to us," said Douglas.
Etihad has an order in place for A321neos, but these are not scheduled for delivery until 2025-26, which gives the airline some room to manoeuvre as it continues its transformation in the long-haul sector. "Should we need to modernise and replace narrow-body feed going forward, what we've got is the option to do so," he explained.
Competition at Etihad's Abu Dhabi home hub is hotting up with the arrival of Hungary's low-cost carrier, Wizz Air Abu Dhabi (WAAD), which has said it plans to base 100 aircraft in the Gulf by 2035. This will run up against Etihad's low-cost joint venture, Air Arabia Abu Dhabi, in which Etihad has a 51% stake.
However, Douglas believes that, as more carriers begin flying routes in and out of Abu Dhabi International Airport, the greater the beneficial effects for Etihad.
"We're delighted that Wizz Air Abu Dhabi has established itself as well, because that will bring through-traffic on the narrow-body feed side," he said.
Indeed, he added: "I'd be happy if there were further additions to Abu Dhabi International Airport when it comes to alternative carriers; the more feed into Abu Dhabi, the more the home-based carrier will take benefits from it."
A question remains, however, over the new Midfield Terminal at Abu Dhabi International Airport, which will hugely increase the facility's capacity to around 45 million passengers annually.
The terminal was designed with Etihad in mind when the local carrier was expanding rapidly early in the last decade. The airline's reduction in size since then raises questions as to what extent Midfield is required.
The opening date of the new terminal has been repeatedly delayed – most recently, and understandably, by the Covid-19 pandemic, which largely brought work on it to a halt. The terminal is believed to be ready for opening, but when this will happen is still uncertain; latest estimates are in the second half of this year.
Douglas has no doubt, however, as to the qualities of the new facility. He said he had toured it earlier this year, describing it as "absolutely phenomenal. It's like moving from a beautiful villa to an amazing palace," he said, when comparing it to the current terminal.
"It will further enhance the kerb-to-kerb experience of flying in and out of Abu Dhabi, which will connect that phenomenal airport experience with the phenomenal in-flight experience of Etihad. It's going to be immense, in our opinion."
The impact of the pandemic on passenger numbers meant that the new terminal's scale was not currently required, but "passenger numbers are coming back".
Stay up to date
Subscribe to the free Times Aerospace newsletter and receive the latest content every week. We'll never share your email address.