Aviationfly.com launches Middle East, Africa and Asia pilot school directory
Aviationfly.com, a comprehensive directory of nearly 250 flight schools across the Middle East, Africa and Asia has formally launched – providing those wishing to become a pilot with an unrivalled resource to help them kickstart their aviation career.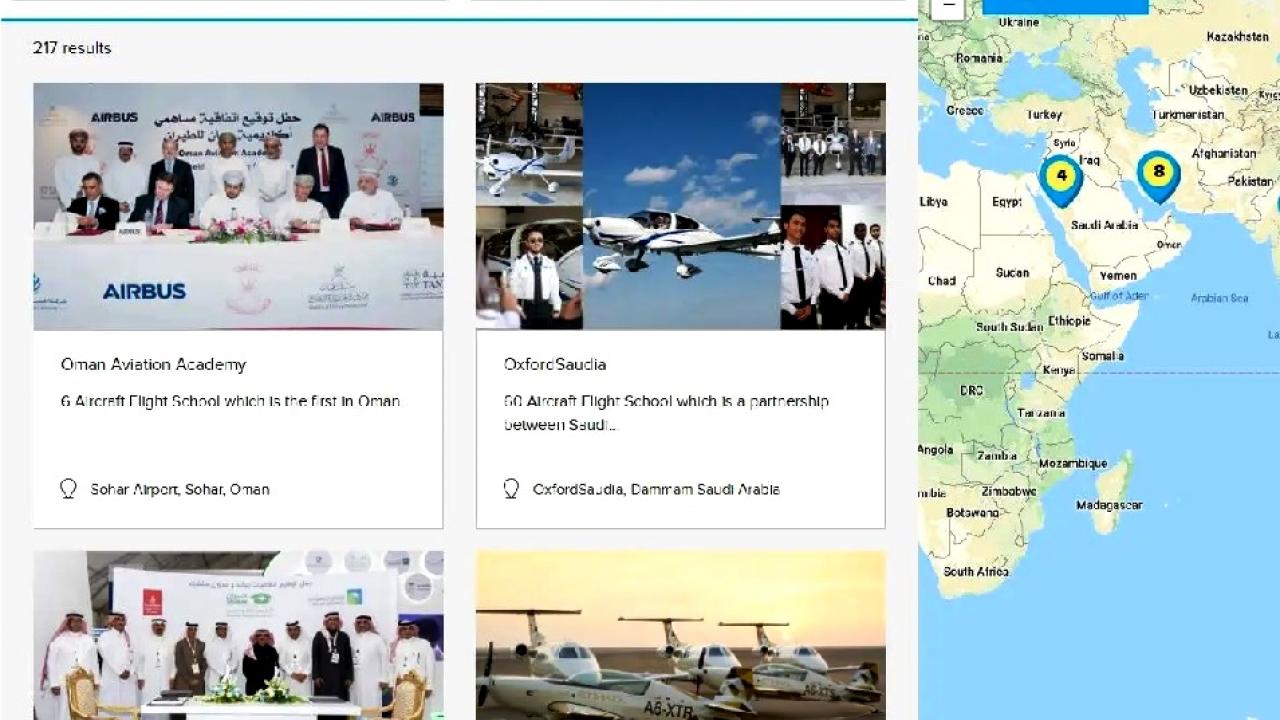 Courtesy Aviationfly.com

The new online directory provides a wealth of information on each flight school - including the school's entry requirements, courses offered, training equipment and social media profiles – with more and more flight schools and simulator training facilities being added to the database every day.

In addition to the Flight School directory, Aviationfly.com also offers a country specific 'How to Become a Pilot' guide, providing step-by-step information on the minimum requirement, training and funding options, syllabus requirements, national regulations and career opportunities within each country on the platform.

The platform has been designed to be the most comprehensive and accessible single resource available for future pilots, with all the information being entirely free of charge and with no registration required.

Since the soft launch of Aviationfly.com thousands of potential students from 204 countries have already made enquiries on the platform. An early indication of its value is assisting students from remote locations such as the Maldives and Bhutan enrol in international flight schools.

Furthermore 46% of Aviationfly.com's 27,500+ rapidly growing Facebook followers are female, despite only 3% of the world's commercial pilots being women.

Aviationfly.com will also be engaging directly with the flight schools themselves, working with them to reach a larger potential student base – as well as supporting airlines with their pilot training and recruitment needs.

The launch of Aviationfly.com comes as the global aviation industry continues to face a considerable shortage of commercial pilots. Boeing predicts that by 2038, 645,000 more commercial pilots will be required worldwide, including 244,000 across Asia-Pacific - the region with the world's greatest demand.

Across the Middle East, a further 64,000 pilots will be required, with 24,000 required to meet demand across Africa.

Maximilian Buerger, Managing Director of Aviationfly.com, said: "For those interested in becoming a pilot, piecing together all the information out there can feel like a daunting process. Many potential students have no idea where to start, unsure of which country of study, flight school or training process would best suit them.

"Aviationfly.com provides the first truly comprehensive, central information source for those interested in becoming a Pilot – providing them with a step by step guide while also providing the student with all the school options that they can consider.

"With the IATA predicting passenger demand to double over the next 20 years, and with APAC, the Middle East and Africa requiring more pilots than the US and Europe combined, we hope to be able to play our part in helping tackle the impending industry pilot shortage.

"We want to make it as simple as possible for people from all walks of life to become a pilot, so we are particularly delighted to be receiving so many enquiries from women – who are hugely underrepresented in the commercial pilot industry."
Stay up to date
Subscribe to the free Times Aerospace newsletter and receive the latest content every week. We'll never share your email address.