Gogo has eyes on Middle Eastern Airlines
Gogo is keen to establish its 2Ku inflight connectivity solution on more Middle Eastern Airlines following its purchase by satellite giant Intelsat.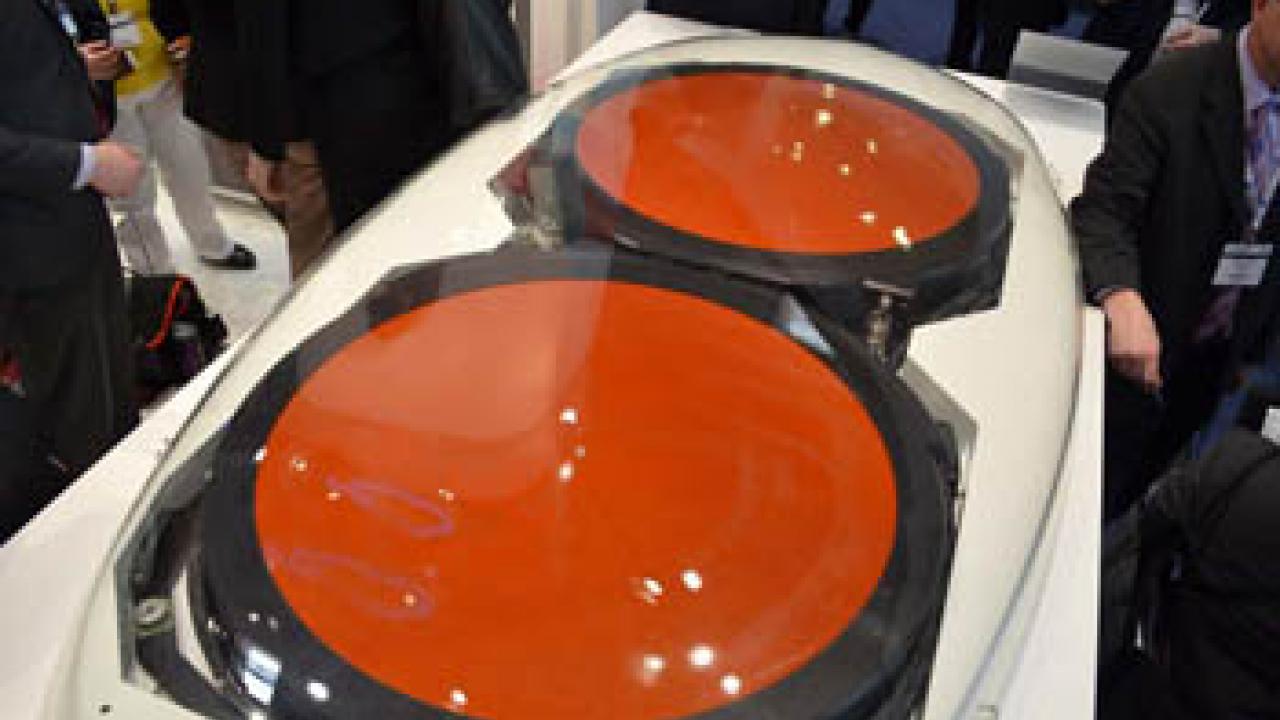 Right: Gogo's 2Ku antenna. Image: Steve Nichols
Intelsat recently purchased the commercial aviation arm of inflight connectivity company Gogo in a deal worth $400 million.
This saw Intelsat taking over the operation of Gogo's nine leading airlines with more than 3,000 connected aircraft.
By vertically aligning itself with a provider of inflight connectivity solutions to airlines, Intelsat said it hoped that it could grow its business further.
Dave Bijur, Gogo's senior vice president of commercial, said: "Gogo's acquisition by Intelsat brought great synergy for the companies.
"We are seeing above-average activity for inflight connectivity in the region. Airlines continue to buy new aircraft and these all have to be configured for inflight connectivity. There is also a big backlog of companies looking to equip or upgrade existing aircraft in their fleets.
"Airlines have simply been in survival mode in 2020," Bijur said. "But we have continued to be very active in the Middle East and maintain a presence in Dubai with leadership for that region in London.
"There is a great march towards providing inflight connectivity as a free service," he said. "There is free internet everywhere else we go. On the whole, airlines remain one of the last places where you still have to pay for internet access.
"One of our ideas is to approach telecommunications companies (telcos) about bringing internet access to the air. Our relationship with Intelsat gives us access to a great sales staff who have access to telcos around the world.
"That is certainly an area I wish to explore," Bijur said.
Gogo 2Ku promises "15/98/98" performance. That is, 15+ Mbps per passenger with 98% coverage per global flight hour and 98% service availability.
The Gogo 2Ku system uses the innovative dual VICTS (Variably inclined continuous transverse stub-2) phased-array Ku-band antenna from ThinKom.
First unveiled at AIX in 2014, the antenna itself is only 4.5 inches tall (6.5 inches with the radome), which Gogo says reduces drag compared with other satellite solutions.
ThinKom says its antenna have proved their reliability over 7,000,000 flights with 100,000 hours mean time between failures (MTBF)
"2Ku is not only good in terms of throughout, but the antenna is really low profile, which makes a lot of sense in terms of reducing drag," Bijur said.
"I think Intelsat is also keen to get 2Ku as a line-fit option on more new aircraft," he said.
Qatar Airways became the first Middle Eastern airline to sign up for 2Ku when it announced a deal with Gogo for 70 aircraft at the 2019 Dubai Airshow. This was for an upgrade from the older, slower Inmarsat SwiftBroadband on its Boeing Dreamliners, both the 787-8 and 787-9 variants, as well as its Airbus A380s.
Qatar Airway's chief executive Akbar Al Baker said in a press release: "Having access to the internet, and being connected and available is critical for passengers, and the demand for bandwidth will only increase. We are proud to be able to provide our customers with an excellent connectivity experience with Gogo 2Ku."
Arabian Aerospace contacted Qatar Airways for an update on how this was progressing, but has so far got no response.
When asked if Gogo would now exclusively use Intelsat satellites for its services Bijur said no.
"We've signed deals with lots of providers around the world. Those deals came with us and there is a big benefit to using other providers to provide capacity just where it is needed," Bijur concluded.
Stay up to date
Subscribe to the free Times Aerospace newsletter and receive the latest content every week. We'll never share your email address.