UAE Space Agency discusses UAE's ambitious space sector at SpaceOps 2018
A UAE Space Agency delegation has taken part in Space Ops 2018, a prestigious international forum for discussing advanced and technical areas of space exploration hosted by the French Centre National d'Etudes Spatiales (CNES) at the Palais du Pharo in Marseille.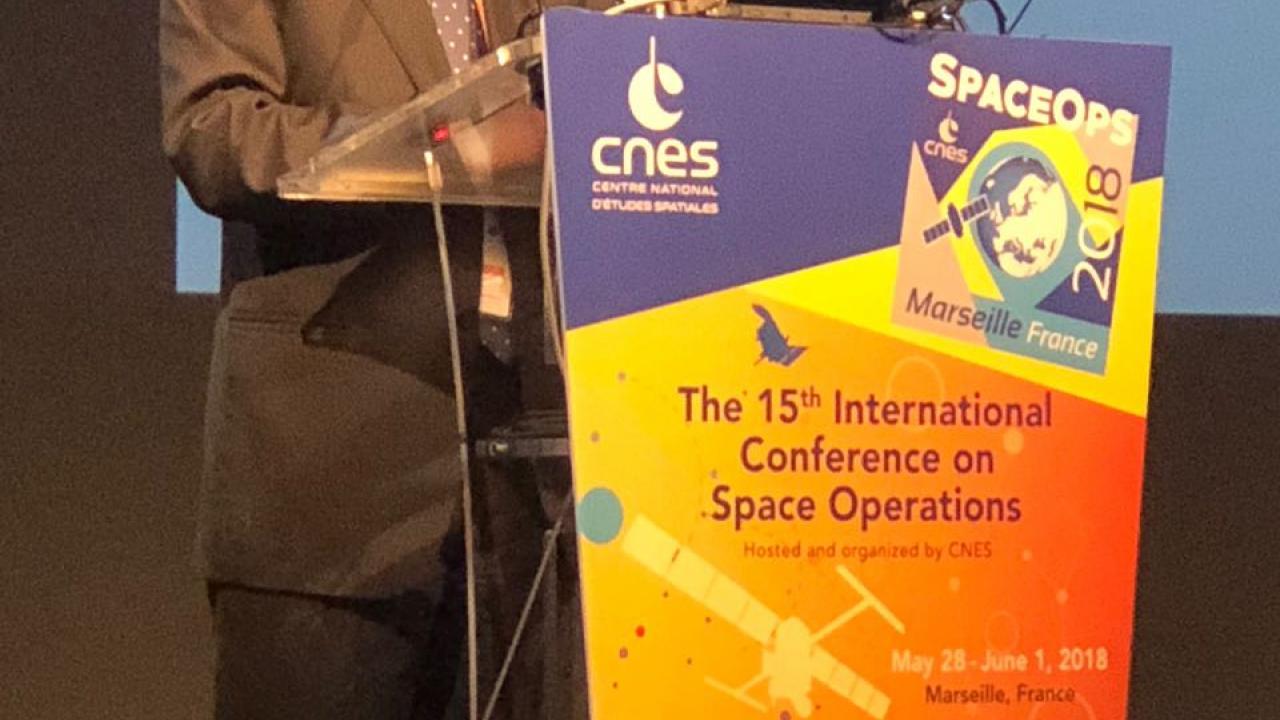 SpaceOps took place between May 28 and June 1, and was opened with a series of welcome messages and highlight talks by international dignitaries, including: H.E. Dr Mohammed Al Ahbabi, Director General of the UAE Space Agency; Jean-Yves Le Gall, President of CNES;Jean-Luc Beuzit, Senior Research Officer at the Centre National de la Recherche Scientifique and Director of the Laboratoire d'Astrophysique de Marseille; and William H. Gerstenmaier, Associate Administrator for the Human Exploration and Operations Directorate at NASA.
Leading the UAE's delegation is H.E. Dr Mohammed Al Ahbabi, Director General of the UAE Space Agency, who delivered a speech on the UAE's ongoing projects, including the Mars Hope Probe, Mars Scientific City, the UAE Astronaut Program and the Space Agency's ambitious long-term mission and vision.
During his speech, H.E. Dr Al Ahbabi said: "From communications to financial operations, agriculture to accurate weather forecasting, remote sensing to navigation – outer space and its applications are playing an increasing role in the activities of all nations and their peoples' daily lives. For this reason and many others, our commitment to the sector extends back decades, well before the establishment of our Space Agency. For example, the UAE was an early and active member in the development and application of a number of regional and international satellite and radio-communication regulatory frameworks."
H.E. Al Ahbabi went on to discuss the importance of the UAE's mission to Mars, saying: "Scheduled to launch in 2020, the Mars Hope Probe will be the Arab world's first interplanetary spacecraft to be developed. Once the Probe reaches the Red Planet and discovers more about its atmosphere, we will be sharing this information with more than 200 scientific institutions and research centers for analysis. By studying the atmosphere of Mars, we will learn why it became dry and learn how to protect our planet from the same happening."
SpaceOps 2018 provides an opportunity to promote the exchange of technical and administrative information on various aspects of space operations, such as mission design and management, human systems and operations, ground systems and other key elements of peaceful space exploration and utilisation.
Stay up to date
Subscribe to the free Times Aerospace newsletter and receive the latest content every week. We'll never share your email address.