UAE Space Agency and Bahrain's National Space Science Agency sign Declaration of Principles
The United Arab Emirates Space Agency (UAESA) has signed a Declaration of Principles with Bahrain's National Space Science Agency (NSSA), and the UAE's Khalifa University (KU), for the Training of the Bahrain Space Team.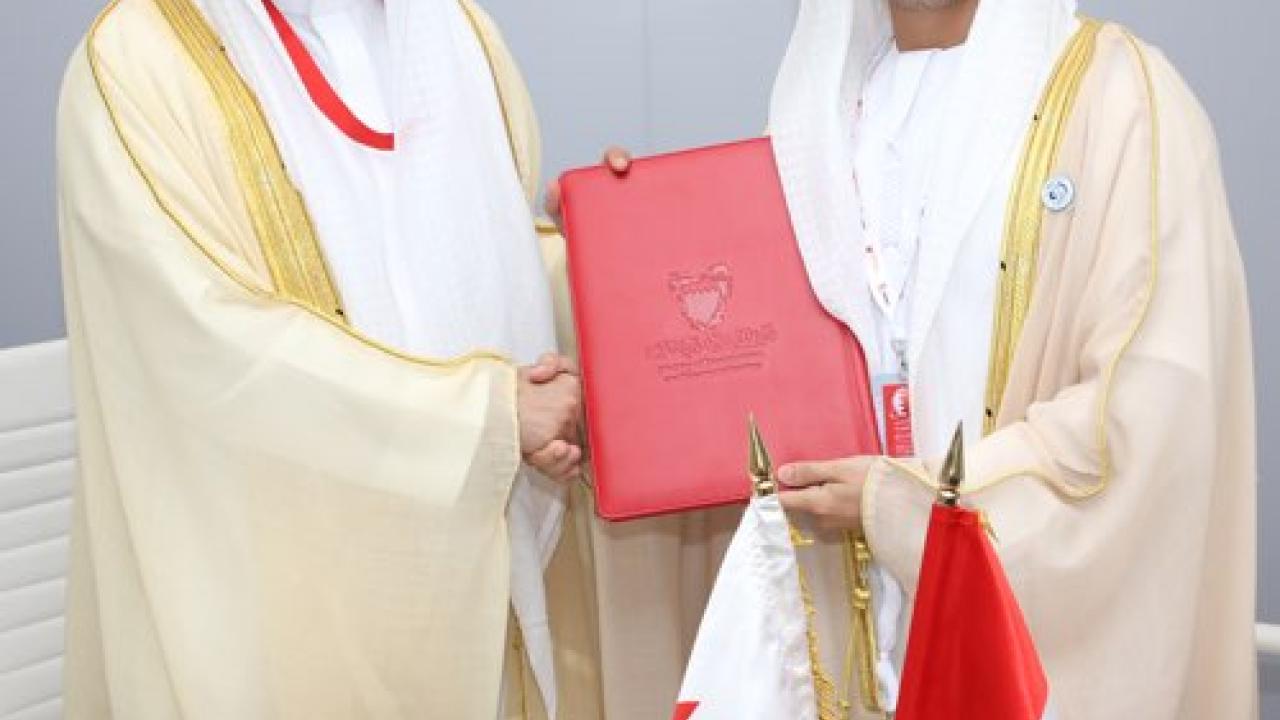 The signing took place on the sidelines of the 5th Bahrain International Airshow, held at the Sakhir Air Base in Bahrain between November 14-16, under the patronage of His Majesty King Hamad bin Isa Al Khalifa, King of Bahrain.

The document was signed by H.E. Dr. Ahmad Belhoul Al Falasi, Minister of State for Higher Education and Advanced Skills and Chairman of the UAE Space Agency, H.E. Kamal Bin Ahmed Mohammed, Minister of Transportation and Telecommunications and responsible for supervising Bahrain's NSSA. The signing was attended by H.E. Dr. Mohamed Nasser Al Ahbabi, Director General of the UAE Space Agency, Dr. Mohamed Ebrahim Al Aseeri, CEO of the NSSA, and a number of senior officials and engineers from all parties.

As outlined in the declaration of principles, the parties will collaborate in training the Bahrain Space Team in satellite technology, design, construction, testing, launching, operations, and control, in addition to cooperating to build a CubeSat to be used for scientific research, and carrying out a number of environmental studies.
Dr. Ahmad Belhoul Al Falasi said: "The signing of this declaration is a tangible result of the close relationship between the UAE and Bahrain in the arena of advanced sciences and will see us working together as strategic partners in the region's nascent but rapidly developing space sector. The ties between our two nations already extend across the political, economic, social, and cultural domains and we have now added the exciting field of space to that inventory. Our growing collaboration in space science and exploration is a testament to our desire and commitment to bolster meaningful partnerships between our two great nations."
"The UAE space sector has reached an advanced stage that now sees it able to transfer knowledge to valued partners in the region. Our growing expertise in the field of space science, research, exploration and telecommunications is exemplified by the number of ambitious space programs and initiatives launched by the UAE. These include the UAE Astronaut Program, the Emirates Mars Mission's Hope Probe project, Mars Scientific City and last month's placing in orbit of KhalifaSat – an advanced piece of sophisticated technology that was designed and built entirely by Emirati engineers," added H.E. Al Falasi.
"We are delighted to have signed this Declaration of Principles between the NSSA, the UAESA, and Khalifa University," said H.E. Eng. Kamal Bin Ahmed Mohammed. "First of all, I would like to thank my compatriot H.E. Dr. Ahmad Belhoul Al Falasi and the executive management of the UAE Space Agency for their efforts and constructive cooperation which has resulted in the signing of this declaration. This represents a significant step towards fulfilling the goals of the NSSA, in line with our strategic plans."

"We are looking forward to creating a skilled Bahraini team, familiar with the latest satellite technologies, and continuing to train them to expand their knowledge in this field. Such expertise will ensure the sustainability of NSSA projects, and will provide a solid base of skilled technicians in this field. We would like to thank our compatriots in the UAE for their cooperation and consistent support. We look forward to continuing to collaborate to the benefit and prosperity of both our countries."

Dr. Mohamed Nasser Al Ahbabi said: "Cooperation between the UAE Space Agency and the Bahrain's NSSA dates back several years, at a time when the space sector in both our countries witnessed unprecedented growth, prompted by significant government support. With the signing of this declaration, cooperation between our two countries will expand further. We will work to exchange expertise, experience, and information related to the space sector to realize our mutual objectives and interests."
Stay up to date
Subscribe to the free Times Aerospace newsletter and receive the latest content every week. We'll never share your email address.