KhalifaSat flown to Korea with Emirates SkyCargo
KhalifaSat, the first fully UAE-built Earth observation satellite, has been flown to South Korea prior to its launch in Japan later this year. Steve Nichols reports.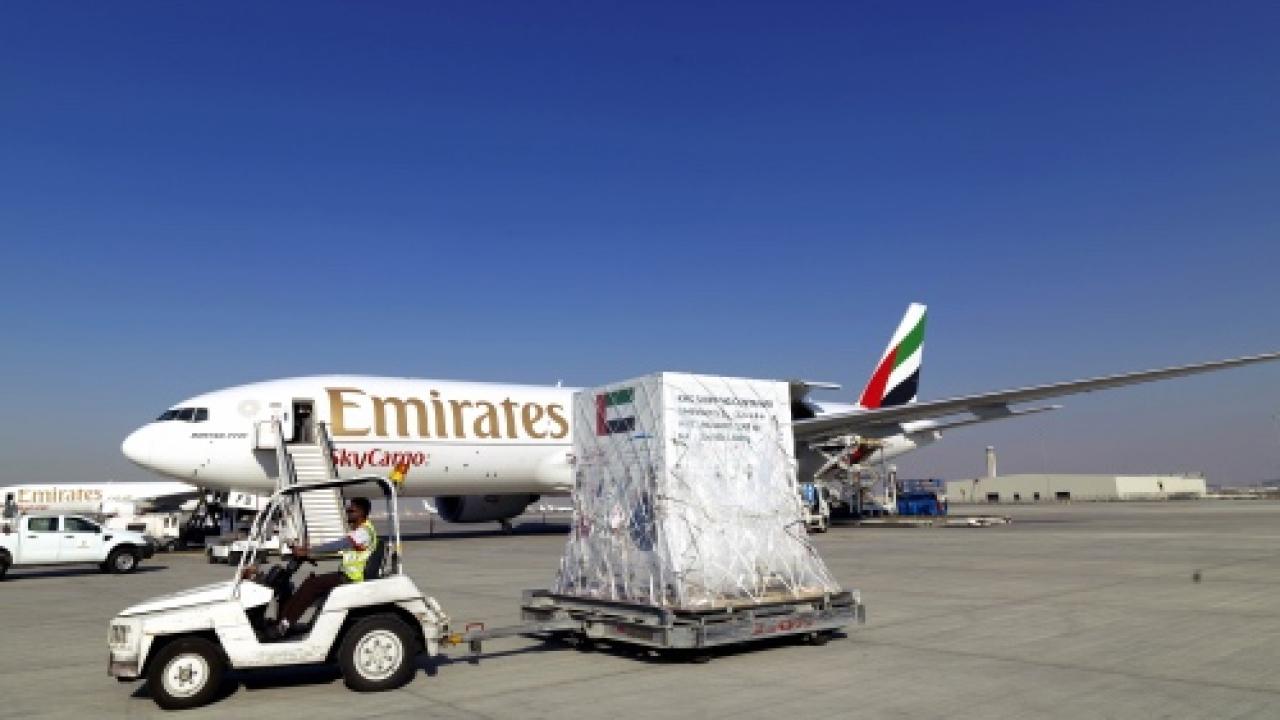 KhalifaSat was transported from Dubai to Incheon International Airport in South Korea on an Emirates SkyCargo Boeing 777 freighter aircraft, which was chartered for the project. Emirates SkyCargo also unveiled a special branded truck to mark the event.
Given the delicate nature of the shipment, teams from Emirates SkyCargo and the Mohammed Bin Rashid Space Centre (MBRSC) had worked together since November 2017 to prepare and plan all the steps.
The satellite was transported from MBRSC's manufacturing facility in Dubai to the Emirates SkyCentral DWC freighter cargo terminal at Dubai World Central Airport. The road trip was completed using a remotely monitored Emirates SkyCargo truck travelling with a police escort.
The satellite was then loaded through the main deck doors of the B777 freighter for onward delivery to South Korea.
Nabil Sultan, Emirates divisional senior vice president, cargo, said: "Over the years Emirates SkyCargo has carried a wide variety of unusual items, but being able to transport the first satellite manufactured in the UAE is a unique honour. We are delighted to bring our expertise in air transportation to the table on this historic and momentous occasion."
KhalifaSat is a 350kg Earth observation satellite which, after launch, is due to orbit roughly every 90 minutes at a height of around 600 kilometres.
The Emirates Institution for Advanced Science and Technology (EIAST) launched its first satellite – DubaiSat-1 – in 2009. It passes over the UAE four times a day providing 2.5 metre resolution colour images.
The much bigger DubaiSat-2 was launched in 2013, providing 1 metre resolution panchromatic (black and white), plus 4 metre multispectral (colour) photographs across a 12km-wide imaging swath.
KhalifaSat will better these resolutions thanks to developments in imaging sensors and optics.
DubaiSat-1 and DubaiSat-2 were built in partnership with Satrec Initiative (SI), a South Korean satellite manufacturer. But, with the knowledge gained through this cooperation, MBRSC engineers designed and developed KhalifaSat in the UAE without SI's assistance.
With its four solar panels, the new satellite will have a resolution of 0.7 metres for panchromatic images and 2.98 metres for multi-spectral imagery.
The satellite will be able to store 1,024 images, each representing a 12km x 12km area. The total image size that can be stored by the satellite will be 12km x 1,350km.
His Highness Sheikh Mohammed bin Rashid Al Maktoum, vice president and prime minister of the UAE and ruler of Dubai, recently visited the MBRSC to see the progress of the KhalifaSat project.
He said: "Emirati engineers are the first in the Arab world to construct a satellite without foreign assistance. This is a major achievement that signifies the high level of capabilities UAE youth have acquired in space technologies. The high level of expertise that Emirati scientists and engineers have developed creates a strong foundation for the future scientific and technological development of the UAE."
The KhalifaSat project is part of MBRSC's long-term strategy to encourage innovation, stimulate technological progress, promote sustainable development and create a generation of Emirati scientists and engineers who will contribute to a scientific renaissance and lead ambitious space projects over the next decade.
The MBRSC has an agreement with Mitsubishi Heavy Industries Ltd (MHI) for the launch of KhalifaSat to take place in Japan. The launch vehicle will be the H-IIA rocket and is scheduled to launch at an unspecified date later in 2018.
Once in orbit, MBRSC says KhalifaSat will provide detailed high-quality imagery for a variety of uses, allowing the UAE to provide competitive Earth-observation services across the world.
The MBRSC ground station in Dubai, UAE, will support KhalifaSat, and its high-resolution imagery of the Earth will be used for various purposes, including urban planning, change monitoring, area classification, monitoring environmental change and aiding relief efforts for natural disasters.

Stay up to date
Subscribe to the free Times Aerospace newsletter and receive the latest content every week. We'll never share your email address.