Qatar kicks off ATM with host of new passenger experience products
Qatar Airways made a host of exciting announcements to kick-start day one of the Middle East's biggest travel show in Dubai today.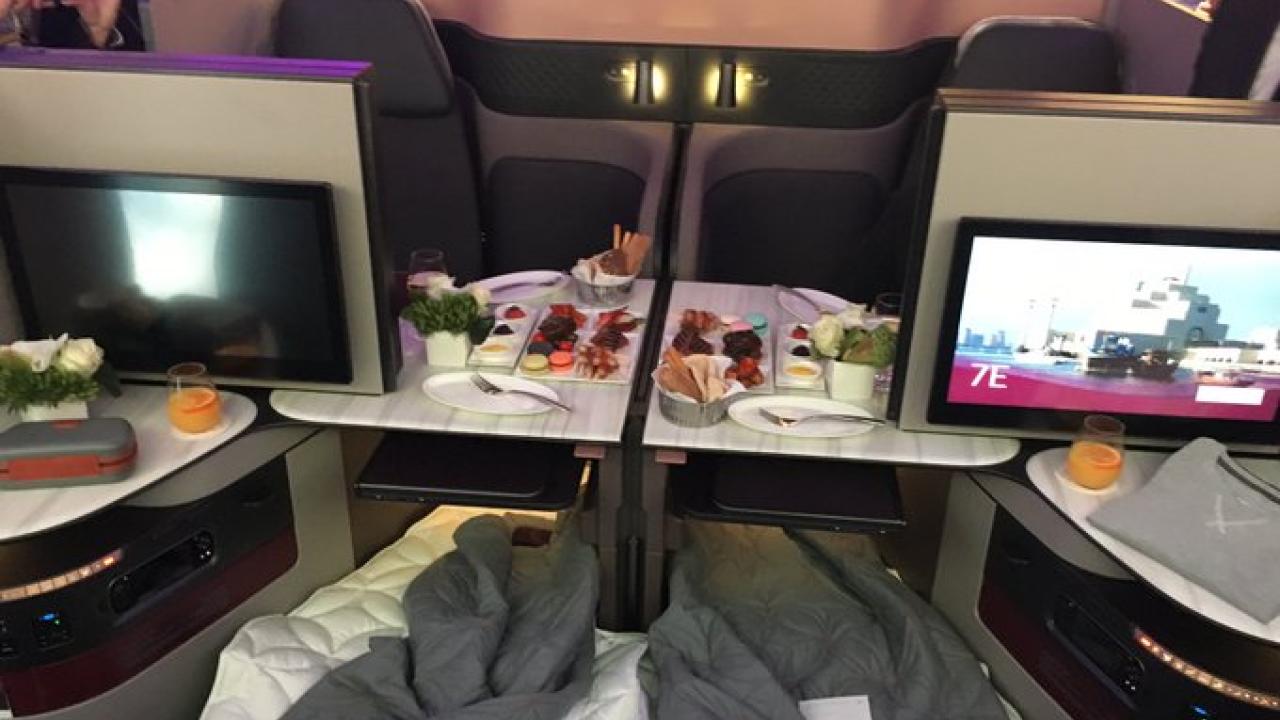 The airline announced it will be the first in the Middle East to launch high-speed broadband on flights starting this summer, along with a brand new graphic user interface (GUI) for improved usability and a complimentary new entertainment application for early access to thousands of entertainment options.

Combined with the regional reveal of its impressive and ground-breaking Qsuite, Qatar Airways undoubtedly stole the show on the opening day of the Arabian Travel Market (ATM).

Qatar Airways also surprised attending guests and international media by revealing an additional 12 new destinations to be launched in 2018: San Francisco, U.S.; Cardiff, United Kingdom; Utapao, Thailand; Chittagong, Bangladesh; Mykonos, Greece; Málaga, Spain; Accra, Ghana; Lisbon, Portugal; Abidjan, Ivory Coast; Prague, Czech Republic; Kiev, Ukraine and Mombasa, Kenya. This news comes after the airline had already announced an impressive 14 new destinations for 2017-18, further adding to the airline's global network of more than 150 destinations.

Qatar Airways CEO Akbar Al Baker, said: "Qatar Airways constantly strives to create the ultimate passenger experience. It is this simple methodology that continues to place us ahead of our competitors when offering the best service in the skies. Seamless connectivity is part of our passenger's lifestyle requirements on the ground and is fast becoming a minimum expectation for travel in the air. In order to not just meet these expectations, but to exceed them, I am delighted to announce this partnership with Inmarsat, the leading provider of airborne broadband connectivity. This, alongside our recently launched Qsuite, will offer premium passengers a new level of sophistication, privacy and connectivity in the skies from this summer. The new destinations announced today mean that we can now bring these innovative and world-class products to even more travellers around the world."

Leading the announcements was the launch of the new high-speed broadband in partnership with Inmarsat (GX Aviation). This offering heralds a new chapter in connectivity for the airline, enabling both premium and economy passengers the ability to stream content and browse the internet with the same speed and efficiency as if they were on the ground. Initially available on the Boeing 777 and Airbus 350, Inmarsat's 'GX Aviation' product will offer seamless connectivity through its proprietary Global Xpress Ka-band satellite network, designed perfectly for use in commercial aviation.
Qatar Airways also announced the launch of its redesigned website, set to go live in early May. The new website was developed to showcase the airline's destinations and service, and features more than 2000 new destination and fleet images, and over 400 videos, including 360 degree videos and panoramic images.
The Doha-based airline also unveiled its new business class experience, Qsuite, to consumers in the Middle East for the first time. The first Qsuites will be retrofitted onto existing Qatar Airways aircraft from June onwards, at a rate of about one plane per month. The first destinations to feature the Qsuites are due to be London, Paris and New York.
Each of the new seats is crafted with intricate details such as hand-stitched Italian leather and satin rose gold finishing.
Qatar Airways is also launching a customisable food and beverage concept, introducing a menu that offers a host of new dining choices - including a selection of snack 'sharing dishes' available throughout the flight.

Ushering in a never-before-seen standard in premium travel, the enhancements and improved connectivity will be complemented by the airline's relaunched
entertainment system, Oryx One, offering a next-generation user interface that has been redesigned to make it even easier to surf content and choose from up to 3,000 entertainment options – enough to fly around the world 94 times.
On the ground the brand-new 'Oryx One' mobile app allows passengers to browse the vast entertainment content library on their own device, at their own leisure.
Passengers can enjoy trailers of the latest Hollywood blockbuster releases and plan their on-board viewing before leaving the ground and even read a selection of magazines and newspapers whilst waiting to board. Demonstrating the seamless premium product experience, passengers can also make their own favourite viewing list and transfer it on-board via the ingenious addition of the Near Field Communication (NFC) technology built in to each Qsuite seat.

Stay up to date
Subscribe to the free Times Aerospace newsletter and receive the latest content every week. We'll never share your email address.