Bestfly takes delivery of new AW139
Angolan operator Bestfly is strengthening its offering in the helicopter market with the delivery of a pair of new Leonardo AW139s with the first being handed over this afternoon.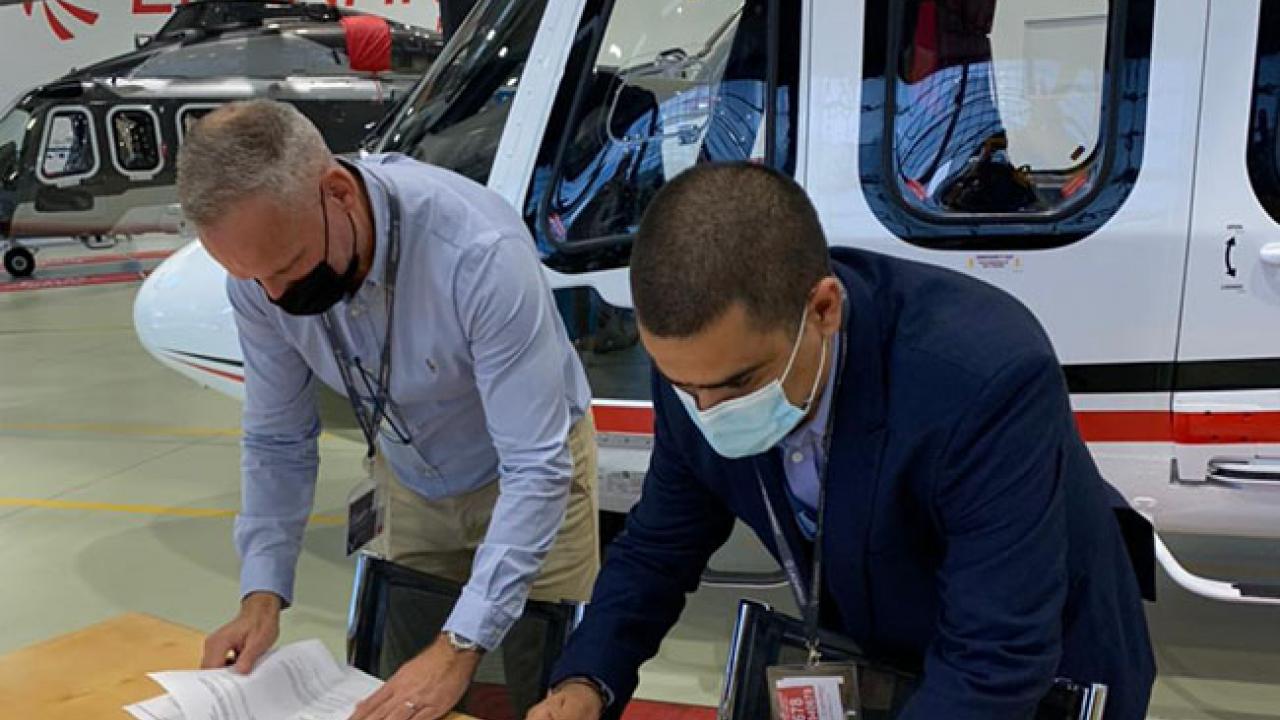 Bestfly's Nuno Pereira signs for the new helicopter today (Image: Bestfly)
The helicopters, leased from Abu Dhabi Aviation (ADA), will be employed primarily on offshore services for the oil and gas industry, said Bestfly CEO Nuno Pereira, and will be outfitted for medevac duties. Bestfly has contracts with several major oil companies such as Total, Exxon and BP.
It is anticipated the aircraft will each fly 30 to 50 hours per month on duties including SAR, medevac and ad hoc work.
The aircraft will replace two existing seven-year-old AW139s and feature the latest upgrades to the model. They will also mark a move by the Angolan operator to having greater input into the maintenance and support of its helicopters.
Bestfly has had a close relationship in recent years with helicopter service provider Heli-Union, which has provided extensive operational and maintenance support. While Pereira emphasised that the relationship with Heli-Union remains excellent, "We are now in a transition phase by adding the new choppers," with Angolan law stipulating that companies such as Bestfly should use more Angolan pilots and mechanics. Angolan personnel will be trained on the new machines at the Abu Dhabi Aviation Training Centre.
With competition strong in the oil and gas market, Bestfly decided to acquire the latest models of the AW139 to give itself an edge in the marketplace, said Pereira: "We're offering a better product with brand-new machines."
The new aircraft are "oil and gas offshore-configured", said Dr Mark Pierotti, ADA's commercial department director.
"They're 7-tonne machines, more powerful and can take more weight. They have floats and state-of-the-art safety equipment that the oil and gas industry insists on.
"They'll be based in Luanda, operating under Bestfly's AOC, but will be owned by ADA and we will support them with pilot training in Abu Dhabi and full spare parts support."
The aircraft will be supplied on a five-year lease that could be extended and could potentially lead to more aircraft being supplied, he added.
The venture with Bestfly is ADA's first venture in Angola, although the company already has significant links with Africa, with aircraft located in several countries.
"It's a fairly big market for us," said Pierotti. "We placed two aircraft last month in Zambia and South Africa." The company also has machines in Nigeria.
Asia and Africa are definitely a strategic interest at ADA: "We would like to develop our relationship with existing customers, but I'm also looking for more clients."

One route to finding new customers, he said, was the Aviation Africa conference that has been held in recent years in Kigali and Addis Ababa and which is scheduled to return to the Rwandan capital again this October.
Pierotti used the event to search for new locations in which to place aircraft, as well as for new partners and lessees and "It's starting to pay off now."
Writes Alan Dron.

Stay up to date
Subscribe to the free Times Aerospace newsletter and receive the latest content every week. We'll never share your email address.