Nexus' smallest customer is well on the way to record breaking circumnavigation
Staff at Saudi Arabia's aviation services Nexus are used to tracking aircraft to provide their products to airlines and business aviation operators – but they are currently glued to their screens watching the progress of probably the smallest aircraft ever on their books.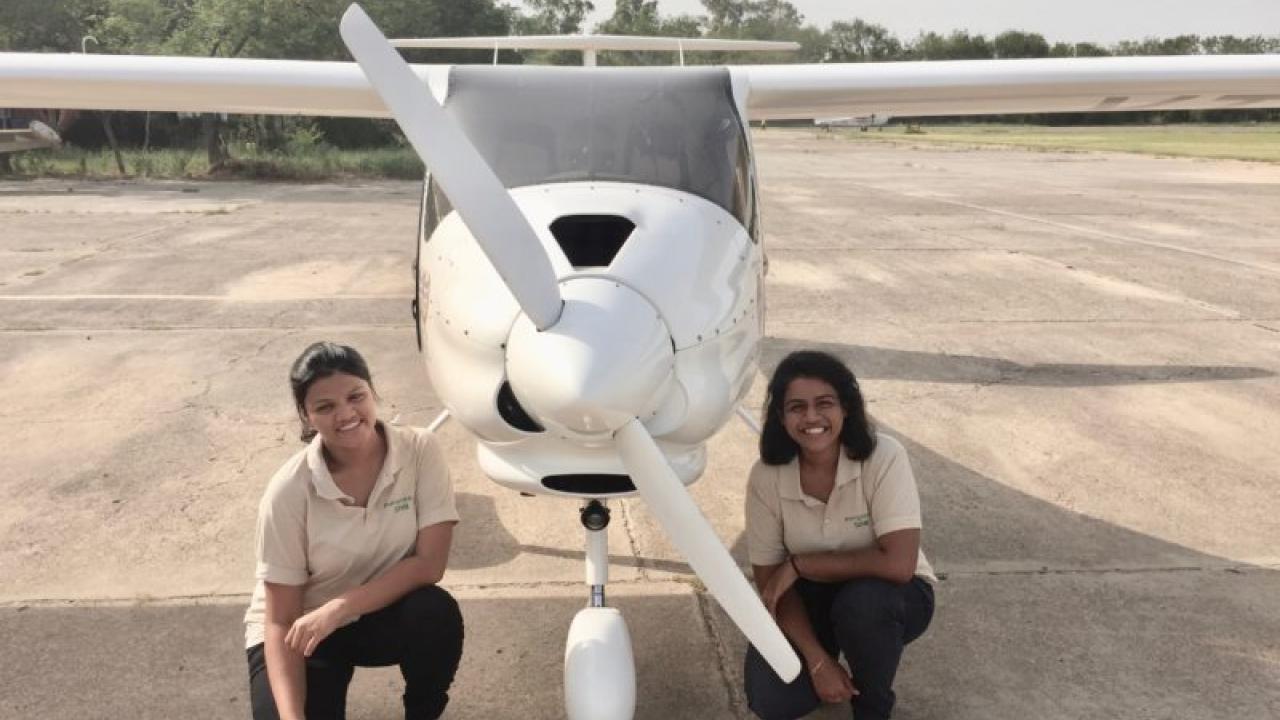 Left: SIZE MATTERS: The Sinus 912 parked next to a CL245 water bomber from Bombardier/Viking in Northern Canada.
(c)Aarohi Pandit. www.wefly.org.in





The company is managing flight operations for a motorglider named 'Mahi'. It is a Sinus 912, a pre-molded, composite built, single engine, two-seat light aircraft with a high wing, tricycle design. Powered by an 80hp Rotax 912 4-stroke engine, this plane only consumes about 10 liters of fuel per hour at a high cruise-speed of 200 kmph (110 kts). Mahi has a 15- meter wingspan, and a 1:28 glide ratio, with feathered propellers, allowing the aircraft to stay airborne for up to 1200 km. The plane needs approximately 100 meters of a runway for takeoff, and is equipped with air brakes, allowing the crew to utilize the smallest, and most remote airfields.
The reason for this interest is that Nexus is one of the sponsors of the WE! Expedition team.

The around-the-world aviation expedition is led by two female pilots from India, and will attempt to cover more than 40,000 kilometres in 100 days, touching down on three continents. NEXUS is handling the international trip support and flight operations for the 21-country journey, from its state- of-the-art control room in Mumbai, India.
A circumnavigation of the Earth in a motorglider is a feat so difficult that it has only ever been accomplished five times before, and never by a woman, according to the We Expedition website. "This is going to be a major accomplishment and we wish the team a great success," said Nexus founder and chairman Mr. Abdullah Al-Sayed.
Although the venture started with two pilots Aarohi Pandit (23) and Keithair Misquitta (24), once reaching Scotland, only one pilot could continue on the second phase becasue of the need for additional safety equipment and fuel for the trans-Atlantic crossing. Aarohi Pandit flew solo across the Atlantic Ocean, from Wick, Scotland to Iqaluit, Canada, to become the first woman in the world to do so in a Light Sport Aircraft. Keithair will rejoin the mission for its final stages back to India.
Nexus has been with them through this entire mission with staff involvement from offices in Jeddah, Dammam, Mumbai, and from the company's 24 hour Meteorology centre in Houston, Texas.
Once completed, this attempt will set a world-record while breaking countless barriers for female pilots worldwide." This is the first circumnavigation attempt by an all-woman, non- commercial, civilian team. And, the first motorglider circumnavigation by Indian pilots, man or woman.
The journey so far. Daily updates are shown on the website
Stay up to date
Subscribe to the free Times Aerospace newsletter and receive the latest content every week. We'll never share your email address.