Leonardo's new jet trainer certified and ready for the global market
The latest military trainer designed with African air forces as a target has been certificated by Italy's (Directorate for Air Armaments and Airworthiness), the Italian Ministry of Defence's Certification Authority.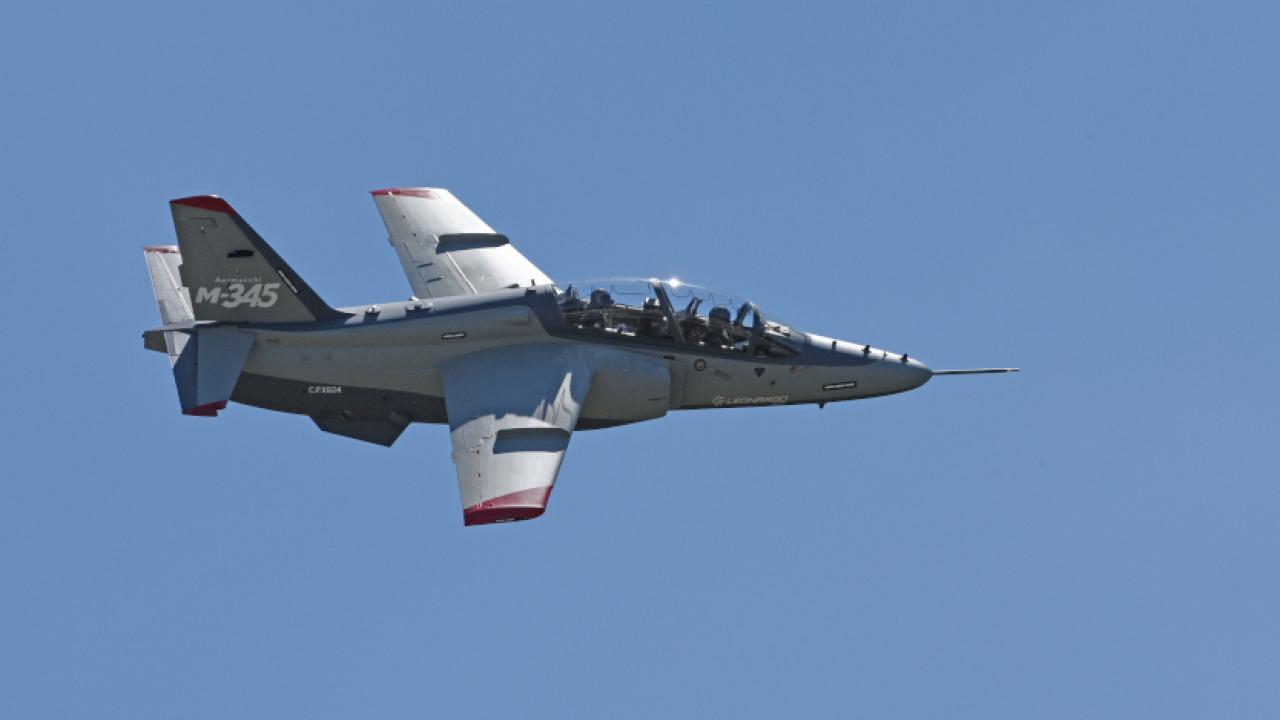 Leonardo confirmed the certifcation award for the M-345 programme which it says the result of intense activities with two hundred dedicated flights logged alongside the critical support of the Italian Air Force's Flight Test Centre, 61st Wing and 10th Aircraft Maintenance Unit.

Lucio Valerio Cioffi, managing director of Leonardo Aircraft Division, said: "The achievement of the Initial Certification for the M-345 – unique in its segment for acquisition and operational costs - confirms the aircraft features excellent characteristics and capabilities and makes it available for the international market. This result stems from a consolidated collaboration between the industry, the Certification Authority and the Italian Air Force under a full national effort and embodies the heritage in training excellence which is widely acknowledged to the Italian Armed Forces."

The Initial Certification of the M-345 marks the first case of enforcement of the new AER (EP) P- 21 rule for a fixed-wing aircraft. This rule adopts the European EMAR-21 - (European Military Airworthiness Requirements) – a stringent international certification requirement that will also be beneficial to the export of the aircraft.
The new aircraft, designed to meet basic and basic/advanced training needs, will complement the M-346s used for the advanced phase of pilot training and, in the framework of the "International Flight Training School" project, will support the reinforcement and internationalisation of the training offer launched by Leonardo in partnership with the Italian Air Force.
Last year South Africa's Paramount was named as one of the partner companies around the world working on weaponising the basic trainer to make it a light attack aircraft - suitable for military forces with limited budgets.
Speaking to African Aerospace, Leonardo's aircraft's product solutions and sales engineering Eduardo Munhos, said: "being a versatile machine, the 345 can be also an aeroplane that can do a dual role activity being also a light fighter aeroplane. It can deliver services for very sophisticated air forces and also very basic requirements for other air forces. So we see a big potential for markets like Africa, South America, Far East, but we also see the aircraft competing in Canada
Stay up to date
Subscribe to the free Times Aerospace newsletter and receive the latest content every week. We'll never share your email address.