IDEX: Saab in the spotlight as it delivers third GlobalEye to UAE
Saab delivered the third GlobalEye airborne early warning and control (AEW&C) aircraft to the United Arab Emirates Air Force and Air Defence (UAEAF&AD) today writes Alan Warnes.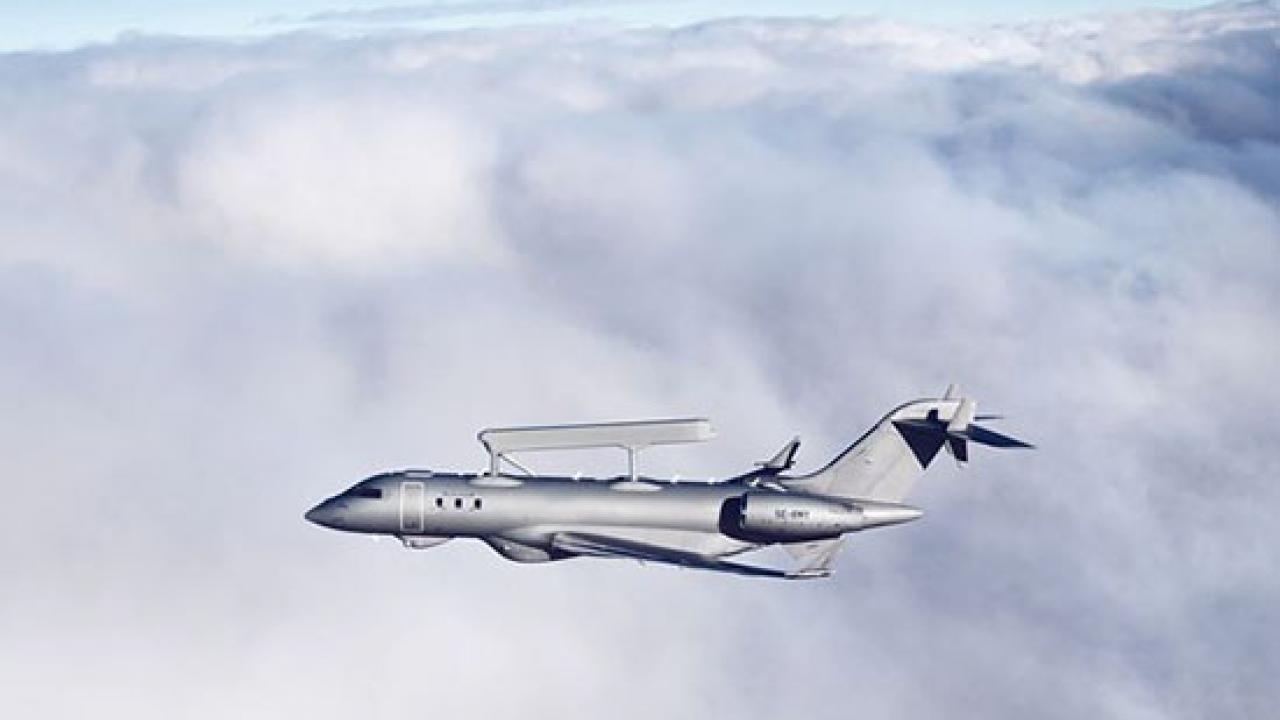 image: Saab
It comes after the first pair ordered in a deal worth $1.27 billion in November 2015, arrived in-country in April and September 2020. A $234 million contract for this third example followed in February 2016.
Speaking on the eve of the International Defence Exhibition (DEX) and Naval Defence Exhibition (NAVDEX) which starts tomorrow ( Februiary 21), Micael Johansson, President and CEO of Saab said, "Completing three deliveries of a solution as advanced as GlobalEye in less than a year proves Saab's solid expertise as a provider of high-technology solutions and our focus on meeting our commitments, especially given the current circumstances." He added, "By handling the entire process, including sensor development and integration, we are uniquely in control of every critical part of this complex programme."
On December 30 last year Saab and the UAE government signed a third deal valued at $1.08 billion for a further two GlobalEyes, pushing the UAE's eventual fleet to five. Deliveries are expected in 2025.
GlobalEye is Saab's latest airborne early warning and control solution, following the Saab 340 and bigger Saab 2000. It combines Saab's Erieye Extended Range radar and a range of additional advanced sensors with the ultra-long range Bombardier Global 6000.
The new Erieye ER radar can peer over 300 miles (550kms) on the faster Global 6000 business jet airframe and with a 11-hour endurance can stay on station longer. The integrated Leonardo Seaspray 7500 maritime surveillance radar provides the onboard operators with the ability to track the seas, while a FLIR Systems Star Safire 380 EO/IR system provides a closer view of subjects of interest. More importantly, the GlobalEye covers threats in the air, sea and land domains. With very small water crafts, like RIBs and jet-skis as well as aircraft with smaller radar cross section areas there was a need to detect from distance, to increase early warning times, to allow the operators to act.
Meanwhile in December, the UAEAF&AD's two Saab 340s which have been based at Al Minhad, UAE since 2010/11, were seen passing through Larnaca, Cyprus on their way to Saab's Gothenburg facility in December 2020. Saab has remained tight-lipped about their future, but it's likely that with the arrival of the first two GlobalEyes last year, they are no longer needed. When I asked the Saab CEO and President about the Saab 340s last September, he told Arabian Aerospace, "They have been using them substantially and we have a team in-country supporting the aircraft." They undoubtedly learnt a lot about the sensors and the systems over the ten years they have operated the two turboprop aircraft. Micael finished, "I would say so, understanding the sort of situational awareness these force multipliers have given them and not using the fighting capability for the wrong things."
To date, the UAEAF&AD is the only customer of the GlobalEye, although Finland has been offered it as part of its new HX requirement and Sweden is expected to order several in the future.

Stay up to date
Subscribe to the free Times Aerospace newsletter and receive the latest content every week. We'll never share your email address.