UAE leading the world into the 'sci-fi zone'
The UAE is preparing for the fast-approaching urban air mobility sector with what it believes to be the world's first set of regulations governing unmanned and autonomous air vehicles.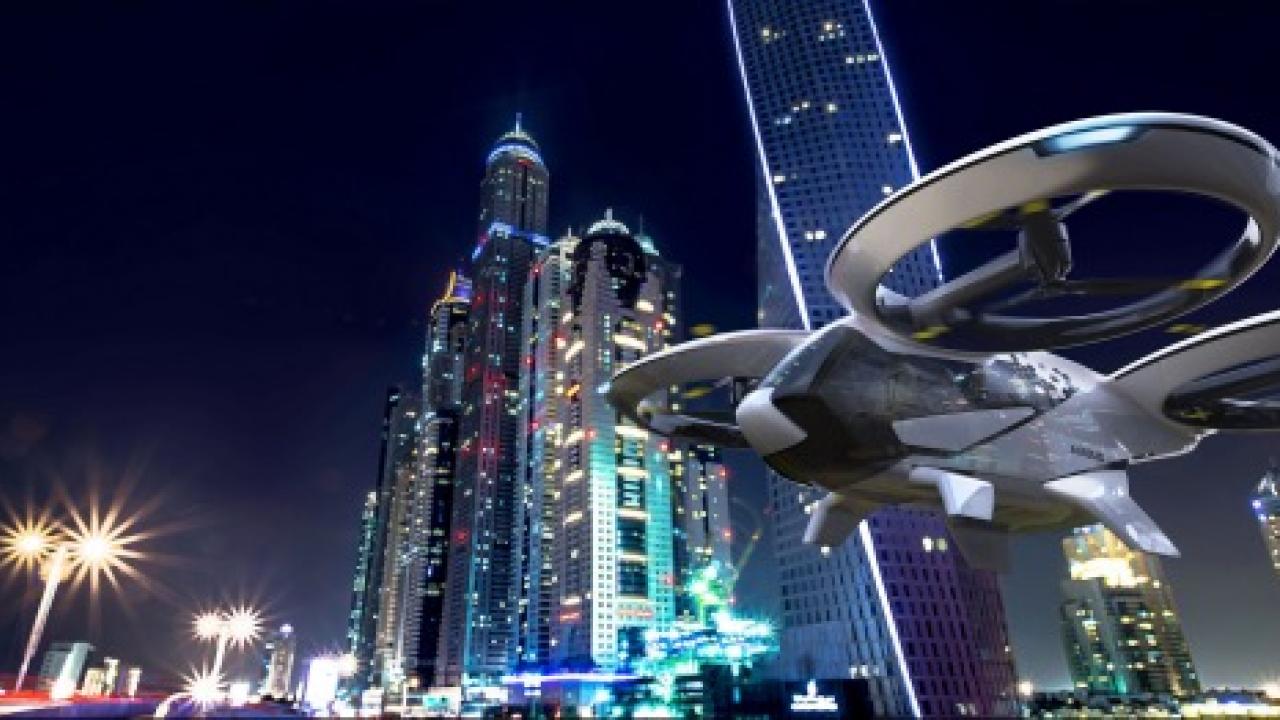 Picture: AIRBUS
For almost a century, science fiction authors have written of future cityscapes where the skies are full of personal air vehicles, airborne taxis, and drones ferrying cargo on what transport specialists call 'the last mile' of their destinations. Alan Dron reports.

That future is very nearly here. Cargo drones are already starting to appear in locations as far apart as the US and Ghana, delivering everything from pizza to urgently needed medicines. Advances in propulsion and guidance technologies will make personal air vehicles a reality by the end of this decade, possibly well before.
This personal mobility industry is in its infancy. Ensuring that it develops in an orderly way will be the next big challenge for city councils or national governments, which face the prospect of the same traffic congestion – or, potentially, accidents – in the skies as on their roads if they do not impose some form of regulation.
With that in mind, the UAE's General Civil Aviation Authority (GCAA) has issued a framework of rules to govern urban air mobility (UAM).

The aim is to create the conditions for the safe, secure and efficient operation of flights in close proximity to populated urban areas. This, says the GCAA, is the world's first such set of regulations.
"We have been observing rapid development in every aspect of the aviation industry, in particular an emergence of new players in the UAM ecosystem," said GCAA chairman and minister of economy, Abdulla bin Touq Al Marri.
"UAM should introduce enormous opportunities for [a] smarter, faster, greener and safer integrated transport system for mega-cites, as well as creating an economic boost."
One aim of the new regulations is to expand the UAE's economy via the aviation sector, which already makes up a significant percentage of the country's gross domestic product (GDP). The regulations are also intended to help create an integrated transport system.
With the later point in mind, the country's Roads and Transport Authority (RTA) has worked side-by-side with the GCAA in helping develop the legislative and operational framework.
"The issuance of this regulation supports the efforts of the RTA in translating Dubai's smart driving strategy for self-driving, which aims to convert 25% of the total mobility trips in Dubai to self-driving trips through various means of transportation by 2030," said Mattar Mohammed Al Tayer, the RTA's director-general and chairman.
A major concern for both transport professionals and the general public is how this new generation of unmanned air vehicles will fit in with existing manned aircraft and air traffic control.
"GCAA has set a strategy to have a pragmatic approach in dealing with new emerging types of air transport activities, hence it will be a phased development for safe integration of those activities with the existing traditional operations," explained Aqeel Ahmed Al Zarouni, the GCAA's acting director - policy, regulation and planning.
These new air vehicles, whether piloted, remotely piloted or unmanned, will be introduced on defined, predetermined routes, segregated from existing manned aircraft.
Piloted air taxis and unmanned cargo-carriers will not share the same routes, at least in the early stages of the project. They will then be integrated with existing air traffic management systems. Eventually, as the new vehicles reach maturity, they will operate autonomously.
Sensor technology to allow drones and air taxis to integrate with air traffic control is advancing quickly in terms of reliability, accuracy, and miniaturisation, said Al Zarouni. The larger size of air taxis would make it relatively easier to fit these sensors on them, compared to the smaller drones.
So, how will unmanned vehicles be controlled, to ensure no collisions occur?
"Well, UAM will start operating initially as piloted vehicles, hence the pilot will have the direct control and communications of the vehicle to avoid any collision," explained Al Zarouni.
"Then, gradually, the operation will convert to remotely piloted, then to fully autonomous, until we make sure the vehicle designs and systems are mature enough to conduct fully autonomous flight.
"In the case of drones, segregated airspace will be given to ensure safe operations with other traffic and it will be communicated to all airspace users, including manned flights, using notifications to airman (NOTAMs) that will be issued to alert other traffic in the vicinity of unmanned operation [and] to take all the precautionary measures needed to ensure flight safety is not compromised."
The new generation of unmanned air vehicles, together with the emergence of new UAM platforms, will need robust and adaptive control techniques, such as automation of their 'sense and avoid' sensors that will allow the vehicles to function autonomously.
To achieve this, added Al Zarouni: "The efficiency and reliability of the communication link with the ground station and other airspace users is crucial."
Global investments in this market segment of around $52 billion are expected by 2025.
This robust communication system will be vital, as 40,000 drones and 23,000 UAM vehicles are expected to be in the air by 2030. "So we need to prepare those congested airspaces for mass operations," emphasised Al Zarouni.
The UAE, he added, aims to create manufacturing capabilities in this new sector, especially for UAVs, with the GCAA planning to create a new set of regulations for UAV manufacturers. Safety standards will be harmonised for both manufacturers and UAV operators.
And, in a sign of the UAE's growing influence in this sector, Al Zarouni noted that the Gulf nation "is engaged with global aircraft manufacturers, leading authorities and the International Civil Aviation Organization (ICAO) to set global standards".
The UAE anticipates some challenges when introducing these emerging UAM technologies. For example, social acceptance will be required before the public is comfortable with the thought of unmanned aircraft operating in the skies above them. This is likely to require social campaigns, the establishment of environmental noise levels, and the setting of altitude and proximity standards to reassure residents.
Stay up to date
Subscribe to the free Times Aerospace newsletter and receive the latest content every week. We'll never share your email address.