O.R Tambo International unveils first phase of Western Precinct development
O.R Tambo International Airport, South Africa's biggest and busiest port of entry, has unveiled the first phase of a R4.5 billion mixed-use development that will see its Western Precinct acquire new offices, retail space, hotel and conference facilities and additional transit-related services.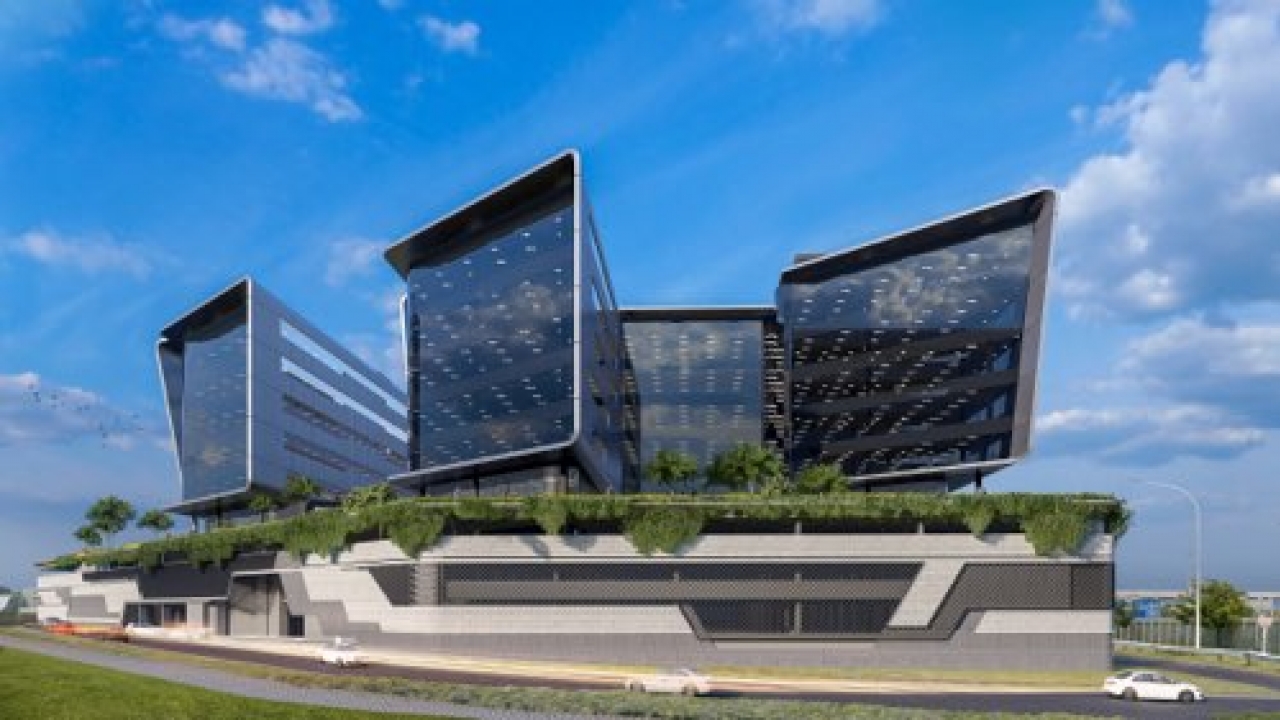 At a ceremony for its Western Precinct development, an 8.5-hectare site, general manager of the Airport, Bongiwe Pityi-Vokwana detailed the airport's plans to unlock the development potential of 180 000 square metres of bulk for a mixed-use development to be located on the northern precinct of the airport. Construction begins this month with an anticipated completion date for the first phase of the end of 2020.

Pityi-Vokwana was joined at the ceremony by members of the Western Precinct Consortium, which won the bid for the first phase. This phase will see construction of three six-storey office buildings, above podium with a floor area of 33 000 square metres.

Pityi-Vokwana said: "As the busiest airport in Africa and the international gateway to South Africa, it is imperative that O.R Tambo International Airport remains an international landmark with world-class infrastructure and a large variety of services for all users and markets. The Western Precinct development forms part of a strategy to expand our offering and to drive new sources of growth for the entire region."

In addition to this development, O.R Tambo International's Airports Company long-term Infrastructure Master Plan features midfield cargo and midfield passenger terminals, each requiring several billion rands in further investment. These developments will accommodate growing passenger demand and expand the midfield cargo facilities at the airport to accommodate up to two million tonnes of air cargo annually.

"At the same time, airport users will start to see upgrades to the existing terminal buildings. So, we are entering a very exciting period in the life of our airport which supports about 38,000 jobs in and around the precinct," says Ms. Pityi-Vokwana.

The mixed-use development will consist of a variety of buildings which are framed in such a way as to form a boulevard at the international departures level, where a variety of retail commercial and ancillary buildings each open onto a vibrant energetic 'street' environment serviced by lively restaurants, corner cafes and bars.
The iconic structure will house all the vertical and horizontal circulation functionality in a clear and legible way anchored by the Gautrain station at its core and will provide a unique architectural language to Africa's largest airport.
The first phase buildings will provide for:
Corporate head office for Airports Company South Africa and the South African Civil Aviation Authority and
Common-use facilities such as a fitness centre, canteen and creche.

The development will improve the connectivity from the Gautrain station and to existing hotels and facilities via pedestrian friendly connections to the international terminal building.

The members of the Western Precinct Consortium are HERI Propco (developer), mmqsmace Consultancy, and TiBER Construction (building contractor). The Consortium's ownership profile is 62% black-owned. The Consortium has committed that a minimum 30% of the total contract value will be sub-contracted to Exempt Micro Enterprises (EMEs) and Qualifying Small Enterprises (QSEs).

"We will also be closely partnering with the Consortium to ensure that their Enterprise Development and Skills Development plans are achieved and that local residents are prioritised during the recruitment of labour," Pityi-Vokwana added.
Consortium leader Mandla Mlangeni says the group was delighted to win the competitive bid. "Together we bring exceptional engineering and construction skills and experience to the Western Precinct development."

Mlangeni says that during construction of the first phase an estimated 1100 people will be employed on site at the peak of the project.

"We have already put in considerable effort to recruiting from the regions around the airport and will continue to do so. In addition, the consortium will remain focused on fulfilling our bid undertakings to use black-owned subcontractors and suppliers," he said.

Pityi-Vokwana says that ultimately the seven phases of the Western Precinct development will stretch from the site of the old Shade 2 carports in the north to up to where the Southern Sun Hotel is located.

She says that the planned revamp of the airport's façade will present an entirely new profile in keeping with its size and role in the regional and national economies. The iconic airport development precinct will serve as a catalyst in transforming the Airport hub into an Aerocity.

Pityi-Vokwana concludes: "We are excited about the upliftment that the Western Precinct development which will act as a catalyst to create a new multi-functional node where big businesses will ultimately migrate in terms of office and hotel accommodation. This node will be made more attractive by the intermodal connectivity offered by Gautrain and Bus Rapid Transport stations within a precinct, the ultimate development of which, will allow for easy access to hotels, restaurants, fast food facilities, outdoor seating, retail, offices and a world class conference centre. We look forward with great anticipation to involving all our stakeholders in this journey of growth and development."
Stay up to date
Subscribe to the free Times Aerospace newsletter and receive the latest content every week. We'll never share your email address.