SaudiGulf gets connected with GDC agreement
Saudi Arabia's SaudiGulf Airlines (SGA) is to introduce high-bandwidth connectivity to its fleet following an MoU signed at the Dubai Airshow yesterday with GDC Technics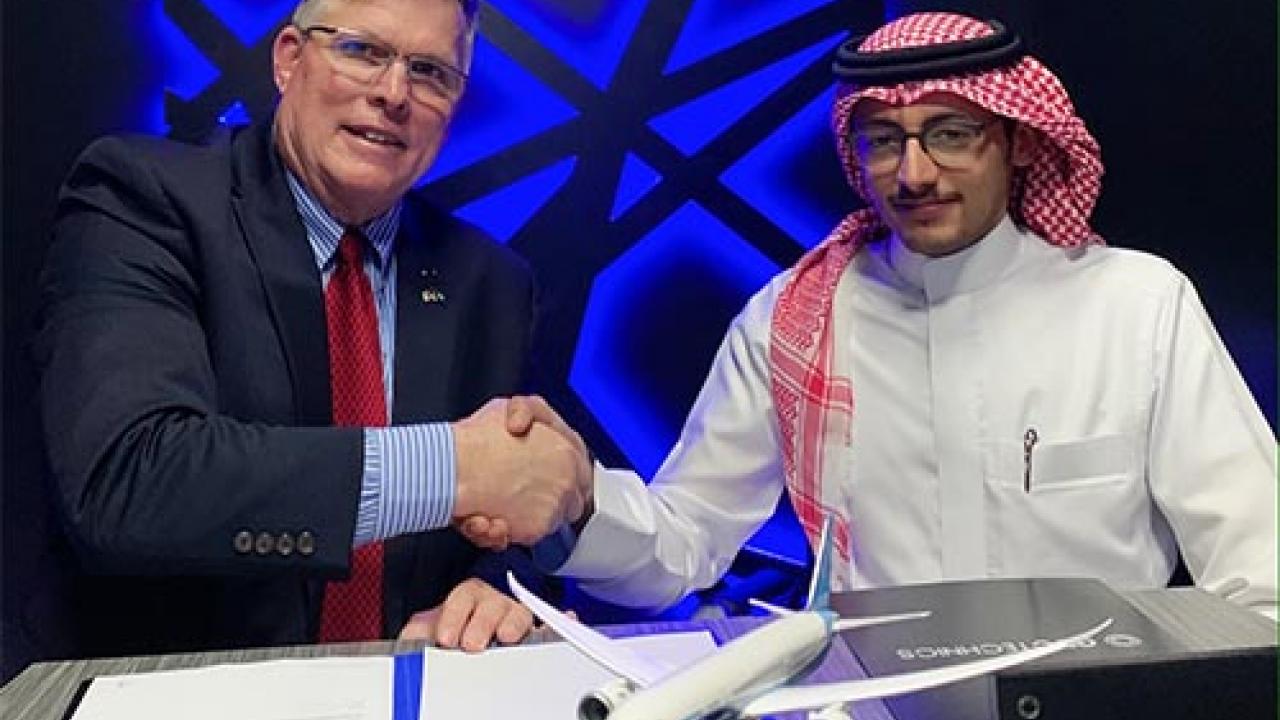 The agreement will span five years, equipping more than 30 aircraft, including SGA's fleet of A320neo/A321neo and its B787 long-haul aircraft orders.
"GDC is pleased to have SGA as a new customer and technology collaboration partner as we bring these entirely unique, cost-effective solutions to market," said Brad Foreman, CEO of GDC Technics. "SGA is redefining the airline and the passenger experience with a keen focus on new ways passengers can use the internet and media services. In this regard, GDC Technics is proud to introduce its CUBE IFE solution and Falcon 300 connectivity system, which offers the airline customer unmatched performance and entertainment features," added Foreman.
The Falcon 300 connectivity suite provides a solid backbone for the in-flight media experience. The system has demonstrated performance in excess of 300Mbps and the agility to support GEO, MEO, and LEO service provisioning. The inherent performance and reliability features will assure SGA customers an extraordinary experience in terms of media and application responsiveness, even if every passenger on board utilizes the services. Moreover, the Falcon 300 system looks to a future, when the airline will have new service provider choices, which can be harnessed to continually increase performance.
"SaudiGulf Airlines is partnering with GDC Technics in order to offer unmatched capability in the world, by providing the most advanced, cutting-edge technology in airborne connectivity and a disruptive large screen 4K in-seat IFE to SGA passengers," said Mr. Abdalmalik Al- Qahtani, SGA Board member.
The GDC Technics CUBE seatback IFE system represents a clean-sheet approach to passenger entertainment. The system offers a simple and modular extension to the Falcon 300. The CUBE system is exclusive in its leverage of mobile computing technologies, coupled with an aircraft installation and support infrastructure that will lead the industry in minimized weight, power, and cost per seat. The system includes a wireless modular seatback tablet "media hub" with a multicore processor, Android operating environment, multimode/multichannel wireless interfaces, and a premium 4K/UHD screen.
The CUBE system's flexible design allows the system to be easily upgraded, giving airlines the ability to stay current with tablet technology. Seatback screens will be powered via sidewall disconnects and are installed without seat boxes nor unique in-seat wiring. This straightforward installation philosophy allows airlines to easily change seating configurations without seat or harness redesign. The IFEC system provides an "always connected" passenger engagement platform allowing not only entertainment but airline customer service and recovery in real time.

Stay up to date
Subscribe to the free Times Aerospace newsletter and receive the latest content every week. We'll never share your email address.