Aircraft boost for Madagascar
The Madagascar Air Force received a boost in June with the arrival of a batch of new aircraft to bolster its small inventory. Erwan de Cherisey report.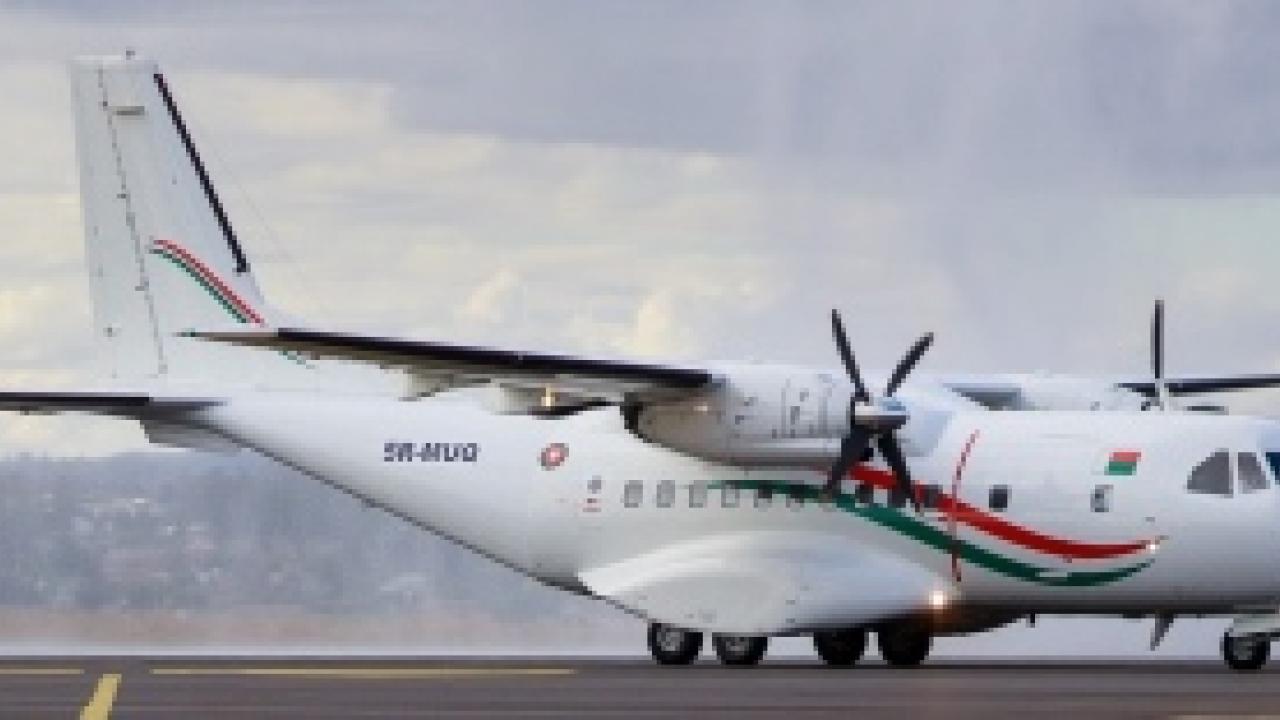 A ceremony at Ivato International Airport, Antananarivo, saw the island's president, Andry Rajoelina, officially hand over the equipment to the service.
The air force has been in steady decline for years, with previous Soviet-supplied equipment, such as a single squadron of obsolete MiG-17s and a few MiG-21s, having been withdrawn from service.
Established in 1960, the Armée de l'Air Malgache (Madagascar Air Force) started operations with a mixed fleet of transport types transferred by France, the former colonial power, which included several Douglas C-47s, Max Holste MH-1521 Broussard, and Dassault MD-312/315 Flamant. It acquired its first MiG-17 fighter jets from North Korea in 1979, subsequently replacing them with MiG-21bis.
Several SA316 Alouette III, Mil Mi-8 and Antonov An-26s were also received throughout the 1970s and early 1980s.
Also in 2009, Madagascar purchased four former Belgian Military Sud Aviation SA318C Alouette II helicopters from an aircraft broker. The aircraft had been produced in 1969 and, prior to their disposal by Belgium, had been demilitarised.
Since their delivery, at least two Alouette IIs have crashed – first in June 2015, when one crash landed inside a stadium during a rehearsal for a military parade and then, in January this year, in the course of an operation against cattle-rustlers.
While the aircraft that was damaged in 2015 may have been repaired, it seems that the helicopter lost in 2019 was written-off.
For nearly a decade, the Alouette IIs were the sole helicopters available to the Madagascar armed forces. They were primarily used in support of gendarmerie and army troops deployed against armed cattle thieves known as Dahalo.
The helicopters apart, the air arm had been reduced to a small, heterogeneous collection of a few CASA 212 light transports and elderly light aircraft.
The most significant aircraft to be handed over in June was a single CASA/IPTN CN-235 tactical transport. The air force previously relied on a single Antonov An-26 for medium transport duties, but that aircraft was withdrawn from service around 10 years ago.
The CN-235, which has a maximum payload of six tonnes, 50 troops or 18 stretchers, will restore some much-needed capability, with the country's presidency singling out its ability to provide emergency assistance in the aftermath of natural disasters and to perform medevac duties.
The aircraft, although new to Madagascar, has seen previous service in Africa, with South Africa's Defenceweb internet site reporting it was previously used by the Botswana Defence Force before being sold to a US company in 2011. It then reportedly passed through Canadian and South African hands before being acquired by Madagascar.
The CN-235 has proved popular in Africa, with several air arms, such as Mauretania, Morocco and Senegal, acquiring examples over the years.
Also of particular use in accessing remote areas will be three 'new' Airbus Helicopters AS350 Ecureuil B2 light helicopters, which were paraded at Ivato wearing South African registrations.
All had civil careers in the latter country prior to being acquired by Madagascar.
The three aircraft were reported as taking part in an Independence Day flypast two days after the handover, accompanied by a single MBB/Kawasaki BK 117 twin-engined utility helicopter – also apparently from South African sources.
These relatively modern aircraft will provide a considerable improvement in availability compared to the Madagascar Air Force's previous helicopter force, a pair of ageing Sud Aviation Alouette IIs.
The Madagascar president's office also reported that five unspecified Cessna aircraft were handed over at the same time, to undertake coastal patrols. According to Defenceweb, the aircraft are single-engined Cessna 206s.
Madagascar has been preparing new aircrews to operate its expanded aircraft fleet, with 20 men and women undergoing training at a new facility established at the Arivoninamo Tactical Air Base.
While the CN235-10 may prove difficult to sustain in the longer term, this influx of new aircraft, including such a proven platform as the AS350B2, will significantly strengthen and increase the capabilities of the Malagasy Air Force, which should allow the military and police to more effectively counter such internal security threats as the Dahalo.

Stay up to date
Subscribe to the free Times Aerospace newsletter and receive the latest content every week. We'll never share your email address.