What a relief!
The need to move Covid-19 relief supplies around Africa has shone a spotlight on the humanitarian missions carried out by two Kenyan airlines.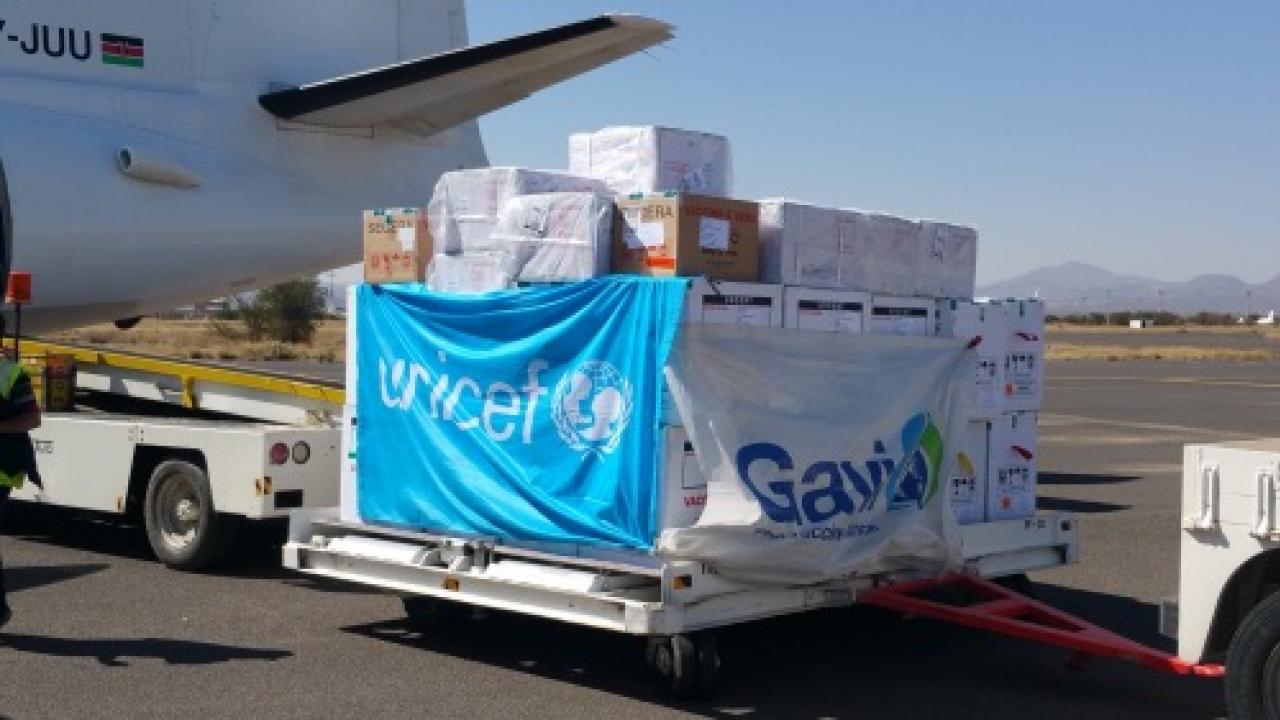 Standing ready: One of Astral Aviation's Fokker F27s with a consignment of relief supplies for war-torn Yemen. Picture: Astral Aviation.
The global pandemic has seen vast quantities of protective clothing and medical supplies being ferried around the world, Alan Dron reports.
However, for some airlines, this crisis has been just the latest of many in which they have been involved over the years.
Kenya's Astral Aviation and ALS are two operators where humanitarian operations make up a significant part of their operations. Both operate throughout Africa for organisations such as UNICEF, the World Food Programme and the International Committee of the Red Cross (ICRC).
Astral's CEO, Sanjeev Gadhia, estimates that his company has flown more than 2,000 humanitarian missions over the past 20 years, carrying tens of thousands of tonnes of cargo, both to and within Africa.

"Humanitarian flights account for 25% of our business and form an important part of our scheduled and charter strategy by offering on-demand flights to the humanitarian sector," he said.
"During the pandemic we have experienced an unprecedented demand for the air freight of personal protective equipment (PPE) from China to Africa, and from our Nairobi hub to 24 countries in Africa.
"Currently," he said in late November, "we are working on a repeat charter for more than 100 tonnes of PPE from China to Africa, which will involve the charter of a Boeing 747F and a 787 passenger freighter to uplift the cargo from Guangzhou to Nairobi for onward connection on our Boeing 727F from Nairobi to Juba."
Like Astral, ALS has found itself facing tough competition during the pandemic from passenger airlines desperately trying to bring in some revenue from freighting services. One major African carrier, for example, was offering cargo flights with a De Havilland Dash 8-400 at prices 36% lower than the average market offer.
ALS CEO, Shakeel Khan, told November's 12th Global Humanitarian Aviation Conference: "There was no way we could compete with that."
Both Astral and ALS have heterogenous fleets. In Astral's case, that ranges from a Fokker F27, with a cargo capacity of six tonnes, to a Boeing 747-400F (110 tonnes).
ALS, meanwhile, operates everything from Cessna Caravans, able to get into small airstrips, to Embraer 145 regional jets.
Those varied fleets allow the two companies to handle a wide range of missions. Recently, for example, ALS has been involved in exchanges of prisoners of war in Yemen, under the auspices of the ICRC.
Astral has also been involved in Yemen. The complexities of operating humanitarian missions in a war zone have included having to limit time on the ground in the strife-torn country to a one-hour window.
One aspect of Astral's operations that Gadhia says has helped the company handle difficult missions has been its practice of including a member of its charter team on all such flights. The extra crew member's role is "to ensure that pre-flight and post-flight coordination are done smoothly", as there are numerous interactions with the cargo-handlers that cannot be done by the crew.
"We take responsibility at the destination to ensure that the cargo has been accounted for, instead of just offloading it and departing. This reduces the claims that may arise and [provides] a high level of transparency," explained Gadhia.
Astral and ALS had to cope with increased workloads and restricted staff numbers, with many personnel having to quarantine after contact with suspected coronavirus victims, plus strict national regulations on the movement of people.
In ALS' case, for example, it was unable to rotate many of its crews, with unutilised Kenyan staff being stuck in Nairobi, while non-Kenyan resident staff were unable to enter the country.
Speaking at the virtual conference, Khan noted that not only had the airline faced problems in moving staff to where they were needed, it had necessarily incurred considerably increased costs, both from installing precautions to protect staff from infection and, in some cases, paying for medical help when they had fallen ill.
Nevertheless, despite the financial stress, ALS had continued to keep personnel on full pay despite reduced revenues, "because you need the loyalty of staff".
Similarly, Astral's Gadhia noted that the company had not reduced its personnel: "It is morally wrong to lay-off staff during bad times when they have worked hard during the good times."
Stay up to date
Subscribe to the free Times Aerospace newsletter and receive the latest content every week. We'll never share your email address.