Wings in full swing
Saudi Arabia's first aviation academy – Rabigh Wings – sees a bright future for aviation in the kingdom from both private to professional pilots, and is upgrading its fleet. Dave Calderwood found out more from general manager, Willem Marais.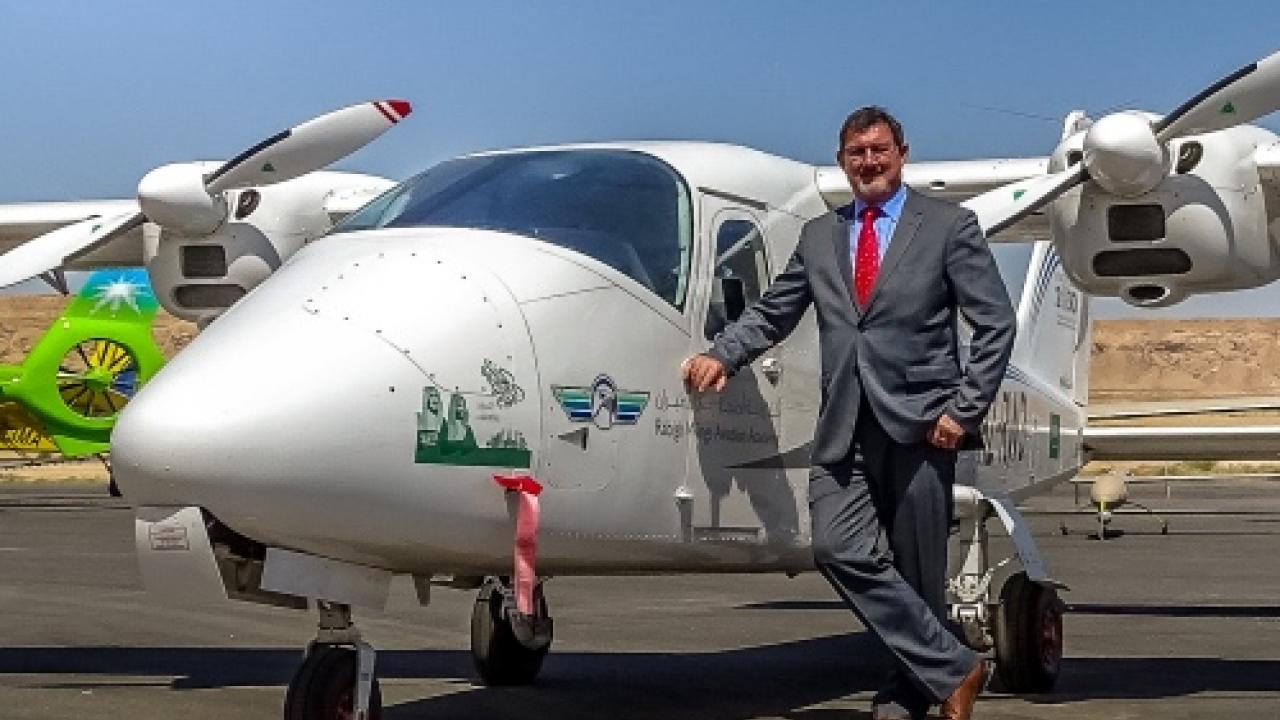 Rabigh Wings Aviation Academy (RWAA) is in the middle of upgrading its fleet as the Saudi Arabian flight schools steps up its training of commercial pilots – and it is considering going all-Italian with Tecnam aircraft.
The latest to join the fleet, based at Rabigh Airport on Saudi Arabia's west coast, just north of Jeddah, is the school's second Tecnam P2006T twin-engine trainer.
"We firmly believe that, with a Tecnam fleet, we can reduce training costs dramatically and our aim is to complete a 240-hour multi-engine commercial pilot's licence (ME-CPL) in 14-16 months, which is in line with the worldwide market," said RWAA general manager, Willem Marais.
"The RWAA training programme will benefit greatly from our second Tecnam P2006T Twin. Our pilots like flying it, our instructors enjoy training in it, and our student pilots love everything about it.
"Worldwide, avgas is becoming problematic to obtain and extremely expensive," continued Maris. "That was one of my main considerations when we opted for the Tecnam P2006T as a multi-engine platform.
"We have reduced operating costs by more than 50% using the P2006T – previously we used the Piper Seneca. We now operate the P2006T on mogas (motor car gasoline), which is readily available in Saudi. Even with the recent increases in fuel price it is still a fraction of the cost of avgas.
"The very easy handling of the P2006T, coupled with the low speed, makes it an ideal training platform. The aircraft is easy to operate, with modern ergonomics, and, even in the very high temperatures, provides excellent performance. Asymmetric training is easy, and the learning curve is not as difficult as some of the competitors.
"Furthermore, the Rotax engines are very easy to maintain and the cost of a normal 100-hour major periodic inspection (MPI) is a fraction of what I am used to with the older conventional trainers.
"Because of the low training cost, we can now also offer extra hours – hour building – on our multi-engine aircraft for cadets, who would prefer to increase their multi-engine time."
RWAA's single-engine fleet consists of G1000-equipped Cessna 172 aircraft. "But we are seriously considering standardising our fleet and the Tecnam P2010 and even the P2002 are the aircraft we are considering," revealed Marais.
The flight school was inaugurated by HRH Prince Turki bin Muqrin in 2008. It launched with a paid-up capital of 20m Saudi Riyal ($5.33m), as the first aviation academy in the Kingdom of Saudi Arabia regulated by the General Civil Aviation Authority (GCAA).
Marais brings a lot of flight-training experience to the party. Before RWAA, he was CEO of AVIC-International Flight Training Academy in South Africa, where they trained 350 cadets for various Chinese airlines in 60 weeks.
Rabigh Airport was built in 1980 and is, importantly for training, outside the Jeddah terminal manoeuvring area (TMA). It's also close to major economic developments like the King Abdullah University of Science and Technology (KAUST) and the King Abdullah Economic City (KAEC).
"The airspace around Rabigh airport is free of military operations and cross-country routes of up to 300nm are no problem," explained Marais. "We are closely located to the instrument [flying] facilities at Jeddah Airport and we have a contract to operate in and out of Jeddah.
"Weather on the western side of Saudi is also more acceptable for ab-initio flight-training and few days are lost due to the sand storms and high winds that are the norm in the central and eastern regions.
"Currently, we teach private pilot licence (PPL), instrument rating (IR), multi-engine (ME) and commercial pilot's licence (CPL), as well as flight instructor rating.
"Facilities at Rabigh Airport include three classrooms, a fully operational flight dispatch room (ops room), seven instructor cubicles, a crew resting facility, as well as adequate office space.
"RWAA also operates a Redbird MCX flight simulator, ideal for any flight school, providing enhanced training from student pilot to professional crew. The dual controls of the MCX allow an instructor, instructor-in-training, or co-pilot, to perform manoeuvres from the right seat. During initial pilot training, an instructor can demonstrate manoeuvres from the right seat before the student tries their hand, just like you would do in the real aircraft.
"For advanced training, the MCX provides a platform where crew training can be perfected. In addition, it includes a dual, control-loading yoke system and dual rudder pedals for simultaneous pilot and co-pilot control. When you add this dual control system to the MCX's wrap-around visuals, quick-change cockpit configurations, and extensive government approvals, it becomes a truly powerful training tool for any organisation.
"In Jeddah, RWAA has a fully operational fixed-base operation (FBO), which includes two classrooms, a marketing office, as well as administration and financial offices. As most of our clients are from Jeddah, the first six-to-eight weeks of PPL ground-school is presented in Jeddah.
"All classrooms can seat 20 cadets. RWAA makes use of Jeppesen training material and all theoretical training is done by Powerpoint presentations – and we're proud to have a 95% pass rate for GACA examinations.
"We currently have a little more than 100 full-time students, mainly self-sponsored, and we also train the Royal Saudi Air Force (regional force). We recently completed the training of Somalian pilots, issuing them with a PPL, and some instrument and ME experience."
Most of the major airfields in the kingdom are controlled, either by the RSAF or owned by ARAMCO. "HRH, Prince Turki Bin Muqrin Al Saud, was the founding member of RWAA and obviously played a huge part in establishing the school," said Marais. "As a pilot of both fixed and rotary-wing, he understood the challenges and immediately negotiated a contract for a long-term lease of the airport with GACA.
"RWAA also established a fuel facility and set up its own maintenance facility. The school developed quickly and soon began training pilots for Saudi Arabian Airlines under P141. The approved maintenance organisation (AMO) maintains the fleet of aircraft and will soon be fully P145 approved."
Major challenges include the very harsh weather conditions where, in summer, temperatures will go as high as 55°C.
"We have recently appointed a strong marketing team and we would like to at least treble our capacity over the next 24 months," said Marais. "This will include an upgrade of our facilities as well.
"Early in 2020, we will also present ATPL ground-school to offer a frozen ATPL, although the latest trend is that the smaller regional airlines will take our trainees directly after completing the approved 240-hour ME-CPL course, which is aligned for the Saudi Arabian airline requirements.
"At least 85% of our clients are Saudi nationals but we also have cadets from Kuwait (we have a full-time agent in Kuwait City), Jordan and Somalia. Our market is aimed at the MENA region, as obtaining a Saudi visa is becoming very easy and our pricing is very competitive.
"I believe that private flying in the kingdom will boom over the next five years. Already, we see a lot of non-type certified aircraft (NTCA) entering the kingdom and RWAA currently assists a private owner with maintenance on his Flight Design CTSL aircraft, which is hangered with us in Rabigh.
"We have launched an aggressive marketing campaign to promote recreational flying as a sport in the kingdom and we will soon present training on non type-certified aircraft (NTCA)."
That's an ambitious plan for any flight school – to train pilots from light sport aircraft right up to airline standard – and it's not all for this going-places company.
RWAA is part of Asyad Aviation Holdings, the aviation arm of Asyad Holding Group, which has significant investments in numerous aviation services companies.
"Asyad Aviation's diverse but integrated portfolio reflects the group's desire to build a rational and efficient aviation industry," continued Marais. "Asyad's investments in international aviation concerns, including charter company PrivatAir Saudi Arabia (PASA), have established a firm foothold in the GCC's growing business aviation market.
"This approach has led to positions in Beirut-based Lebanese Air Transport (LAT), a charter carrier and ground services company, as well as Beirut Wings Aviation Academy (BWAA), a pilot training academy and ancillary services outfit in Beirut."

Stay up to date
Subscribe to the free Times Aerospace newsletter and receive the latest content every week. We'll never share your email address.