Schools maintain Jordan's three spirit
Flight-training is well established in Jordan with three schools for potential aviation professionals – the Royal Jordanian Air Academy (RJAA), Jordan Airline Training & Simulation (JATS), and MidEast Aviation Academy.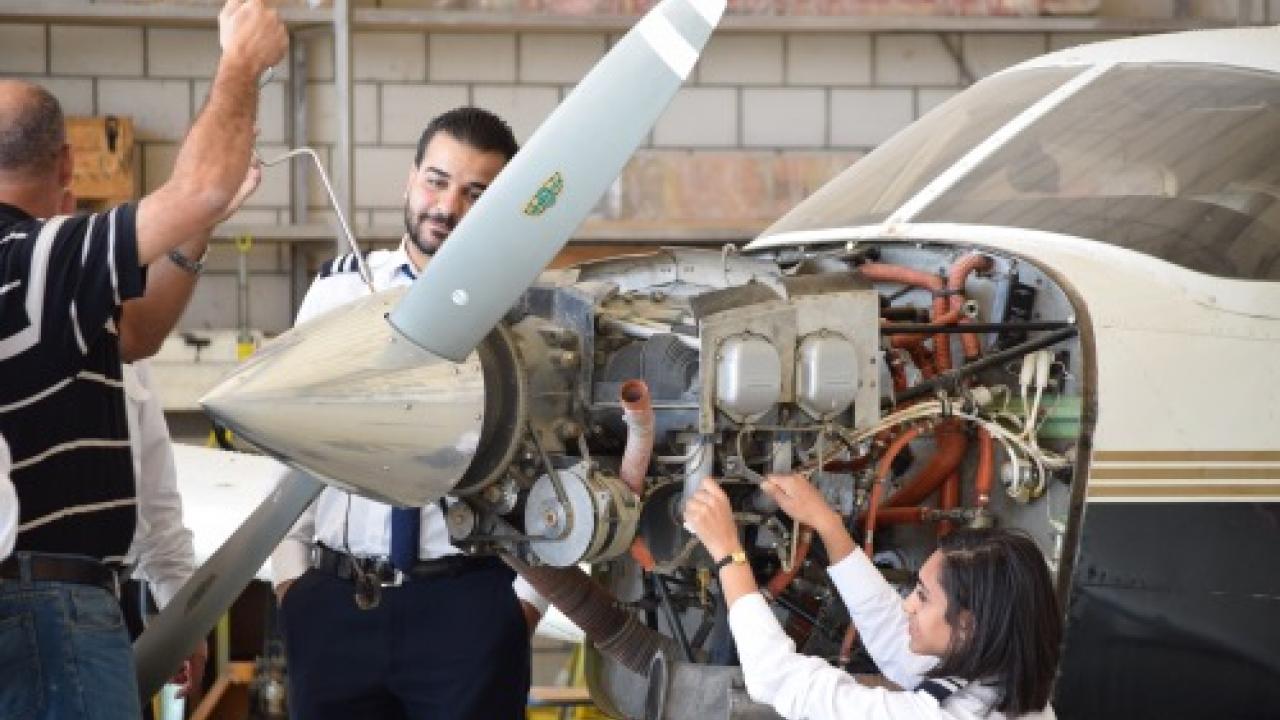 Engineering success: MidEast Aviation Academy engineering school offers B1.1 aeroplane turbine, B2 avionics, and a range of short modular courses for budding technicians.

One of the oldest in the Middle East, RJAA was originally established by the late King Hussein bin Talal to encourage young Jordanians into aviation. However, the scope grew, and as it celebrated its 52nd anniversary, the school had trained more than 10,000 students from 40 nationalities, both pilots and technicians.
Training takes place in 70 modern classrooms in the main campus in Amman Civil Airport – Marka, or at a second campus in the southern city of Aqaba.
The academy offers pilot training from private pilot licence (PPL) to air transport pilot licence (ATPL), as well as flight instructor, instrument rating instructor, aircraft dispatch, cabin crew training and maintenance training. It has a fleet of 23 aircraft, both single and multi-engine, as well as five simulators.
JATS is also a long-established academy that offers state-of-the-art simulator training. It is equipped with full-flight sims for A310-300, A320-200 (three units) and ERJ Embraer 170/190.
Based at Queen Alia International Airport (QAIA) in Amman, JATS is a type rating training organisation (TRTO) for pilots, and is also approved to conduct cabin crew and aircraft maintenance part 147 training.
It is the only institute in the QAIA free zone that uses solar energy, with a system that provides 100% of its electrical daily consumption.

The instructors are all Jordanian, but the students come from a range of backgrounds. Engineer Fares Masarweh, general manager, said: "Approximately 30% of the students are from local operators and the remainder are foreign customers. Since we are a TRTO, most of our pilots come through operators. However, we have good percentage of self-sponsored pilots, mainly from India and Libya, and with some from South Korea. Currently, less than 10% of our applicants are female pilots."
He has seen the industry changing in the last 40 years and feels that training organisations in the country face a challenging future. He said: "There is greater competition in the region now due to the creation of many new approved training organisations (ATOs). Our courses have changed as we have developed new training materials and, most recently, added the distance and e-learning courses.
"However, demand is decreasing due to the smaller size of operators and the slow rate of attrition in pilots."
MidEast Aviation Academy can also be found at the Amman Marka International Airport. Established in 2000, the academy offers PPL, ATP, commercial pilot's licence (CPL), multi crew cooperation (MCC) and flight instructor courses, with additional emphasis on managing crew, interview technique, and soft skills.
The engineering school offers B1.1 aeroplane turbine, B2 avionics, and a range of short modular courses for budding technicians.
Pilot training is in two simulators, an Alsim Al-200, and a medium size jet simulator, the Alsim ALC (FNPT II MCC ), plus a fleet of five Piper Archer PA28 and two Piper Seneca PA34 aircraft. It is conducted by Jordanian instructors, who have air force or airline experience.
Stay up to date
Subscribe to the free Times Aerospace newsletter and receive the latest content every week. We'll never share your email address.