EAT so hungry for success
In 2014, Etihad Airways purchased the fixed-wing section of Horizon Flight Academy and, after re-launching and rebranding, Etihad Aviation Training (EAT) became the first European Aviation Safety Agency (EASA) approved training organisation (ATO) in the UAE.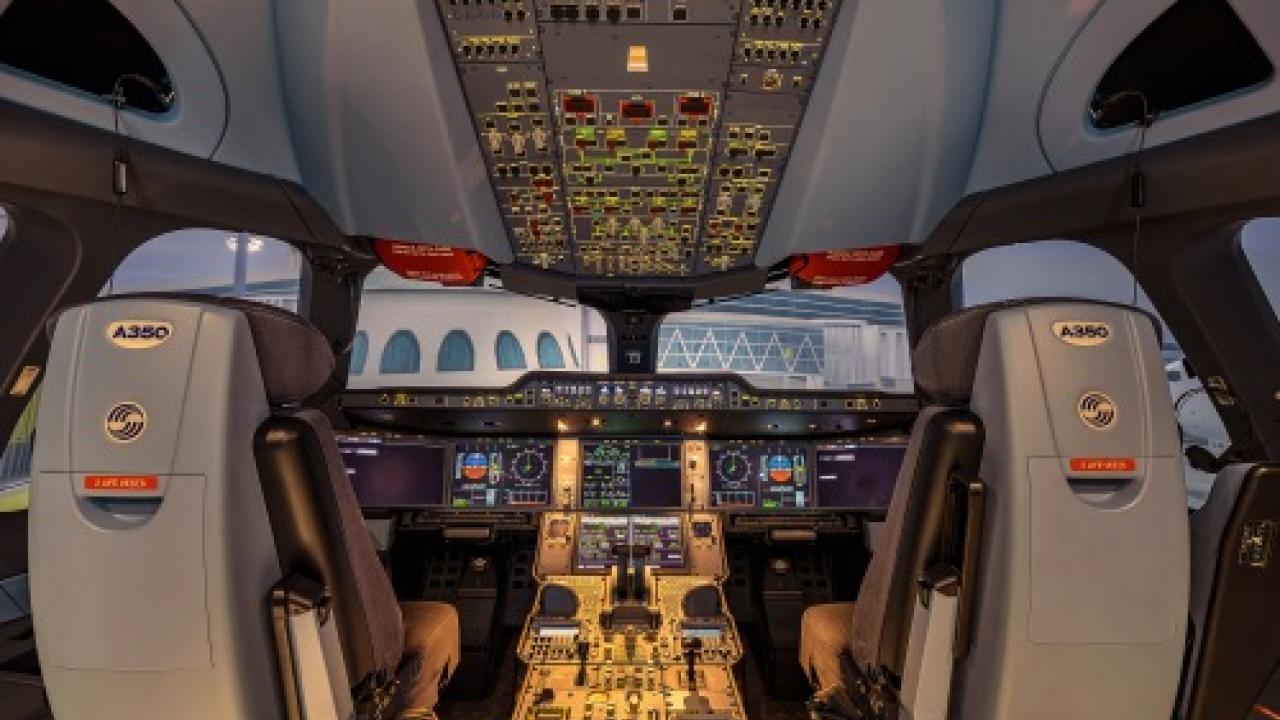 A350 training simulator
It is also approved by the General Civil Aviation Authority (GCAA) and is an EASA Part 147 maintenance training organisation.
With the acquisition of four twin-jet training aircraft, in 2017 EAT became the first aviation training academy in the world to use a jet aircraft in the initial step of flight-training.

Based at three locations in Abu Dhabi, EAT is now a commercially focused business open to external customers. It offers a wide range of courses, including airline training, type rating, cabin crew safety and service training, instructor training, cadet programmes and aircraft maintenance training.
The centre currently operates 11 full-flight simulators, including three Airbus A320s, one Airbus A330/A340, one Airbus A350, one Airbus A380, two Boeing 777s, and three Boeing 787-9 Dreamliner units.

The facility is expanding and will soon see the arrival of a new Airbus A320 fixed-based device, which will be available to third-party customers.
Additionally, EAT has 12 Airbus and Boeing fixed training devices and, at the flying school, four Phenom Embraer 100 jets, 10 Cessna 172s, six Diamond DA42s and two Extra 300LTs for upset recovery training.

It has also incorporated Etihad Airways Technical Training into its portfolio. This is a part 145 and 147 maintenance training organisation approved by the GCAA, EASA, and the Jordanian Civil Aviation Regulatory Commission (JCARC), with dedicated Airbus A380 and Boeing 787 classrooms.
Boeing 787 maintenance training is carried out on Boeing's state-of-the-art desktop simulator (DTS), while A380 training uses the Airbus competence trainer (ACT) system.

Having direct access to Etihad Engineering, the largest commercial aircraft maintenance, repair and overhaul (MRO) services provider in the Middle East, provides operational aircraft for practical training.

James Collishaw, head of business development, said: "EAT's initial business was generated in the Middle East. However, we quickly started our European certification, which was awarded in 2018. That opened the door to the European airlines and has demonstrated steady growth since. We have just secured our first North American customer and have ambitions to grow in North America, South America and Asia."

Etihad Airways, EAT's largest customer, has implemented an evidence-based training (EBT) recurrent training programme. All the EAT instructors are qualified to deliver this training, to identify, develop and assess the competencies required by pilots in order to operate safely, effectively and efficiently in a commercial air transport environment.

Collishaw said: "These competencies enable the effective management of the most relevant threats and errors – those which are based on evidence collected in operations and training. Fundamental to EBT is the concept of 'resilience'; the ability of crews to bounce back from an adverse situation and produce a safe outcome.

"EBT aims to improve pilots' resilience though developing the underlying competencies that assist in managing any situations they may face. Competency-based training is widely recognised as the future of the industry's training philosophy."

To compliment EBT, Etihad Airways has a competency-based ab-initio training programme known as multi-crew pilot license (MPL).
Collishaw said: "EAT has developed its state-of-the-art B787 MPL programme and also the next chapter in the development of our EBT offering. The B787 MPL will offer flexibility for the future. Accompanying our legacy A320 MPL programme, the EBT advances will continue to increase our safety margins.

"We plan to maintain the high-quality standard, but will attempt to increase the cost-efficiency of our training by incorporating new devices and programmes. Once approved by the relevant authorities, these will enable us to offer high-quality competency-based programmes to the wider aviation market at more commercially viable prices, allowing an overall increase in the effectiveness of training and safety."
Stay up to date
Subscribe to the free Times Aerospace newsletter and receive the latest content every week. We'll never share your email address.