Crews control for Alpha's cadets...
Launched in 2008, Alpha Aviation Group is one of the largest and most-recognised providers of multi-crew pilot licences (MPLs) in the world.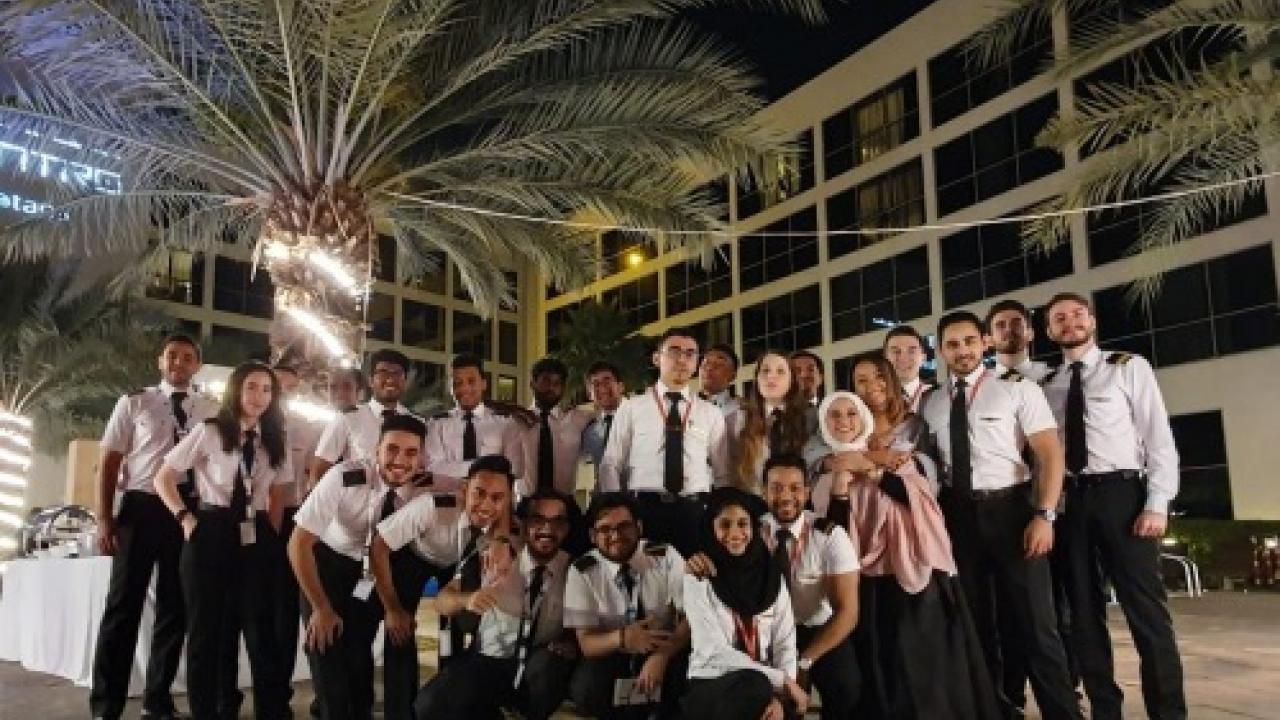 A moment in time: A selection of Alpha's cadets enjoy the 10th anniversary celebrations.
Alpha specialises in airline training solutions, offering traditional cadet programmes, MPL, and type rating training, with approvals under several aviation authorities.
In February, the Sharjah-based Alpha Aviation Academy became an officially approved UAE General Civil Aviation Authority designated examination centre, authorised to schedule, book, and host air transport pilot license (ATPL) and air law and operational procedures examinations for pilots who wish to convert or upgrade their licences.

More than 800 cadets from in excess of 70 countries have passed through the academy in the last 11 years.
Captain Nadhem AlHamad, general manager, said: "We have recently amended our age eligibility criteria, allowing us to cater to a more mature demographic (17-35 years old). This amendment has seen an increase in demand from individuals, who are already established in their work and are looking to upgrade or switch careers. Furthermore, our number of female cadet pilots has doubled as a result of our commitment to gender parity and empowering women to achieve their piloting dreams."
The aviation environment has seen growth in the last decade, despite regional challenges, with the UAE maintaining a focus on aviation expansion and development. The academy has grown alongside the industry.
AlHamad said: "Since our 10th anniversary, we have moved to a new location and welcomed our 55th batch of cadets.
"Our new facility, located at the Air Arabia headquarters, is equipped with the latest advanced technologies that help create and foster an environment that is conducive to productive learning."
"We have also recently purchased a new A320 FNPT II MCC flight simulator that is aimed at further enhancing the cadets' training experience. Moreover, we have expanded our flight-training capabilities to Australia and southeast Asia."
"Internally, we have invested in our employees' continuous learning and development by partnering with an online learning platform to provide more than 2,500 courses on key soft skills and technical topics that are in line with the growth of our team. These changes have helped us win the training provider of the year award for two consecutive years – 2018 and 2019 – and we positively look forward to the next awarding ceremony this year."
Alpha has an ongoing partnership with Sharjah's low-cost airline, Air Arabia, which guarantees cadets flying hours on Airbus A320/A321neo, subject to the successful completion of line training. This is an exclusive partnership via a joint venture, making Alpha Aviation Academy UAE the carrier's official education arm.
Upon the successful completion of base training, cadets get a training contract with Air Arabia to build up their 1,500 hours and acquire an ATPL; this takes place as soon as the cadet receives his or her MPL.
AlHamad confirmed: "93% of our graduates are employed within one week of graduation with Air Arabia. The remaining 7% go on to work for other international airlines."
The academy continues to enhance its training capabilities, having this year partnered with international flight training provider, Fujairah Aviation Academy (FujAA), one of the largest training organisation in the region, to deliver the core flying phase of the academy's UAE pilot training programme.
This partnership will see batches of Alpha cadets undertake three months of the core flying phase of their pilot training programme at FujAA's campus in Fujairah, before they return to the Sharjah campus to commence the basic phase of the pilot training programme, which encompasses the transition from single pilot to multi-crew cooperation (MCC).
AlHamad added: "We have also recently expanded our training capabilities to southeast Asia and Australia and we are anticipating an expansion to south Asia soon."
Stay up to date
Subscribe to the free Times Aerospace newsletter and receive the latest content every week. We'll never share your email address.