The northern flights
Helicopters are providing a vital lifeline for most north African air forces. Alan Warnes has been looking at the fleets.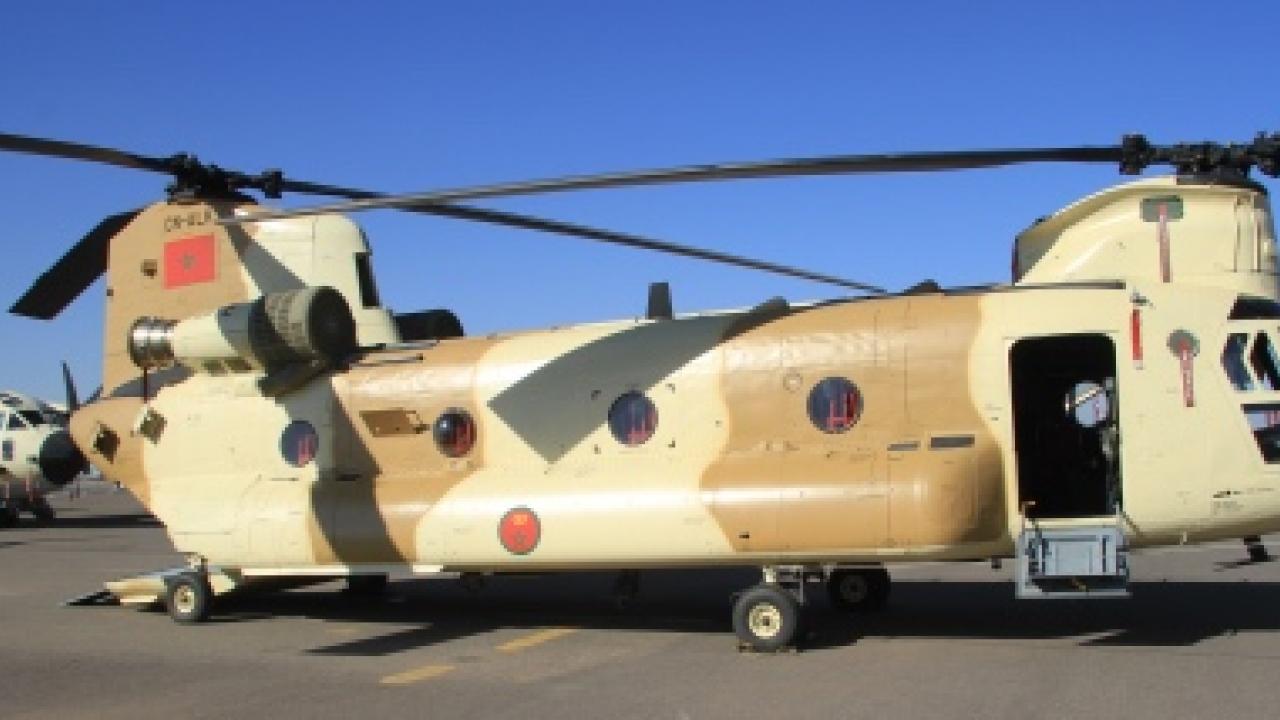 Algeria, Egypt, Libya, Morocco and Tunisia all have their fair share of troubles at the moment and helicopters can work in a number of roles supporting their air forces and paramilitaries.
The countries have acquired hardware from both Russia and the USA and helicopter roles include tactical transport, attack, scouting, search-and-rescue (SAR), anti-surface warfare (ASW), border control and surveillance.
In the past few years, attack helicopters have been at the top of most shopping lists.
Algeria has issues, not just with insurgents, but its western neighbour, Morocco, and has acquired 42 Mi-28NE Night Hunters from Russia to add to its ageing Mi-24 Super Hinds. Egypt has hedged its bets and bought 35 AH-64D/E Apaches from the US and, just in case it falls foul of US sanctions, as it has in the past, 46 Kamov 52 Hokums from Russia.
Fractured Libya is now bogged down in a civil war, with the two air forces relying on old helicopters from Gaddafi's Libyan Arab Air Force, or donations from allied countries. Morocco has generally looked to France to fulfil its needs against the Polisario in the southern Sahara, or Algeria, but has now reportedly opted for 24 US AH-64E Apaches to cover both fronts.
Tunisia, after years of little investment, has opted to acquire ex-US Army OH-58D Kiowa Warriors to fulfil an armed reconnaissance role along its leaky borders to step jihadi groups from attacking civilians as well as tourists.
It is against this backdrop that north Africa operates a variety of helicopters.
ALGERIA
In recent years, the Algerian Air Force's primary attack helicopter has been the Mi-24 Super Hind Mk III, a much-upgraded variant developed by South Africa's Advanced Technologies and Engineering (ATE) company.
Algeria ordered 30, converted from its existing Mi-24D and Mi-24V Hind airframes, with the first entering service in 2001.
Some older Mi-24Ds and Mi-24Vs may also still remain from the 20 Mi-24Ds delivered from 1980, while 28 Mi-24Vs arrived from Ukraine between 1999-2001.
A contract for 42 Mi-28NE Night Hunters was signed in December 2013. The first two were delivered on May 26, 2016 and all of them, including several dual-control Mi-28UBs, have been delivered now.
In February 2014, six Mi-26T2 Halos were ordered and delivered by June 2015, and in August 2015 Russia's ARMS-TASS news agency announced that eight more would follow. All 12 are believed to be in service at Biskra.
Various Mi-8/17/17 Hips remain operational while, over the last decade, newer Mi-171Sh aircraft have been delivered.
The initial Mi-171Sh order was for 42. On February 28, 2014, ARMS-TASS reported that Rostvertol would upgrade all 39 surviving Mi-171Sh at the Ulan Ude Aviation Plant, to include modern weapon integration.
A small number of AS350B Ecureuil and AS355F Ecureuil 2, were in service since around 1995, but are believed to have been withdrawn after the first nine new AS355Ns arrived in 2005. The total number in service is unknown, but they are based at Ech Cheliff/Chlef and Boufarik.
A squadron of Mi-2s, used for pilot training since 1988, were replaced by eight PZL W-3A Sokols in 2014. The order included a further 15 options, but it is uncertain if these have been taken up yet.
Another training squadron uses 12 AW119Ke Koala Mk IIs, delivered in 2013/14.
Agusta Westland (now Leonardo Helicopters) has gained a good foothold in Algeria in recent years and supplied two AW101 Srs 641s in December 2013 to the air force to serve with a VIP/VVIP unit at Boufarik. For search-and-rescue missions, at least 12 AW139s were delivered in 2013/14.
Three Bell 412EPs, delivered to Khalifa Airways in 2004, were transferred to the air force when the airline went bankrupt. They are believed to be still in service, based at Boufarik and Cheraga.
Three Kamov Ka-32S Helix-Ds entered service from 1994 and two Ka-32T Helix-Cs from around 1995. At least one of each is thought to be still operational at Boufarik, with detachments to Bou Sfer and El Bouleida/Blida.
The Leonardo Helicopters grip can clearly be seen in the paramilitary sector. The Gendarmerie operates 15 AW109LUHs that fly alongside around 13 Eurocopter AS355Ns. The Police Nationale took delivery of 12 AW109LUHs during 2011-2012 and the Direction Générale de la Protection Civile operates AW139s from Alger/Houari Boumediene Dar el Beida – six were delivered from February 2012.
The sole Navy unit is based at El Boulaida/Blida. It operates six SAR-configured AW101-610s, which had been ordered in July 2007; three AW139s, delivered from February 2015; four Super Lynx Mk 130s that followed from September 2010; and six Super Lynx Mk 140s from December 2015.
An AW101 detachment is maintained at Annaba/El Mellah.
EGYPT
The Egyptian Air Force and Air Defence Command has relied on the AH-64 Apache for its attack helicopter requirements for more than 20 years, initially ordering 24 AH-64As in 1990, then adding 12 more in 1994, with deliveries from March 1994 onwards.
By late 2006, 35 had been upgraded to AH-64Ds, while 10 new AH-64Ds were ordered in December 2012. The latter were manufactured as AH-64E Apache Guardians and delivered in November 2014.
The Apaches are operated by one squadron at Wadi al Jandali Al Qatamiyah (Al Khatamia) and another at Abu Hammad/Az Zagaziq.
Most of the 46 Kamov Ka-52s (known locally as the Nile) ordered in 2015 have now been delivered – with the 30th being seen in June 2019.
The Russians are still keen to sell up to 15 of the naval Ka-52K Katrans to equip the two Egyptian Mistral-class large landing ships but it is unclear if this has progressed. The vessels, built by France for Russia, were sanctioned in the wake of Russia's annexation of Crimea in 2014. The deal was stopped and Egypt acquired them.
Large numbers of SA342 Gazelles entered service from 1976, with at least 90 known deliveries.
Two AW139s, configured primarily to undertake SAR tasks, were delivered in 2012.
Five Westland Commando Mk 1s entered service from 1974, followed by 19 Mk 2Bs and four Mk 2Es. The surviving examples are primarily based at Alexandria/Borg-el-Arab (El Nhoza), although the Mk 1 is also operated from Cairo East-Almaza, along with a single ex-US Navy VH-3A Sea King that was delivered in 2007.
The helicopters are in need of an upgrade but, should they become available on the market, there would be a lot of would-be suitors for these low-houred workhorses.
In 1981, 15 Italian-built CH-47Cs, previously destined for Iran, were delivered. Between 2002 and 2005, 12 were upgraded to CH-47Ds and the other three retired. Additionally, four new-build CH-47Ds were supplied in 1999-2000. All 16 are based at Kom Awshim.
Ten SH-2G(E) Seasprites, upgraded from ex-US Navy SH-2Fs, were delivered between October 1997 and 1999. Three more followed from June 1998 and a fourth after 1993. From late 2008, 10 began a mid-life update, which included a digital automatic flight control system, FLIR Systems Safire infrared imager, a GE Aviation health and usage monitoring system (HUMS), and an AN/ALE-47 counter measures dispensing system. This programme was apparently abandoned by 2011 after four had been completed. At least four were based at Alexandria/Borg-el-Arab (El Nhoza) in July 2016.
More than 100 Mi-8s were delivered to Egypt from 1968, followed by 20 Mi-17-1Vs in 1999-2000. It is unclear how many Mi-8/17s remain in service, but in December 2015 it was announced that Russian Helicopters would overhaul and maintain 41 Mi-8Ts and three Mi-17-1Vs, while also training personnel so that the Helwan Factory for Developed Industries could, in future, undertake this work itself.
Ten S-70A-21 Black Hawks (two in VIP configuration) were delivered from 1990, and these are based at Cairo East-Almaza.
The UAE donated three AS350B3 and six AS550C3 in 2017.
LIBYA
Ongoing internal conflict in Libya has meant that it is very difficult to determine exactly what military air assets remain operational in the country.
There are now two rival factions operating military aircraft – the Government of National Accord (GNA), based in Tripoli, and General Khalifa Haftar's Libyan National Army (LNA) Air Force in Tobruk.
Both sides initially managed to keep a small number of helicopters airworthy by cannibalising others, with the LNA known to have taken over three Mi-35s and two Mi-8s. In 2014-2015, support from Egypt included the donation of eight (or possibly 10) surplus Mi-8Ts to the LNA.
In April 2015, four Mi-24/35Ps were donated to the LNAAF by the UAE, which had bought them initially from Belarus for Egypt! At least one LNAAF Mi-24P was involved in supporting troops fighting GNA forces outside Tripoli in July.
In April 2019, the GNA was operating a sole ex-Sudan Air Force Mi-24V, but the LNA claimed to have shot down a helicopter from the opposition, which could have been that aircraft.
The GNA also had an ex Libyan Air Force Mi-24P but it was grounded due to a lack of spares. Today, unmanned aerial systems are tending to take over the air attack role by both sides.
MOROCCO
While the Royal Moroccan Air Force (RMAF) has modernised its transport and fighter force fleets over the past decade, little has been invested in new helicopters.
However, that looks set to change, with reports emerging from Tangiers in August that the air force is set to acquire 24 AH-64E Apache gunships.
It comes after Turkish Aerospace had offered its T129 attack and reconnaissance (ATAK) helicopter and Bell was promoting a combined AH-1Z Viper/UH-1Y Venom package. Purchasing the Apaches will considerably boost the close air support needs of the army, which currently relies on a few armed SA342L Gazelles and SA330J Pumas.
The multi-million dollar deal comes after the RMAF's rotary-winged fleet had suffered decades of neglect.
The ageing Agusta Bell (now Leonardo) AB205s, purchased in the late-60s, continue to soldier on in light transport duties, which also have a secondary role – locust eradication. For this, several are fitted with spray bars to dispense insecticide on the swarms of locusts that infest many parts of Morocco.
The surviving civilian-based SA-330Fs, purchased in the 70s, have been upgraded with composite blades in recent years and are now known as SA330Js.
A fleet of seven elderly CH-47C Chinooks was grounded in the late 2000s, but a need for heavy-lift helicopters to support the army's operations in the Sahara against the Polisario didn't go away. Pumas plugged the gap for a while, but the RMAF opted to acquire three ex-US Army Boeing CH-47Ds in 2011 that were delivered in August 2015.
Survivors of 24 Aerospatiale (now Airbus Helicopters) SA342L Gazelles, acquired in 1980s, continue to support the light communications role, as well as fulfilling a light-attack capability, which sees them regularly deployed to the Western Sahara when required.
Most of the helicopters are based at Rabat-Sale, which is also the home to the Ecole de Spécialisation Hélicoptères (ESH, Helicopter School) flying the AB 206 Jet Ranger.
A very old mix of French helicopters make up the bulk of the Moroccan Gendarmerie's aviation fleet. They comprise an impressive 13 different types, including AS332L2 Super Puma (1), AS355F1 Ecureuil (2), AS365N Dauphin II (4), AS550 A2 Fennec (3), SA315B Lama (1), SA316B Alouette III (1), SA330L Puma (5), SA342K Gazelle (3) and SE3130 Alouette IIs (4).
Over the past decade, they have been joined by the Airbus EC135T2 (3), EC145 (2) and EC225LP Super Puma (1). Two US built Sikorsky S-70A-26 Blackhawks were acquired in 1991.
All the helicopters operate in various roles but the bulk is for transport of troops, surveillance or SAR/medical evacuation.
The AS332L2, SA330L and SA342s are based at Sale, while the remainder are located at Rabat-Souissi. There are also helicopter detachments at Agadir, Errachidia, Nador, Oujda, Tangier and Marrakech.
The Moroccan Navy operates three AS565MB Panthers, based at Casablanca, that were delivered in 2004 and operate from the Navy's two Floréal-class frigates, Hassan II and Mohammed V.
Two twin-engine Bell 412EPIs were ordered in 2018 but it is unclear what their role will be and Bell did not respond when asked.
TUNISIA
The latest rotary-wing acquisitions by the Tunisian Air Force are 18 ex-US Army OH-58D Kiowa Warriors, which equip a squadron at Gabes.
The first four arrived in the country on February 4, 2017. Weapons for them include AGM-114R Hellfire missiles, M124 miniguns, rocket launchers and advanced precision kill weapon system (APKWS) laser-guided rockets.
The country is also acquiring up to 16 UH-60M Black Hawks, with eight known to have been delivered – four in June 2017 and four in June 2018. These deliveries will finally see the retirement of the old Sikorsky HH-3Es.
A total of 18 Agusta-Bell 205As and a small number of Bell 205A-1s, delivered from 1980, are based at Bizerte/La Karouba-Sidi Ahmed, Gafsa and Sfax/Thyna. There is also a detachment at Monastir.
From 1973, deliveries of 25 UH-1H Iroquois began, plus at least 12 ex-US Army examples after 1991; the most recent being two in 2008 and one in 2010. Two UH-1Ns also entered service from 1975.
An unknown number of AB412s were delivered from 1992 and are thought to remain current.
The Alouette III entered service around 1964 and some were still operational in mid-2016.
Deliveries of AS350Bs began in 1983, with at least six confirmed in service with a squadron at Sfax/Thyna.
Five upgraded and refurbished ex-French Army SA342L1 Gazelles, acquired from French company Aerotech, entered service from 2011.
Around six AS350Bs were delivered to the Gendarmerie from 1983, plus an unknown number of AS355Fs.

Stay up to date
Subscribe to the free Times Aerospace newsletter and receive the latest content every week. We'll never share your email address.