The lost world - we're on the case!
Lost luggage is the bane of air travel. Chloe Wilson reports on why a comprehensive IT backbone and community-wide collaboration is key for African airports in tackling the issue of mishandled baggage.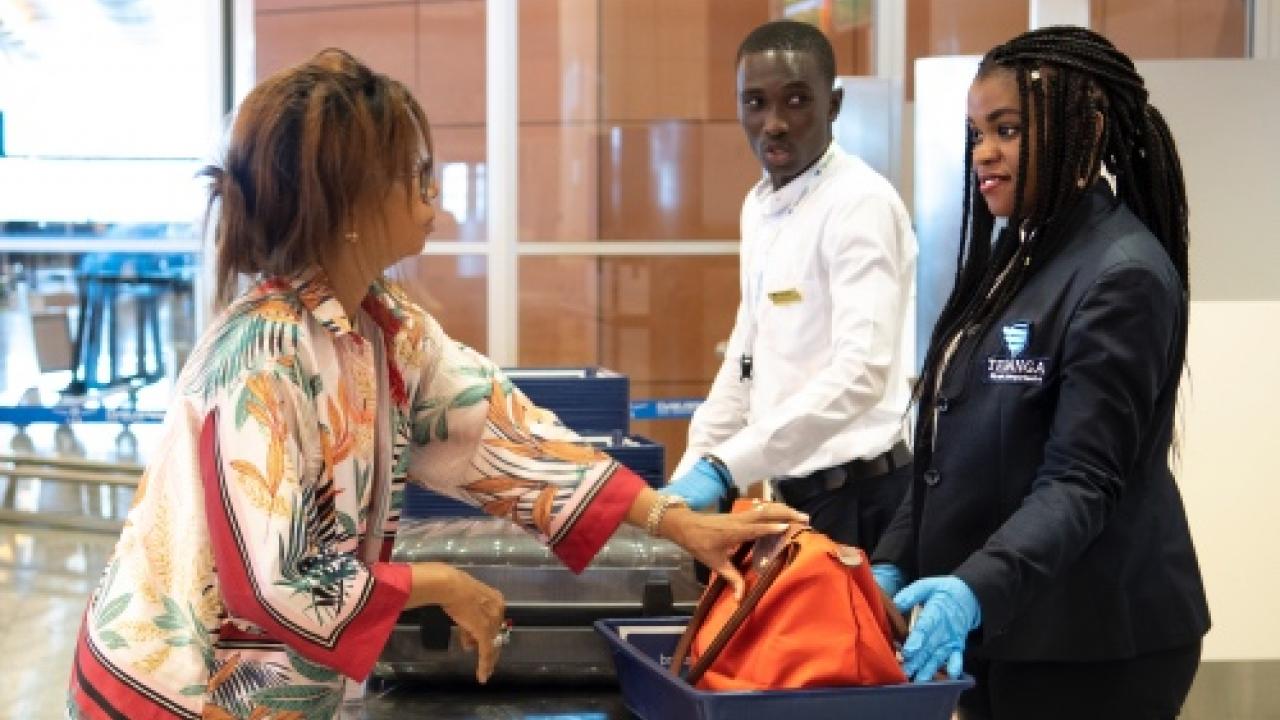 There are currently around 1,140 international flights daily within Africa, while two-way seats within the continent grew by 19% to 112 million between 2015 and 2019, according to anna.aero.
Add to this the 5% growth per annum forecast for Africa's aviation sector by the International Air Transport Association (IATA) over the next 20 years and that's a huge increase in passengers. And, with passengers, comes baggage.
While this influx of air passenger traffic has the potential to fuel economic growth, there are inevitably stumbling blocks. "Africa's growth is slightly above the average for passengers globally," said Peter Drummond, portfolio director for baggage at SITA – the global IT provider.
"Greater passenger traffic means increased baggage and increased risk. We are going to have to get smarter in order to move baggage through the system more efficiently and reduce capacity at airports."
Capacity, alongside passenger flow and satisfaction, are major priorities for airports around the world. Research has shown that baggage collection and tracking has a profound effect on the overall passenger experience. Mishandled baggage is one of the biggest areas of complaint for passengers. And, for airlines, it can be a costly process.
Drummond pointed out: "As a passenger, you check your bag in with the airline. Airports and ground-handlers need to have the appropriate IT systems and infrastructures in place to support compliance, but the airlines bear the ultimate responsibility for delivering the correct bag to the correct passenger."
He added that, while figures vary around the world, the average cost of repatriating a bag back to its passenger is $100.
The whole baggage-handling process is a complex ecosystem, with Drummond highlighting that various parties are involved, including the airline, airport, and ground-handling staff. "Transferring baggage from one aircraft to another or from one airline to another is a major pinch point in the system," he said. "It accounts for around 46% of all delayed bags. It's by far the most difficult stage to track a bag, as there can be multiple airlines and airports involved."
In response to IATA's Resolution 753 (introduced in June 2018) that bags should be tracked from start to finish, airlines and airports have stepped up their investment in increasingly innovative baggage-tracking and handling systems.
"In the context of the resolution, 68% of airlines have indicated that they plan to implement real-time bag-tracking information for passengers by 2021," said Drummond. Additionally, 60% of airlines plan to implement information services, via mobile apps, to passengers for missing baggage and baggage location status updates.
"Airports are also upping their investment, especially with the implementation of bag-tracking services at loading, which has helped reduce baggage mishandling rates significantly."
However, the big transition since the implementation of Resolution 753 has been the focusing of minds. It's not rocket science, said Drummond. "If you track an item, you know where it is or where it was last seen. So, if that bag is mishandled or misplaced, it will be easier to locate and repatriate with the passenger."
SITA's analysis of baggage records reveals that total mishandled bags each year have plummeted 47% from 46.9 million in 2007 to 24.8 million in 2018. As a result, the annual bill footed by the industry has shrunk 43% to $2.4 billion, down from a massive $4.22 billion in 2007.
The resolution has certainly driven demand around the world, as Drummond admits that the number of competitors offering baggage-tracking solutions has increased over the last few years.
"The real issue that needs to be more widely addressed now," he said, "is about partnerships and the sharing of data." The main driver for airports to implement innovative new systems is the airlines. "They are driven by their reputation and the revenue they could lose if they don't have a handle on problems at an airport," said Drummond.
It's one thing an airport tracking bags at check-in, through the baggage-handling system and during loading, but it's no good if that data isn't shared with the relevant parties, he added. "If that data stays at the airport, it's not going to help the down stations or the airlines repatriate baggage or understand why or where that baggage went missing, or was mishandled in the first place. Data has to be shared with all the relevant parties."
Operating in 45 of the 54 African countries, SITA already supports a growing footprint of airports across the continent, including key hubs such as OR Tambo in Johannesburg, Bole International Airport in Ethiopia, and airports operated by the Egyptian Airports Company (EAC), as well as the Moroccan Airports Authority, ONDA.
But, said Drummond: "West Africa is definitely a growth area for us."
At the end of October, Ghana Airports Company extended its agreement with SITA to manage and support all airport passenger processing, baggage management, and airport operations systems across Kotoka International Airport's newly commissioned Terminal 3 for the next five years.
The technology will be vital in positioning the airport as a primary hub in west Africa, leading the way in passenger automation and operational efficiency.
In addition to deploying common-use check-in desks and self-service check-in kiosks, the airport will make use of baggage-management technology to assist its airline customers in reconciling and tracking bags throughout the journey.
Drummond also pointed out that, in addition to growth in west Africa, he's also noticing "an increasing demand for lower-cost and lighter solutions, such as basic bag-tracking services at regional and smaller airports across the continent".
No matter where they originate, passengers are already embracing technology to ease and expedite their journey through the airport, and this includes baggage-tracking solutions.
As IATA's Global Passenger Survey 2019 shows, 53% of travellers would be more likely to check their bags into the hold if they could track them.
The survey also found that 46% would like to track their bag and have it delivered to an off-airport location. SITA's own research supports this, indicating that the level of satisfaction among passengers receiving status updates on their baggage at arrival, via mobile devices, is higher than among those relying on airport screens or public announcements.
The introduction of radio-frequency identification (RFID) is just one of the solutions that will help meet this growing expectation from passengers to have access to baggage-tracking information throughout their journey.
It uses radio-frequency electromagnetic fields to transfer data and automatically identify and track bags. Crucially, it enables a large number of tracking and identification tasks to be undertaken without human intervention. Consequently, the wider adoption of RFID by airports across Africa, and further afield, could also prove a positive return for airlines, both in cost and passenger satisfaction.
IATA has already committed to developing a standard for using RFID tagging to help increase the accuracy of baggage-handling and ease processes as passenger numbers continue to rise.
Additionally, the bag-tracking data generated from RFID technology also provides the air transport industry with a rich stream of data. This can be enhanced with artificial intelligence (AI) tools to create even greater efficiencies and, ultimately, to enhance the seamless passenger journey.
Drummond acknowledges that predictive analytics capabilities, which will help identify and address disruptions in baggage-handling before they occur, is an additional use case for AI implementation. "What's more, there is a proliferation of mobile devices across the African continent," he said. That, combined with the increased use of biometric technology to enhance passenger flow through the airport, could easily be extended to baggage-handling. "The industry is constantly looking at ways in which it can track baggage more efficiently and AI is certainly one way to achieve that," he added.
Emphasising that, going forward, stakeholders need to listen to what passengers want, Drummond said: "Once they've dropped their bag at check-in, passengers want to know that it has been safely loaded on to their aircraft. Then, once they've landed, that passenger wants to know that the bag has arrived, too, and where it can be collected from. If it's not there on arrival, they want to be kept informed of their bag's whereabouts every step of the way until it's returned.
"No matter where you are in the world, baggage-tracking is the one of the most pressing concerns facing the air transport community after security."
Smart technology and passenger-facing solutions are part of the response to this challenge. But, so too, is community-wide collaboration and a comprehensive IT backbone. "The latter needs to seamlessly relay information between all the key role players, regardless of their geographical location. But that's something we're seeing airlines and airports throughout Africa increasingly commit to," Drummond concluded. "We just need to ensure we continue working collectively to keep our eye on the bag!"
Stay up to date
Subscribe to the free Times Aerospace newsletter and receive the latest content every week. We'll never share your email address.