The golden Hind
It is almost 50 years since the Mil Mi-24 assault helicopter entered service. Today, as David Oliver reports, the Hind is being used in both the Libyan civil war and by Algeria against jihadist militants.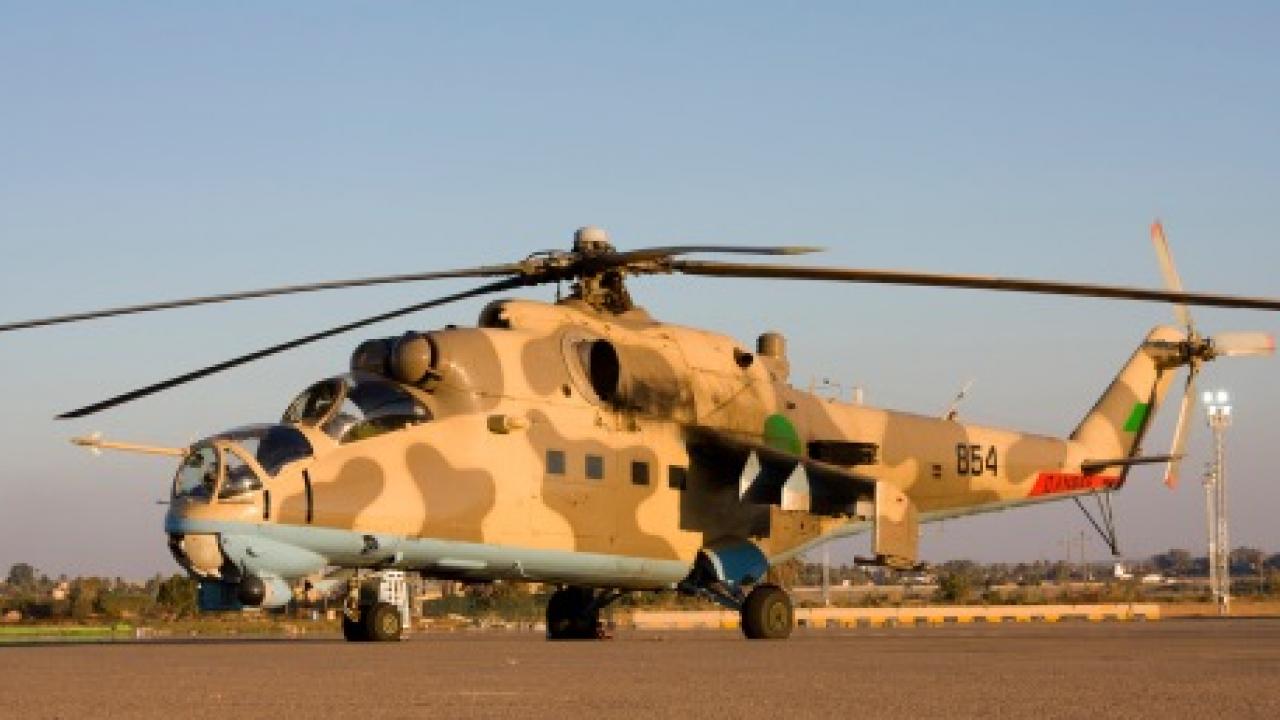 Under fire: Libyan Air Force Mi-25 854 was captured by Free Libyan Air Force and shot down by pro-Gaddafi forces in April 2011. Picture: Rob Schleiffert.
Libya has a long history of using the Hind and it is still much in action today.
During the 2011 Libyan civil war, a number of Hinds were captured by the rebels, who formed the Free Libyan Air Force, and then both sides used the aircraft to attack enemy positions.
During the battle for Benina Airport in February 2011, one Mi-35 was destroyed on the ground and another was captured by the rebels.
Two Mi-35s, operating for the pro-Gaddafi Libyan Air Force, were destroyed on the ground in March 2011 by French aircraft enforcing the no-fly zone during Operation Unified Protector.
One Free Libyan Air Force Mi-25D violated the no-fly-zone in April 2011 to strike loyalist positions in Ajdabiya. It was shot down by ground forces.
After the overthrow and death of Gaddafi, the Libyan National Army and Air Force were disbanded but they re-established in 2012.
However, by 2015, Libya's military had split into two factions, the self-styled Libyan National Army (LNA) and the UN-backed Government of National Accord (GNA).
The country slid into a second civil war with the two factions operating their own emasculated air forces with, between them, no more than 30 serviceable aircraft, including a few Hinds. These aircraft are largely flown and maintained by mercenaries.
Three Mi-24Ps were bought by the UAE from Belarus and delivered to the LNA at Marj in April 2015.
In April 2019, the eastern-based LNA attacked the stronghold of the internationally recognised GNA in Triploi. However, that action failed.

Then, in April 2020, an LNA Mil Mi-35 was shot down near Misrata and another Mi-35 was captured when GNA forces took the LNA's strategic al-Watiya Air Base in May.
In September 2020, an LNA MiG-29 was shot down by GNA forces and its Russian mercenary pilot was rescued by an LNA Mi-24 Hind. A few days later, another LNA Mi-24 crashed near Al-Jufrah Air Base, killing four Russian mercenaries on board.
Meanwhile, Algeria took delivery of 20 Mi-25s – the export version of the Mi-24D – in 1980, plus a similar number of Mi-24Vs, which operated against various Islamist rebel groups during the 1991 to 2002 civil war.
A total of 30 were extensively upgraded to SuperHind Mk.IIIs by the South African company, ATE, now part of the Paramount Group. They were equipped with modern western avionics, countermeasures and electro-optical/infrared (EO/IR) sensor systems.
Recently, they have been in action against the Nusrat al-Islam fighters affiliated to Al-Qaeda in Mali.
Stay up to date
Subscribe to the free Times Aerospace newsletter and receive the latest content every week. We'll never share your email address.