Thales unveils "game-changing" flight management system
Thales has unveiled its new PureFlyt flight management system (FMS), which will be available from 2024 and promises enhanced safety and efficiency in the cockpit. Steve Nichols reports.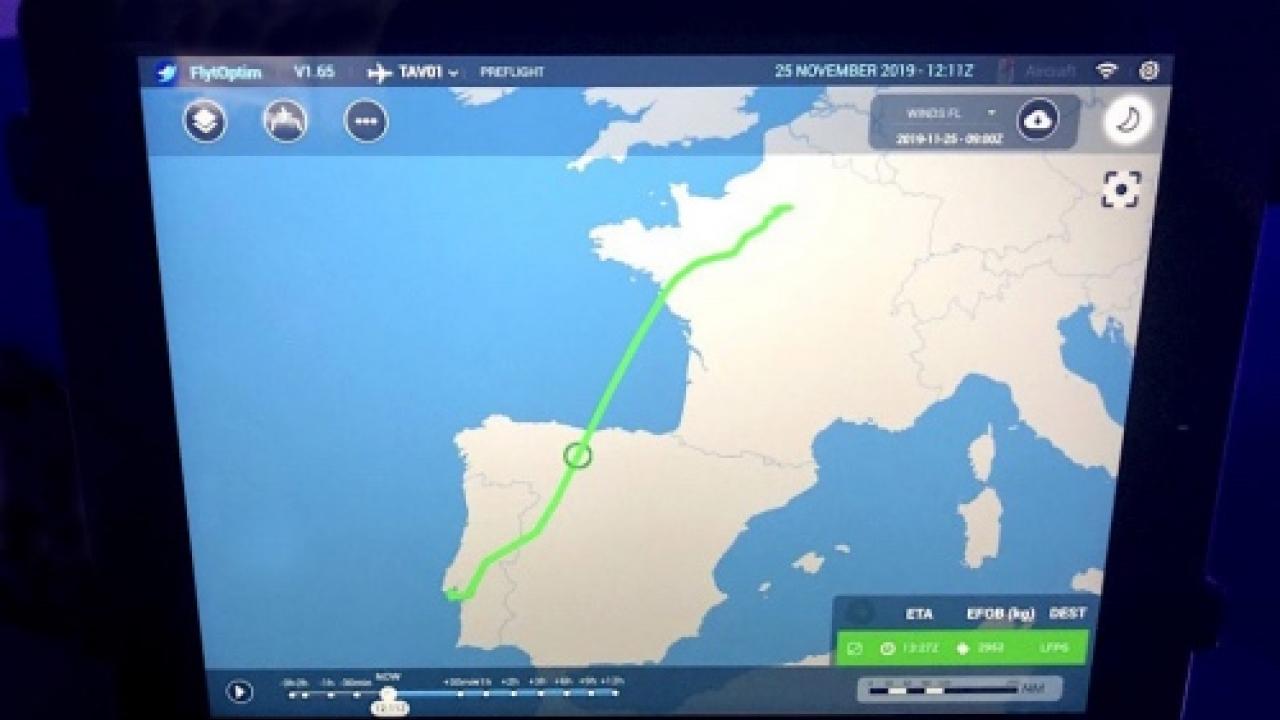 The new FMS is specifically designed to efficiently manage aircraft in a connected aerospace ecosystem and in increasingly crowded skies.
With the global commercial aircraft fleet forecast to double by 2030, Peter Hitchcock, VP Thales commercial avionics, said the FMS is the largest piece of technology on an aircraft.
"Thales is the sole FMS player in Europe. More than 6,000 aircraft, with 200 airline customers, are equipped with Thales' FMS, clocking up 100 million hours on board aircraft," said Hitchcock.
The company's existing FMS product – the FMS 300 – is currently being used on the Airbus A320, A330, A340, the ATR 42 and ATR 72, plus the military Airbus A400M, Dassault ATL2 aircraft and Northrop Grumman UH-60V and Sikorsky S-76 helicopters.
So will PureFlyt be available on Boeing aircraft as well as those from Airbus? "We'll certainly make it available to all airframers. It won't be exclusive to Airbus," Hitchcock said.
PureFlyt is a connected FMS, designed to offer airframers and airlines the best combination of safety, security, and fuel and operations efficiency.
It will interface with a Microsoft Surface or Apple iPad tablet-based electronic flight bag (EFB) to enable pilots to calculate alternative trajectories in real time, using both on-board and open-world data, such as weather information.
"We chose a commercial off-the-shelf (COTS) tablet solution rather than developing our own. This keeps the cost down and means that pilots can use an EFB that they are familiar with," Hitchcock explained.
He said that the Microsoft Surface and Apple iPad were the most common COTS-based EFB solutions in use. PureFlyt is currently not scheduled to run on Android-based tablets, such as the Samsung Galaxy Tab, which are seen as a less secure system by Thales.
"Current EFBs allow pilots to plan their flights in their hotel room, but have limited capabilities once they enter the cockpit. With PureFlyt software, which will be available for Microsoft and Apple operating systems, the EFB becomes a more useful tool in their air," said Hitchcock.
He said that by using a secure in-flight connectivity system, such as Iridium Certus or SwiftBroadband Safety, near real-time weather information would become available while in flight. The EFB could also receive messages from ground operations as well.
"A bi-directional secure data link was always a priority," he said.
"Even though the bandwidth available from L-band Iridium Certus and SwiftBroadband Safety is relatively small, compared with say Inmarsat's GX Ka-band system, it should be more than good enough for weather information.
"In-flight connectivity on current FMS systems is limited, as they were mostly designed in the 1990s. We wanted to design a system for the 21st century that is upgradeable and likely to still be in use in the 2050s," he said.
The system can then suggest alternative routeing to avoid thunderstorms or other adverse weather, complete with an updated estimated time of arrival and any additional fuel burn.
"Typically, pilots only get up to date weather information from any on-board weather radar system. But any weather feature may be out of its range. Traditionally, EFBs only know about weather from out-of-date forecasts, but now they will be able to get up-to-date information while in flight," he said.
These alternative suggested routes are automatically optimised for time and fuel burn cost, with the differences from the original flight plan being highlighted. This means pilots know what they are selecting from the outset.
"Your original flight plan might be for flying at flight level 340, but the FMS might suggest flight level 375 to save fuel. If air traffic control (ATC) agrees, you can then transfer to the new suggested routing and save the airline money.
"We call it trajectory management. Sometimes, for very good reasons, the pilot may have to deviate from the planned path. PureFlyt will always calculate how to get back on track with a valid plan and it can do this five to 10 times faster than current FMS systems," he said.
He added that this usually happens during high workload phases of the flight, when pilots don't want to be distracted too much. By automatically calculating alternative routes, it means pilots can concentrate on their main job – flying the aircraft.
Another new feature is vertical profiling on the EFB, showing the actual flight profile in a graphical display.
"We think PureFlyt is a game-changer for environmental reasons. We think it could save 13 million tonnes of fuel and 40 million tonnes of CO2 per year by 2025; 40% of an airline's costs are on fuel, so any reductions would be very welcome.
"These estimates are based on 4% fuel-burn savings on passenger commercial flights worldwide, as well as reducing noise during airport take-off, approach and landing operations," he said.
If the pilot wants to choose the selected flight deviation, the updated flight plan can be uploaded to the aircraft's FMS via a cable connection.
"We chose a hard-wired, rather than wireless connection, for the flight plan uploads, to enhance security. This will also result in fewer potential keying errors."
Protection to the server on the aircraft was paramount, Hitchcock said.
"The tablet has the same PureFlyt software as the aircraft, so pilots become very familiar with it. By combining the integrity of the FMS and the agility and power of the EFB, the aircraft trajectory can be permanently controlled, adapted and enhanced, resulting in optimised flight, decreased fuel consumption and improved passenger comfort.
"At the end of a flight, the updated flight plan from the EFB is ready to be sent to the company at the touch of a button," he said. "Which saves a lot of time and effort by the crew."
PureFlyt has been developed by a team of 400 engineers at Thales' operations in Toulouse and Bordeaux, along with commercial airline pilots.
Hitchcock said Thales has used artificial intelligence technologies to simulate two billion test cases, accumulating an invaluable experience, equivalent to 100 million actual flight hours.
"The FMS is connected to more than 30 systems on the aircraft," he said. "This generates a lot of data, from weather, temperature or pressure changes, to fuel burn parameters. With a 100 tonne aircraft, we really need to understand how this environment affects performance.
"Our 4D-approach is a first for FMS systems and eliminates the gap between the EFB and the FMS. Finally, we've designed the system for the next generation of aircraft, both civil and military, manned and unmanned.
"A total of 800,000 new pilots will be needed in the future to cope with the projected growth in air transport. Most of these will be millennials and they will expect to see a digital cockpit," Hitchcock pointed out.
"The use of tablet computing will be second nature to them. Existing FMS systems will seem old fashioned."
He added that PureFlyt has also been designed to be future-proof, accommodating the implementation of concepts such as the initial 4D (I4D) trajectory management methods currently being researched by Single European Sky ATM Research (SESAR) in the EU and NextGen in the US.
The connectivity enables other benefits to the pilot as well.
"By computing and sharing vast amounts of data, PureFlyt will make flights safer, greener, easier for the pilots to manage, more profitable for airlines and, all this, ultimately for the full benefits of passengers," said Jean-Paul Ebanga, Thales VP flight avionics.
"In the air, the digital revolution has only just begun. A paradigm shift in on-board cockpit electronics is taking place in the connected airspace and PureFlyt is at the forefront of this digital new age, leading the next generation of FMS that truly makes the aircraft a node of connectivity."
PureFlyt will be available for entry into service in 2024, for both line-fit and retrofit applications.

Stay up to date
Subscribe to the free Times Aerospace newsletter and receive the latest content every week. We'll never share your email address.