Industry sees the light on protection
Technology has a key part to play in the airline industry's fight to win passengers back in a post Covid-19 environment.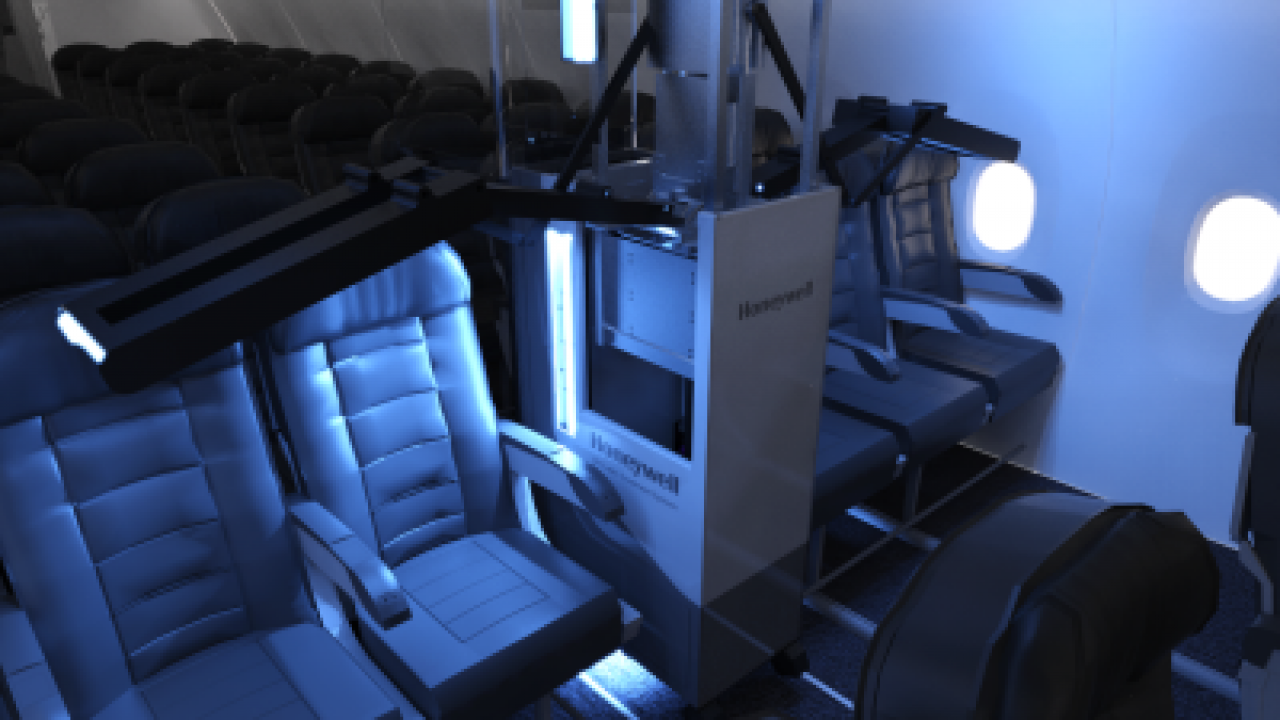 Cleaning up: Honeywell's ultraviolet cleaning system can treat an aircraft cabin in less than 10 minutes.
Most experts agree, to regain passenger confidence, the aviation industry is going to have to use technologies including touchless biometrics, improved communications, e-commerce, and digital health passports, to future-proof operations. Steve Nichols reports.
In a recent webinar Barbara Dalibard, CEO of multinational information technology company, SITA, said: "Covid-19 has had a huge impact – something we have never seen before."
She said the future of the airline industry will be driven by cost reduction and doing more for less.
"I think the safest way to ensure that passengers don't have to touch anything is with mobile technology," Dalibard said. "Starting with check-in, using bag drops and bar codes with your mobile device, and going through to boarding."
SITA says the goal should be about building passenger trust by making travel safe, easy and contactless, and predicts we'll start seeing more check-ins outside of airports.
The more that passengers can do on their smartphones, the more confident they'll be about air travel.
Biometrics and digital identity management will be fundamental capabilities in this touchless journey. SITA says they will enable greater automation, accuracy, and efficiencies for both the air transport industry and its customers.
"This is a business where everyone has to collaborate – airports, airlines and government," Dalibard said.
A recent survey by Future Travel Experience (FTE), an online media, events and industry change leader, found that more than three-quarters of respondents (77.4%) expect to see increased adoption of "touchless" biometrics to verify passenger identity; 74.8% anticipate greater use of self-service and automation for passenger processing; and 69.2% expect to see technology used to identify passengers displaying Covid-19 symptoms.
Rohit Talwar, CEO of professional foresight firm, Fast Future, said: "The challenge now is to encourage passengers to return to the skies by demonstrating how clean, safe, and consistent the flight experience is across the globe.
"The crisis has driven many to accelerate their innovation and digital transformation initiatives. Ideas that were once considered speculative, or 'nice to have', are moving to the top of the agenda.

"We are far too early in the transition from crisis to recovery to know exactly what will work. What is clear is that it will require a willingness to pursue rapid and focused innovation and technology experiments, to consider ideas that were previously deemed unthinkable, and a commitment to expand our horizons and learn fast."
Extending the use of smartphones could see live, personalised boarding information sent direct to passengers via app, SMS or e-mail.
A recent paper prepared by FTE agrees and says that biometric technology can help the industry deliver a seamless and touchless airport experience. It says efforts to enable offsite pre-enrolment for biometric processing, removing the need for passengers to enrol using a kiosk once they arrive at the airport, should be accelerated.

It says health or immunity passports are being explored in some countries but a global solution would require buy-in from multiple stakeholders, government agencies and health authorities.
The roll-out of biometric facial recognition technology would also enable a touchless passenger experience.
But what else can we expect to see?
The use of ultraviolet (UV) light within automatic tray recirculation systems and baggage is being examined.
Screening specialist, Smiths Detection, has announced the launch of ultraviolet light kits capable of destroying up to 99.9% of microorganisms on baggage trays.
Smiths said the UV-C lights are contained within a specially designed casing and pose no exposure risk to staff or passengers
Its global director aviation, Richard Thompson, said: "UV-C lights are a practical, straight-forward way that airports can help reduce the transmission of any bacteria or virus that might be on the surface of its trays now and in the long-term."
Trials are under way at airports and the system is available immediately for installation with short lead times.
Also, Honeywell and Dimer are to bring an ultraviolet leaning (UVC) system to airlines that can significantly reduce viruses and bacteria on cabin surfaces.
Honeywell says the system can treat an aircraft cabin in less than 10 minutes.
Stay up to date
Subscribe to the free Times Aerospace newsletter and receive the latest content every week. We'll never share your email address.