Virtual answer for MRO training
'Enhanced' reality has lived up to its advance billing as a disruptive technology to watch in maintenance, repair and overhaul (MRO). One area where it is starting to make an impact is training, as Chuck Grieve discovers.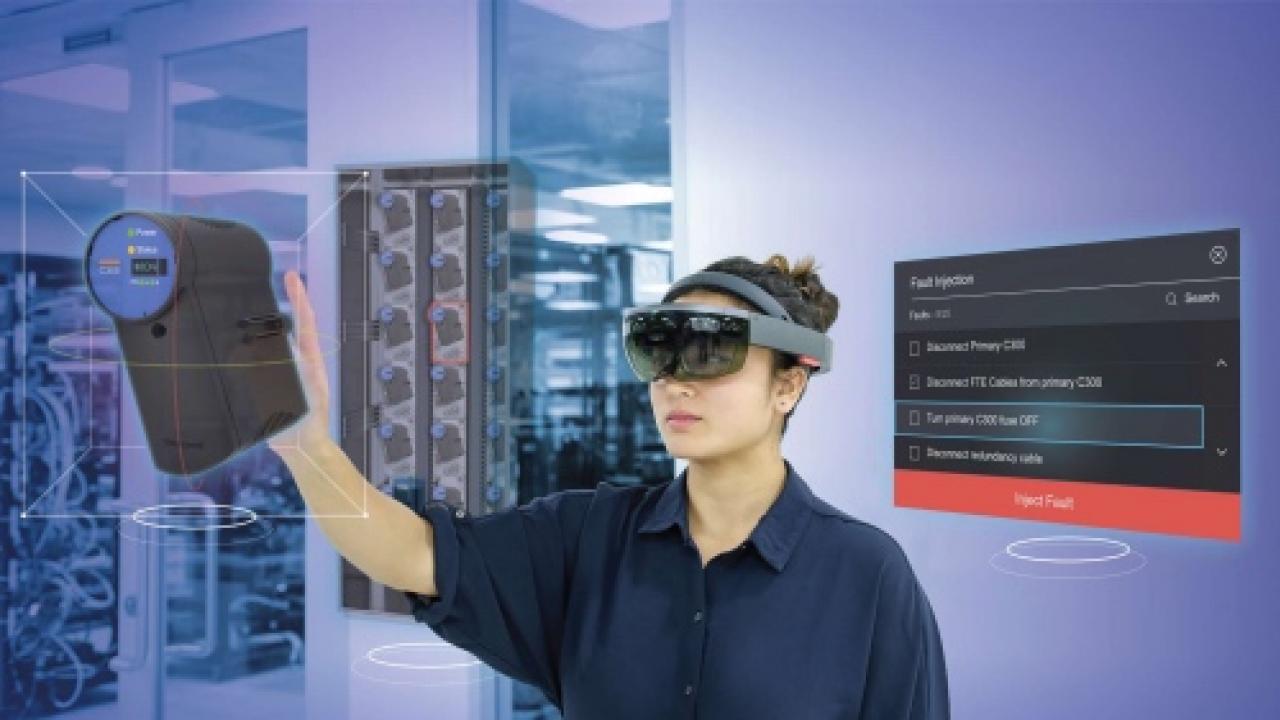 Training in a highly regulated industry such as aerospace MRO has its challenges. Access to approved maintenance training courses is one. Another is their focus – specific training qualifies engineers to do specific jobs on specific aircraft.
Commentators suggest engineers typically take five-to-six years of classroom and on-the-job training to reach peak productivity. Some believe that could be trimmed by a year or two through greater use of virtual, augmented and mixed reality (VR/AR/MR).
With the global shortage of qualified maintenance personnel starting to bite, the industry is moving in that direction with solutions from a range of manufacturers, MROs and software developers.
Thanks to advances in devices such as Microsoft's HoloLens and the HTC Vive, and a rush to develop software that uses their capabilities, trainees are learning to deal with tasks from the routine to the dangerous, all in the safety of virtual environments. There's no risk of injury, and research indicates the enhanced learning experience leads to better retention of technical instruction.
Equally important to airframe and engine owners and operators, this approach removes the risk of damage to their assets. This was a consideration behind Rolls-Royce's new VR tool for refresher training on the Trent XWB, launched with Qatar Airways in April.
A similar rationale inspired Rapid Access, a specialist in aerial work solutions, to work with developers to add aviation-specific modules to its industrial VR training platform. Company strategists reasoned that improving the training environment would minimise damage to airframes, potentially saving users tens of thousands of dollars.
"This is one of the things the industry was asked to try and develop," said Mike Palmer, regional quality, health, safety, environment (QHSE) manager at Rapid Access.
The apparatus provides immersive VR simulations for trainees to explore realistic jobsite environments and safely test the limits of equipment. The simulations become progressively more challenging; metrics provide feedback about the operator's performance, showing weakness and strengths.
"The technology is only about 12-14 months old and there are only about six or seven operational units in the world," said Palmer. "We have two of them here in the Middle East."
Aerospace newcomer, Spiral Technology, is focusing its efforts on MR and has developed prototypes for the HoloLens. The company demonstrated its Reactor MR software at MRO Middle East.
"MR intertwines the real and virtual worlds, making them responsive to each other in real time," said Spiral chief executive Konstantyn Shyshkin.
The technology builds on AR, where physical assets are overlaid with a digital layer of information, by making the information change contextually as the task progresses. For example, in an MR environment, a virtual hammer (a hologram) resting on a real table will fall if the user pulls the table sharply.
Modern holographic glasses are much more than just portable screens, said Shyshkin. "They have the features of a sophisticated computer, including sensors and cameras, which help them sense their position in the space. There's also WiFi to connect to your enterprise cloud, plus headphones and microphone to allow users to talk to the holograms – to 'whisper to the shadows'."
Spiral says its comprehensive training programmes can replace a significant amount of the external training used by MRO shops.
Another company taking advantage of HoloLens capabilities is Honeywell. The company says its skills insight immersive competency (SIIC) solution speeds up training, while making it more effective because "more experiential learning" appeals to millennials.
SIIC aims to improve skills retention by 100% and reduce training time by 60% using MR. Trainees approach activities through virtual environments that are accessed through the cloud, offering a natural way to interact and communicate with peers or a trainer.
Dassault Aviation has used VR technology in its MRO training since 2017. Falcon immersive practical training (FIPT), a key component of the practical training syllabus, lets multiple trainees learn the same thing simultaneously.
A Dassault spokesman said it can be "a bit time-consuming" for trainees waiting in groups to take turns inside the mechanical bays and other tight spaces on the real aircraft. "With our immersive training tool, trainees simply put on their headsets and find themselves in the same virtual spot, even in tight spaces, with a perfect view of what the instructor is doing," he said.
FIPT lets them 'virtually roam around' inside the airframe and simulate inserting tools and turning wrenches in tight spaces.
Meanwhile, AFI KLM E&M has developed web-based virtual aircraft systems for Boeing 787 and 777 types that can reproduce the entire aircraft and its systems in a 3D setting. The MRO says this includes access to the aircraft, its cockpit, technical compartments and capabilities to open the engine and auxiliary power unit (APU).
The virtual aircraft reduces training time and minimises the need to have an actual aircraft available. It was designed to a high specification so engineers – along with flight deck and cabin crew – could all carry out the practical parts of their type rating courses in accordance with the requirements of airlines and MROs.
A "media mix" is how Lufthansa Technical Training (LTT) describes its media concept – theoretical close-to-reality interactive training. It includes maintenance training devices and virtual aircraft, system schematics, spheric views, cockpit panel descriptions and a useful handbook of Airbus and Boeing abbreviations.
"The primary objective is to strengthen the competence and skills of our trainees already in the classroom by using as realistic as possible didactics," said the company. The concept is being applied to more and more aircraft types.
With this approach, says LTT, the aircraft is "almost present" in the classroom, allowing trainees to practice dealing with failure indications in connection with the aircraft documentation.
While the system schematics module explains the relationships between different systems, the spheric views show the installed position of individual systems and components. This is especially useful, says LTT, for segments that are not visible or accessible during normal operation of the aircraft.

Stay up to date
Subscribe to the free Times Aerospace newsletter and receive the latest content every week. We'll never share your email address.