The missing digilink
Digitalisation of the maintenance, repair and overhaul (MRO) industry is slowly gaining pace, but the haphazard manner of its advance and the shortage of common standards mean the full benefits may remain elusive.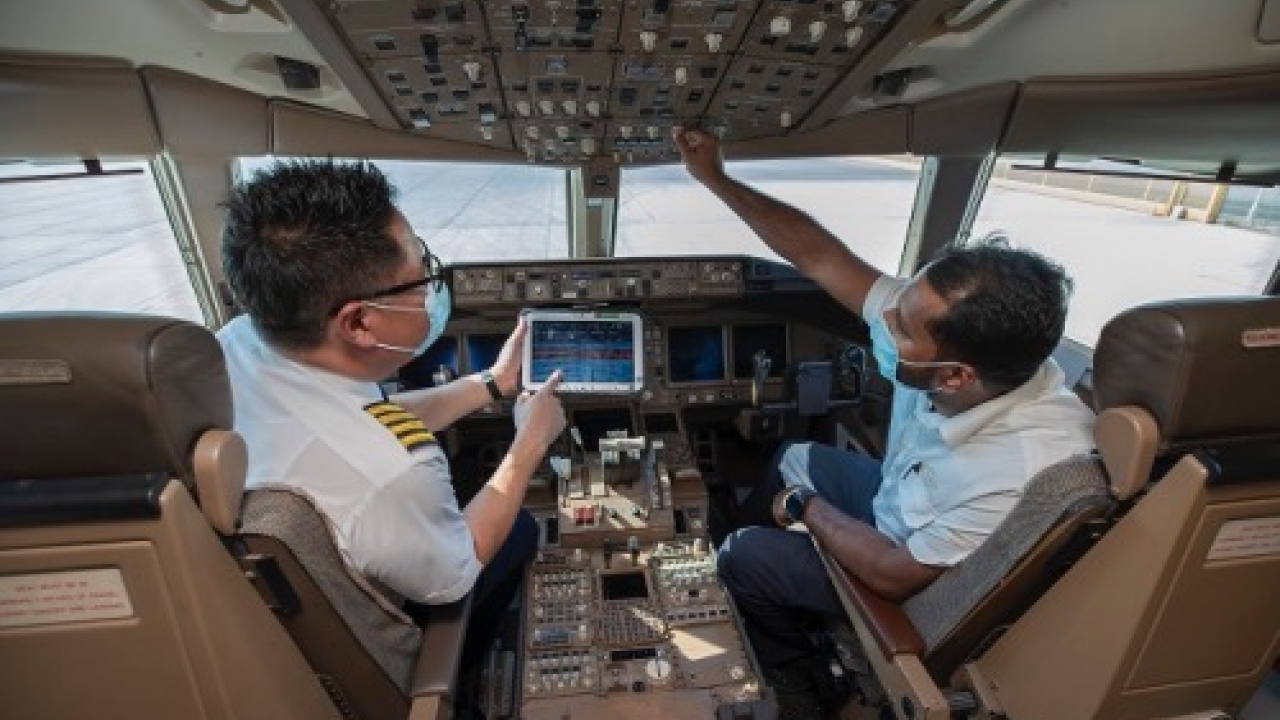 Immediate information: New electronic technical (eTech) logs give Etihad Airways' technicians and flight crew a paperless real-time operational data loop. Picture: Etihad Airways.
Digital transformation promises significant benefits for MRO, from predictive maintenance to seamless integration of operations, but the aviation aftermarket has been slow to embark on the journey. Chuck Grieve reports.
Ali Baghchehsara, a specialist in cognitive systems and artificial intelligence (AI), puts it down, at least in part, to a shortage of people with AI expertise in the context of aircraft and aviation, which affects the original equipment manufacturer (OEM) side as well.
"It's still either/or," he said. "People are experts in operations, how the aftermarket business works and the issues they see daily, or they understand AI and know how to code. For transformation to happen, you need that link. This is missing in MRO."
What's also missing are common standards without which, he said, the apps and algorithms being developed independently "will be very difficult to coordinate".
But Baghchehsara, who co-founded the Germany-based LISA Group, is doing something about this in a key area – predictive maintenance.
LISA, which is active in five countries, including the UAE, leads the independent predictive maintenance standardisation committee 2 (PMSC2), working with several airlines and MROs to develop an industry-standard interface.
Supporting that effort is Aviation Giga Hub, a LISA Group spin-off described as a universal data exchange platform that gives users a one-stop shop for managing the whole data pipeline. It hosts more than 150 apps, which provide advanced analytics services through AI, machine learning, e-learning etc.
On the horizon, the use of the secure track-and-trace blockchain tool is said to hold promise of savings, which international professional services company, PwC, estimates at about 5%, or $3.5 billion, in MRO costs globally.
The fledgling MRO Blockchain Alliance, a group of seven organisations covering the MRO supply chain from parts manufacture and repair to logistics and smart contracts, has carried out important proof-of-concept work on key digital thread and digital passport components of the tool.
The digital thread provides the real-time status, chain of custody and back-to-birth track-and-trace of the part. The digital passport – like a human passport – provides the indisputable identity of a part and contains other vital data, such as certification of airworthiness, to prove ownership.
Speaking at a virtual conference in November, Andre Fischer, chief executive of alliance member, FLYdocs, said two trials successfully completed in mid-2020 demonstrated secure lifetime tracking and change of ownership of aircraft components.
Another blockchain proponent is Tristan Whitehead, chief executive of London-based technology company, Enspan, who believes investing in the effort to create a paperless supply chain would be well worth it. He believes if companies viewed the supply process from the perspective of the part, not their company, a mountain of paperwork could be eliminated.
In conversation with global parts supplier Satair, Whitehead explained that digital documents automatically generated from transactions, encrypted and digitally signed, would produce greater transparency between trading partners. Multiple companies could store logistical, operational and technical information against the part batch/serial number; access to the information would require the blockchain key.
It boils down to trust between supply chain parties, he said. "When information concentrates at organisational boundaries, it cannot be used to solve much more significant 'ecosystem-wide' challenges."
An intermediate step toward blockchain is the digitisation of existing paper documentation and, on this front, a Swedish-American venture called Web Manuals is making a name for itself with an approach that it is promoting as a potential industry standard.
Founder and chief executive, Martin Lidgard, said aviation has always been "a bit behind the curve" in adopting new technology. "As a whole, we've seen a massive tidal wave of digitisation going through pretty much all industries," he said, and the enforced stand-down of Covid-19 gave aviation "the opportune moment to catch up".
As for the company's ambitions, Lidgard says its current customer base – which has jumped by a third in this "very challenging period" to 330 companies – represents at least 50% of the estimated 500-600 operators in the world, who have started digitising their operational manuals with a purpose-designed tool.
Among them is Sharjah-based Alpha Aviation Academy, whose general manager, Captain Nadhem Al Hamad, said the academy has found Web Manuals to be "a great online solution". Its comprehensive approach to document changes "has supported our business continuity activities, which are now speedier and hassle-free".
In Abu Dhabi, Etihad Airways has taken a step toward paperless operations with implementation of electronic technical (eTech) logs across its Boeing 777 freighter fleet.
The digital solution, approved by the General Civil Aviation Authority (GCAA), replaces paper logbooks traditionally used to document flight and maintenance information, creating a closed loop of real-time data capture from flight crew and line maintenance technicians.
Paul Kear, Etihad's senior vice-president technical, said: "The digitalisation of our technical logs will go a long way toward enhancing the operational efficiency and airworthiness of our fleet... a monumental step forward for aviation in the UAE."
The airline plans to introduce eTech logs, supplied by mobile solution provider Conduce, on the rest of its fleet in 2021.

Honeywell Aerospace believes a "holistic approach" will accelerate digitisation, and cites the widespread use of its Forge integrated analytics platform as evidence that it is happening in Middle East MRO.
Paul Page, the company's Dubai-based solution architect, said the platform draws on an information lake filled with data from roughly a third of the total number of operational aircraft around the world – including all the Middle East airlines – to derive "actionable insights" into individual fleet operations.
His personal view is that the caution of airlines and MROs in deploying and relying on such technology derives from previous attempts "where solutions, unfortunately, have not yielded the promised results".
Honeywell Forge is designed to make it easier for customers to automate the collection of their operational data and make sense of it in a secure environment, and then give them the ability to derive "actionable insights" from that data.
For example, Forge's predictive and prescriptive maintenance application can relate the relative costs of landing with less thrust reverser and more braking, showing savings on fuel but adding wear to undercarriage systems. "By seeing the operational impact on fuel, and also on the health of the aircraft and various systems, you can really assess the total impact of costs," said Page.
Another point of view on planning comes from Gary Vickers, chief executive of UK-based Aerogility, which combines AI-based planning and predictive analytics software.
He suggests the short-term MRO strategies forced on airlines in 2020 will be part of re-entry into service plans for the foreseeable future. He said his contacts are reviewing their plans "almost on a daily basis" as they grapple with a constant stream of information and the "trade-offs" implicit in decisions they're making.
"Often they [planners] are facing situations where there is no right answer; there's no optimal one. Sometimes, unfortunately, they're just looking for the least-worst option."
A fundamental capability in uncertain times, said Vickers, is agility in the supply chain; that comes from better and more transparent planning and the ability to communicate demands for services across the supply chain.
Aerogility's software is designed to help customers forecast 'what if' scenarios to automatically generate plans, understand the subtle interactions of various factors, and choose the optimal solutions.
Stay up to date
Subscribe to the free Times Aerospace newsletter and receive the latest content every week. We'll never share your email address.