MROs: What will be the new normal?
A 'new normal' for maintenance, repair and overhaul (MRO) is inevitable in the aftermath of Covid-19, but what exactly does that mean?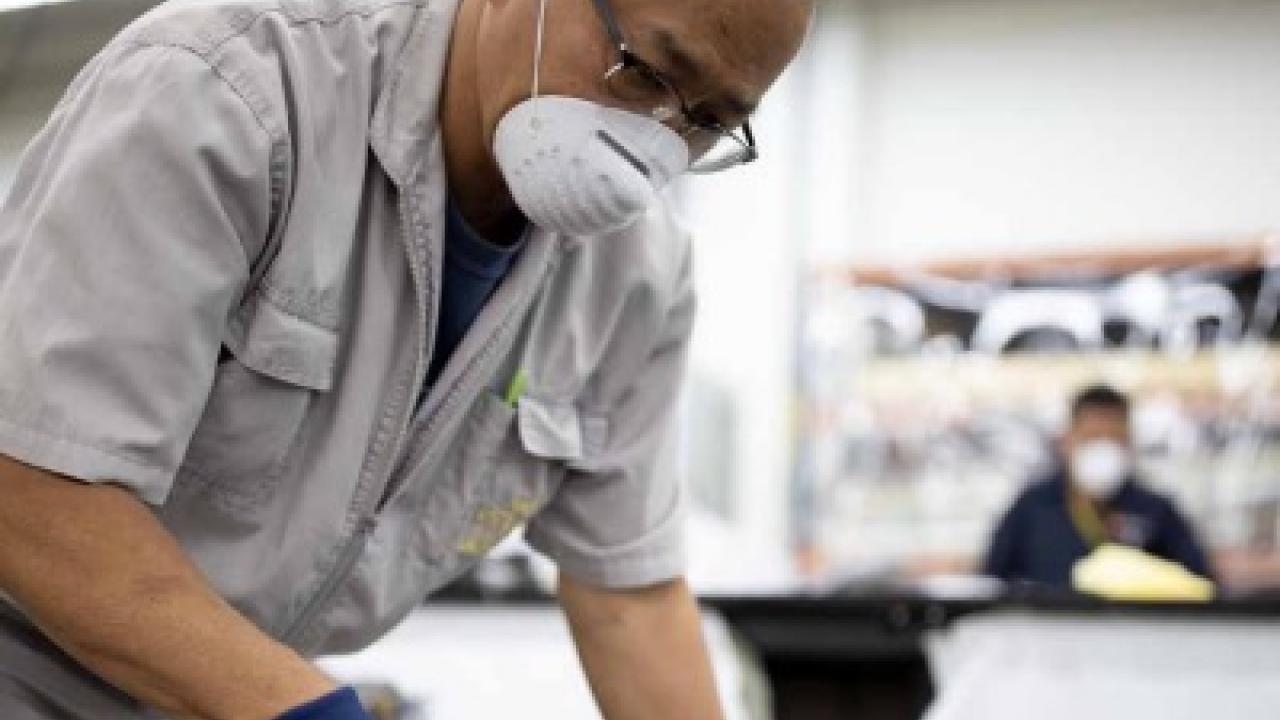 The new normal: Masks are now part of life in the Etihad Engineering hangars and shops.
Nobody needed a crystal ball to predict that most MRO business would drop as soon as aircraft stopped flying. Chuck Grieve reports.

Analysts monitoring MRO have forecast a year-on-year drop in business of 60-75% in 2020, and little hope for a fast recovery as airlines delay maintenance, run down inventories, and opt to tear down grounded aircraft for spares.
Some observers, quoted by Reuters, suggested the impact would likely be deeper than originally thought, with a proper recovery not anticipated until 2023. In the words of Richard Aboulafia of Teal Group: "This is going to be a very brutal time for companies dependent upon aftermarket revenues."
David Doherty, head of sales for Etihad Engineering, said his "best guess" for a full MRO recovery was 30-36 months, with the different markets returning at their own pace.
MROs will be hit by a drop in man-hours as airlines turn to newer technologies, he said. "There's a big shift in where we see the market going. Older aircraft that require more man-hours will be put out to pasture earlier."
Short-haul is expected to recover faster than long-haul, he said, but MROs will still have to invest significantly for types such as the Boeing 787s and Airbus A350s that, he suggested, will be "the aircraft of choice for long-haul".
But opportunities emerge from crises. Fraser Currie, chief commercial officer of Joramco, said demand for Joramco's services had remained strong, although the type of work had changed.
Currie said little of the initial activity by airlines to park aircraft touched Joramco. However, he said, as airfields began running up, the Amman-based MRO saw "a massive surge in long-term storage options" as airlines moved aircraft from their home hubs to locations strategically suitable for a fast return to service.
For Airbus' Paul Oliver, the situation created an unexpected opportunity to bundle MRO. "In many cases, abrupt parking meant both aircraft and mechanics were co-located," he wrote. "This presents a rare chance to embody modifications in one shot, without having to compete with network planners for precious ground time, as is the case during so-called 'normal' times."
Emirates and Etihad Airways were among those airlines to capitalise on the situation – in Etihad's case using the grounding to refresh the cabins of its entire fleet of 96 aircraft.
This "opportunity amidst the crisis", in the words of Frederic Dupont, Etihad Engineering's vice-president technical sales and customer service, extended to cabin uplift, passenger-to-freighter (P2F) conversion, longeron modification, heavy maintenance, major structural modification, painting and deep cleaning for Etihad Airways and third-party airline customers.
Down the road in Dubai, Ahmed Safa, Emirates' divisional senior vice-president engineering, said some scheduled heavy maintenance had gone ahead despite the pandemic.
With 218 of its 270-unit fleet parked at Dubai World Central and Dubai International Airport, Emirates was in a good position for reactivation as the airline gradually restored services in line with the easing of travel restrictions. "We need around four to five dedicated employees and at least 18-24 hours to put one of our aircraft back into service," Safa said.
The evolving situation forced airlines to think outside the box. Temporarily adapting passenger aircraft for cargo was one option adopted by many, including some Middle East carriers.
Lufthansa Technik was quick to offer supplemental type certificates (STCs) for all common types – including for the first time the A380 – on the back of what it said was strong interest.
Airbus subsidiary, Satair, meanwhile offered comprehensive parts kits for P2F conversions, with or without removing the seats, acknowledging this temporary solution to revenue and load factors "is not for everyone".
Joramco's Currie said there has been an "interesting" consequence of original equipment manufacturer-mandated extensions to maintenance planning document tasks. As some airlines took up that option to extend service intervals, others brought maintenance forward, fundamentally changing "this natural divide" between summer and winter seasons in the airframe MRO business and keeping demand buoyant.
"We're seeing that the winter season is not being affected at all," he said. "So it's going to be interesting. As far as the rest of 2020 and into Q1 of 2021 is concerned, we're confident. Then it'll just depend how quickly the fleet comes back, but we're feeling quite upbeat.
"Don't get me wrong; there is a new 'normal', and we have to right-size to meet that. But it's not been as drastic as it might have been."
Stay up to date
Subscribe to the free Times Aerospace newsletter and receive the latest content every week. We'll never share your email address.