Membership on the up in east Africa's rotary club
East Africa has been witnessing significant growth in its helicopter industry. Githae Mwaniki takes a look at the sector.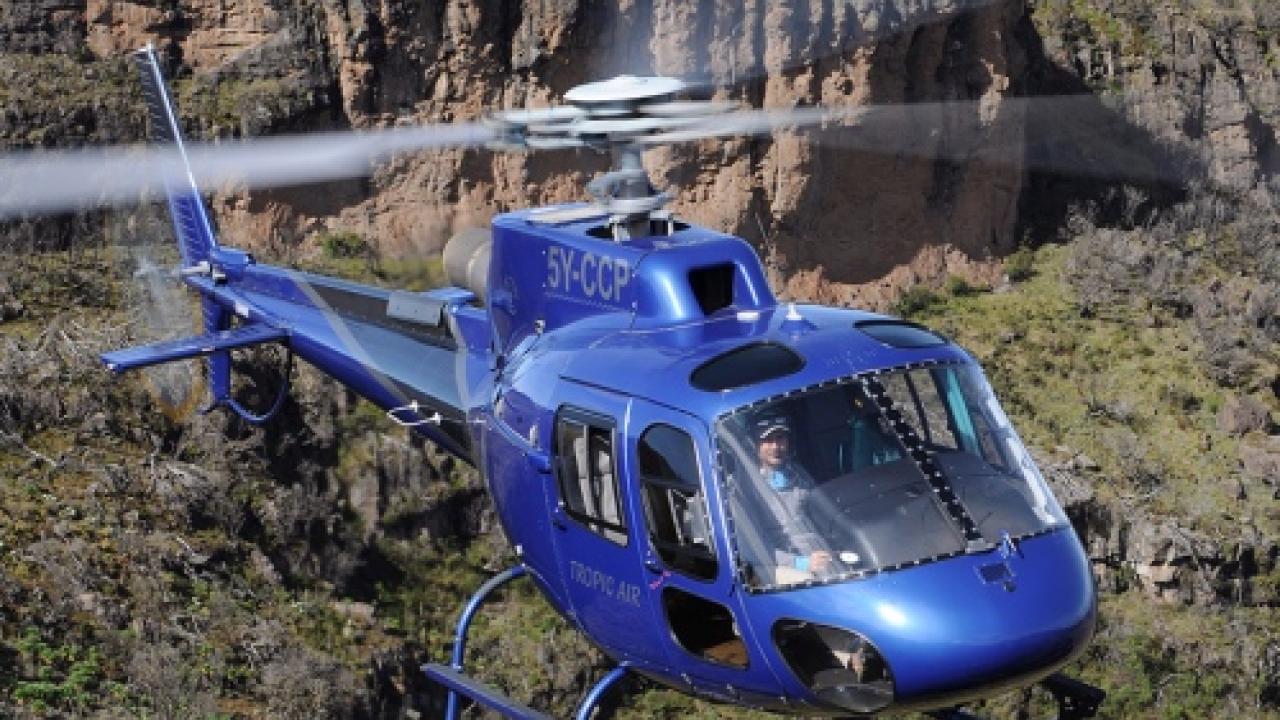 Helicopters are flexible – they can do anything from VIP and tourist transport to medivac and, of course, oil and gas exploration support.
This has led to the total number of helicopters on the Kenyan civil registry crossing the 100 aircraft mark, with a similar trend being observed in Tanzania and Rwanda.
Supporting these growing numbers has led to an increase in demand of rotary-wing pilots and also for quality and reliable maintenance support facilities.
The most common types of helicopter in the east African skies are Bell Textron and Airbus (formerly Eurocopter), with MD Helicopters, Robinson, AgustaWestland (now Leonardo) and Enstrom all having a presence.
Its type popularity has led to Bell Textron, via its sales and support agent for Africa – Africair – refocusing on the need for effective maintenance support for Bell products in the region.
That led to the set-up of Africair Helicopter Support (AHS) Ltd as a maintenance facility.
Based in Ruiru Town, 30km from Nairobi central business district (CBD) as a dedicated Bell maintenance station, it is located near a long-serving Bell client – Devki Steel – and is the only such facility in east Africa. Devki operates a fleet of Bell helicopters, including a Bell 407.
AHS went through a rigorous quality process with the Kenyan Civil Aviation Authority and was granted its approved maintenance organisation (AMO) certificate in 2017, thus becoming the first such centre to be located outside an airport or airstrip in Kenya.
The AMO is approved to maintain a wide range of Bell products, including Bell 206 and 407 for overhaul, structural repair, non-destructive testing, component overhaul and maintenance, with parts support.
AHS is led by base maintenance manager, Simon Mugo, an experienced engineer, who previously led maintenance as KWS Airwing, a rotary-wing AMO based in Wilson Airport. AHS has also been used to assemble Bell aircraft that have been shipped in parts on behalf of its clients. Key local operators of the make include KWS, Kenya Police Airwing, Kenya Power, Muhwai and Penial Air.
In addition, AHS serves the maintenance needs of Bell helicopters operating in Tanzania, Uganda and Rwanda.
AHS now plans to expand to expand its maintenance services to cover other aircraft types as it seeks to gain a wider foothold in maintenance support market.
Airbus Helicopters (formerly Eurocopter) has many aircraft operating in east Africa due to the ease of availability of this make in the used civilian rotary-wing market.
The AS350 is the most popular model with most commercial operators, including Lady Lori, Tropic Air, ProFlight, KIDL and Everett Aviation.
Airbus' penetration to the Kenya market was further cemented when the Kenya Air Force acquired nine AS350 Ecureuil (Fennec) helicopters.
The Fennec is a single-engine light utility helicopter with a capability of anti-tank operations, air-to-air combat, ground support, a utility transportation role and training missions. It has an option of pre-fitted guns and rocket launchers.
Due to its sales success cutting across the civilian and military sectors, Airbus Helicopters, via its South African subsidiary – Airbus SA – has maintenance facilities in Midrand, South Africa. It also recently set up a new facility and mobile support unit in Wilson Airport, Nairobi.
The Airbus AMO further supports Airbus helicopter operations with a parts and components pool to assist other AMOs in maintenance.
The Wilson Airport facility is located in a section of hangar leased from Air Kenya and offers scheduled and unscheduled maintenance and parts for Airbus models, including AS350 and 130. However, it still forwards full overhaul to its South African facility.
The newest investment in dedicated helicopter maintenance facilities is at Helint Aviation, which recently built a new hangar and set up related maintenance facilities at the Aero Club of East Africa in Wilson Airport.
Helint Aviation aims to over a wide range of services in the rotary wing sector, including support of oil and gas/offshore energy, medivacs, charter, maintenance services, including support of third-party base maintenance, modifications and structural repairs.
Further, Helint Aviation has been appointed as an authorised maintenance centre for MD Helicopters, in addition to serving as a its parts centre.
Helint will further serve as a distributor for MD Helicopters in the eastern Africa region.
The Arizona (US)-based manufacturer has identified Kenya as a centre for distributing its products into the region; its sales team has been making inroads into the Kenyan market with key sales to the Kenya Air Force and Kenya Army Garrison, which operates the MD 500.
Recently, the Kenyan Army ordered 12 new MD 530F Cayuse Warrior Scout light attack helicopters, which were due to be delivered as African Aerospace was going to press.
The Kenya Army has indicated that it plans to use the aircraft against the Mogadishu-based Al-Shabaab militants and in support of the African Union Mission in Somalia. They are aimed to replace the MD 500 currently operated by the army's 50th Air Calvary Battalion.
Robinson, which has delivered more than 12,000 aircraft in 40 years, has also identified Kenya as a key target for making inroads into the African market.
After appointing NAC to handle sales of its aircraft in South Africa, the manufacturer appointed Helicopters Charters of East Africa (HCEA) as the distributor of the Robinson product range in the eastern African market.
HCEA is an approved helicopter operator with the R22 and R44 in its fleet. It is keen to facilitate sales of Robinson aircraft, from the piston-powered R22 and R44 to the new turbine-powered R66, in addition to providing parts to support Robinson operations.
Further, HCEA has partnered with local AMOs, like KWS Airwing, to provide comprehensive maintenance services for all Robinson aircraft. This includes scheduled and unscheduled inspections overhaul, structural repair, non-destructive testing, component overhaul and maintenance, with parts support.
Robinson aims to capitalise on this with the supply of its R22 and R44 aircraft as the pilot trainers of choice.
The east African helicopter market relies heavily on the air force and the police airwing to provide pilots to serve the sector.
Kenya has only two approved training organisations (ATOs) offering helicopter pilot training – Sicham Aviation and Flight Training Center – with the latter operating the R44 as its trainer. HCEA aims to facilitate deliveries of the R22 and R44 for training and charter roles, as well as the new R66, thus increasing Robinson's aircraft numbers in the region and serving as a basis for more investment in setting up an expanded maintenance base for the type.
Another helicopter manufacturer eyeing-up possible maintenance facilities in Kenya is Leonardo, which has made inroads into the Kenyan market with sales of its AW109 and AW139 models to Kenya Police Airwing and Kenya Electricity Transmission Company.

Stay up to date
Subscribe to the free Times Aerospace newsletter and receive the latest content every week. We'll never share your email address.