Joramco maintains its drive into Europe
Joramco is going places. Its transformation from a regional maintenance, repair and overhaul operation to a global player with world-class standards – a work in progress – shows what's possible with the right vision, strategy and approach. Chief executive, Jeff Wilkinson, talked to Chuck Grieve.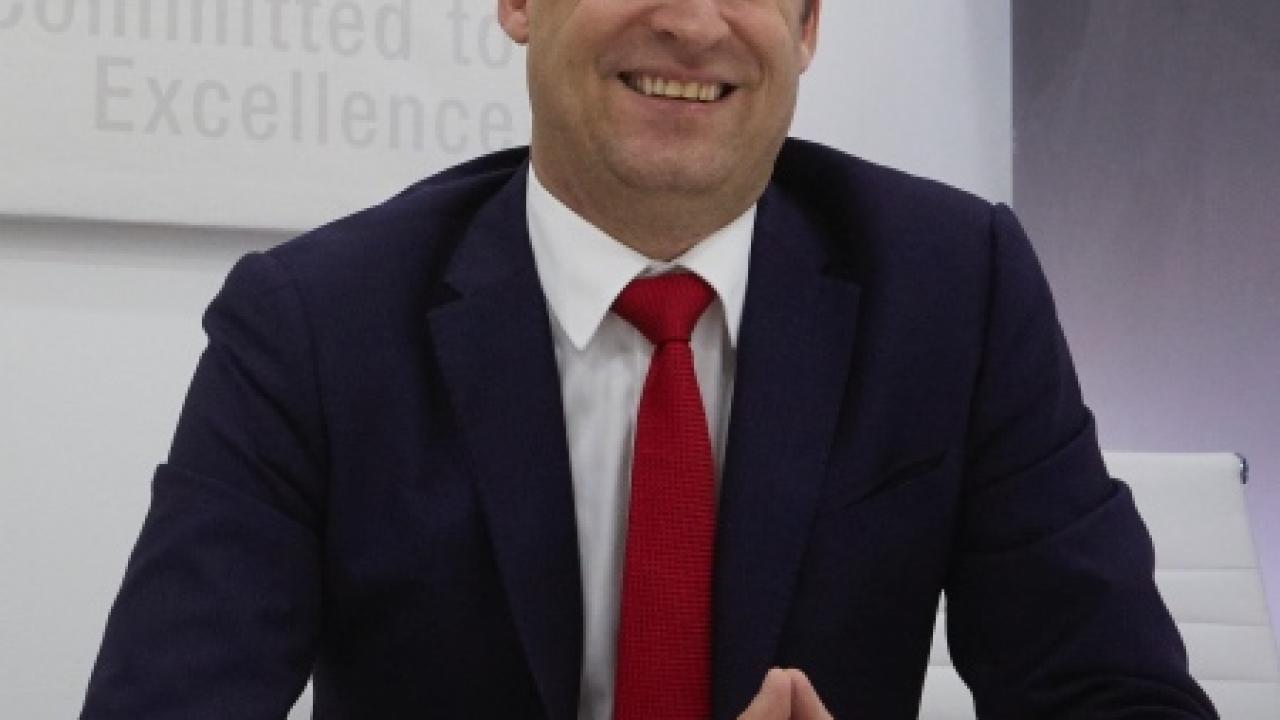 Two years into its transformation journey, Joramco is taking the MRO world by surprise.
The Amman, Jordan-based company boosted revenue by an impressive 29% in 2018 and a forecast 14% in 2019. It is within touching distance of crossing the $100 million threshold next year.
It has gained four new European Aviation Safety Agency (EASA) accreditations, including the important Part-145 approval for the Boeing 777, and has just signed its biggest client to date: Ryanair, operator of the world's largest 737 fleet.
The overhaul of Joramco is led by chief executive, Jeff Wilkinson, who arrived in October 2017 and has taken the company to places – notably Europe – that would have been inconceivable a short time ago. He maintains that's just the start.
"Two years in on a five-year journey, I'm exactly where Dubai Aerospace expects me to be but behind where my internal clock wants to be. I thought I'd be further advanced," he said.
Wilkinson is a young chief executive – just 45 – and exudes an air of restless energy. He joined Joramco after 11 years with Etihad Airline Engineering, where he'd risen to become chief executive. The challenge of giving Joramco a new lease of life was impossible to resist. "I love change management," he said.
He came on board shortly after Dubai Aerospace Enterprise (DAE) had acquired its 80% holding in Joramco. He liked DAE's vision. "Basically, they were going to start off small, grow the business to support their aircraft and the wider airline community, and potentially buy more MROs globally if the revitalised Joramco model was successful.
"I came and had a look. It just screamed 'untapped potential'."
The set-up at Queen Alia International Airport (QAIA), near Amman, "was behind the times, needed a review of strategy and an implementation plan. It was too good an opportunity to miss."
He compares the company to a football team languishing in the lower half of the table, despite having the talent to be among the top four. As he puts it: "I thought, 'Let's go for it'."
Wilkinson says turning a business like Joramco around "is not rocket science… but it is hard work". He drew up a strategic roadmap and an implementation plan in his first weeks, and then set about achieving the goals.
Joramco's strengths are its location and a relatively low cost of labour. Its QAIA base is 3-5 hours from all its main markets. Its staff, of about 1,000, are all Jordanians who "get things done".
But years of stagnation under the previous owners had left the staff "wounded and lost". His job, Wilkinson said, was "just" getting rid of old habits and putting a more disciplined structure in place.
With the support of DAE and a clear direction of growth mandated, he approached his task with enthusiasm and energy.
Typical of the challenges was restructuring the supply chain organisation. "That was one of the most split-up areas of the business," he said. "Part of it reported to finance, part to operations, part to engineering. It was all decentralised. That made it [restructuring] easy – there were so many obvious things to do."
Less obvious, and not as easy, was winning acceptance of his plans. "Everything had been constant," explained Wilkinson. "Everyone knew where Joramco fitted into the marketplace.
"When I came in with the big views, the big vision, most staff thought I'd be gone by Christmas."
His hearts and minds campaign started with internal improvements. The month Wilkinson was appointed saw the introduction of weekly staff communications and a suggestion box procedure: two new staff cafeterias swiftly followed.
Additionally, training programmes such as the technical English course, level 3 type ratings, and staff competency reviews, were put in place.
The monthly staff magazine, Leading Edge, made its appearance in March 2018; new colour-coded staff uniforms arrived that May, and the staff lounge opened in September – ahead of the customer lounge.
During his tenure, Wilkinson also brought in Fraser Currie, Matt Stewart and Sakher Haddadin, all experienced aerospace professionals, as advisors to the chief executive. Currie is now chief commercial officer; Stewart is director of transformation; Haddadin is the head of supply chain.
Communication was an early win. Out went the glass-fronted notice boards and sheets of A4 taped to the wall; in came digital screens, bright and engaging posters, a weekly bilingual communication, a staff magazine, a new website, and more.
"It's all 'in your face' – the vision, the values – to let people know what's going on. You have to get it out there so they understand what the point of this is: why do we want EASA approvals, why do we need European customers when we're fine serving the Middle East."
Because, Wilkinson answers, that's how Joramco will move to the next level. The drive to win European customers has been "extremely successful", the Ryanair coup capping a good half-year that brought Swiss International, Air Belgium, Air Malta and Brussels Airlines on board – to name but a few.
Ryanair is a big win. Joramco has an initial one-year contract for heavy maintenance on its fleet of Boeing 737s. "It's a good one for us; it's a good one for anybody," said Wilkinson.
The European low-cost giant has nearly 400 heavy checks due this winter, he said, and most of it has to be outsourced. "We bid and we won two lines from October."
The new contract fits Wilkinson's long-term goal of developing strategic relationships with national flag-carriers and large tier-1 fleets, of which Ryanair is the largest fleet in Europe.
Its aircraft, said Wilkinson, "are all the same, so you don't have to hold a lot of different cabin parts and one-time items. With two lines, you can buy bulk. Both parties win."
European customers come with different expectations, plans and strategies, he said. A challenge is balancing their requirements with those of his existing Middle East clients.
Here, Joramco's size and agility are advantages. "We're able to offer a more bespoke product and give different guarantees," he said.
In the last two years, as well as the B777 approval, Joramco has obtained EASA approvals for Boeing 737 MAX, Airbus A320neo and Boeing 787 aircraft. It also holds 12 EASA type approvals covering Airbus, Boeing and Embraer types.
Wilkinson said Joramco is "exceptionally good" in areas such as structures, composites and avionics, and getting better in others, such as cabins, under the influence of European customers.
"Swiss is an obvious one," said Wilkinson. "They have a cabin standard no different to the likes of Etihad, Emirates or Qatar, and they're very demanding."
As an independent MRO, Joramco had to build its capability almost from scratch, learning to work with Swiss-supplied parts and spares. "They've helped drive us forward," he said.
And staff started to get it. "They no longer questioned why we needed nice offices, for example; why we needed the hangars repainted; why we needed new lights in the ceiling.
"It's all about standards. A Lufthansa Group customer gave us a beautiful testimonial. She said, 'I used to feel that Joramco was a back-street garage; now it feels like I'm taking [the aircraft] to the dealer'."
Wilkinson brought a customer-centred approach with him from Etihad Airways. "It was embedded in me a long time ago," he said, as was the importance of marketing and branding.
Understanding customers' needs is key. Most of Joramco's customer airlines do not fly revenue services to Amman, so their crews make a special journey to accept aircraft and depart straight from the hangar. Wilkinson saw a comfortable customer area, with facilities mirroring those of corporate and charter fixed-base operations (FBOs), as a necessity.
The resulting customer centre – "a basic design" – incorporates sofas, televisions, a coffee bar, signage and branding. He described it as "the first big win" of his new strategy. "At that point I knew we could do this."
Wilkinson said the transformation journey is an education for him as well – "and that's got to be good".
And it's going well. The number of national flag-carriers booking heavy maintenance at Joramco is well into double figures "and they just keep coming".
It's not all been a bed of roses. Every unsuccessful tender teaches the MRO a lesson on some aspect of its business. The key is learning from customers. "They have experience," he said. Some "have been all over the globe" for MRO.
Lufthansa, for example, "gave us some great insights" into how it does things. Flydubai helped Joramco with training on 737 MAX and 737 NG types. "Flydubai also supported us with knowledge-transfer as a very experienced operator, which was critical to our success."
Wilkinson said Joramco is committed to developing its staff. "It's not just a buzzword. The level 3 training has gone through the roof. I have two 737 courses going at the moment."
Upskilling is part of the new strategic vision, supported by DAE, to add value to the team.
Some of those on Joramco's current courses have been with the company for 15-20 years and, until recently, were single-type qualified. At the end of their course in Amman, they will go to Scotland for hands-on 737 experience with Ryanair.
"The strategy is quite simple; it's based on people. If you have the right people, give them the right processes and deliver to the customers, the finances will come.
"On the people side, you manage the performance, have a succession plan to grow them up in the business, accelerate and bed in the next generation."
Customer demand led Wilkinson to seek EASA Part-145 approval on the Boeing 777, and the effort and expense looks likely to pay off.
Joramco's approval means regional 777 operators have an alternative to flying to the Far East for their heavy maintenance. "There's a market for it, for sure," said Wilkinson.
He did a deal with Etihad Airways Technical Training to train his engineers at its Abu Dhabi facility. "To me, it was a no-brainer. I wanted good quality training, and Etihad has one of the best training centres in the Middle East."
The 24 Joramco staff he sent on two courses came back more than trained – they were converts to his vision. "They couldn't believe what Abu Dhabi and the training course had to offer, compared to us at the time," he said.
It's about standards, he added, and simple things like uniforms. "In Abu Dhabi, they had to wear trousers and a shirt for training – unheard of here. They came back with smiles from ear to ear."
A recent highlight of the hearts-and-minds campaign was Joramco's first-ever family day on site. Wilkinson said it was a "huge success"; staff could show their families for the first time where they worked. In all, 1,600 people were allowed airside.
"I'm told people were speechless," he said. "It goes to show that, as a smaller MRO, you can do these things."
The next step, Wilkinson explained, "is what we're calling Transformation 2.0, with a focus on process".
Using the football analogy, Joramco is now in the top four, starting to win trophies, and in contention for the No 1 spot. The differentiators are process, flexibility, local workforce, and successful business strategy and implementation.
Joramco's procedure manual is being rewritten, rationalising and simplifying its 1,500-plus pages and incorporating industry best practices, with more visual elements to help people understand what they need to know.
A new safety system is in place with a new manager, who is introducing communications and competitions to raise awareness of health and safety issues.
Wilkinson has introduced Q-Pulse analytical software to "bring the quality department into the 21st century". This supported Joramco's application for EN9110 accreditation – the first in the Middle East for an independent MRO.
On top of all this, Joramco recently rolled out EmpowerMX, which he described as an MRO-driven productivity and accountability solution based on manpower.
For him, this software will be the "single biggest win" of the transformation so far. "We're not as efficient as we could be," he said, "but we're getting there".
He is looking at adding further back-shop capabilities, including a dedicated paint hangar.
An agreement with GDC Engineering has brought A319/320 modification capability on site, and he has "toyed" with freighter and VVIP conversions. "They're all balls in the air."
Wilkinson added: "The issue is how far we want to grow Joramco. It's a successful business model now; we just have to keep working at it.
"For me, it's about building something sustainable, something we can be proud of. There's a lot still to do.
"We're now starting to win checks off other MROs where, previously, Joramco wouldn't have even got past first base. It's not just on cost: it's about quality, turnaround time and all the things that really matter.
"It's finding the balance. To be fair, we're not there yet but we're making progress in the right direction."

Stay up to date
Subscribe to the free Times Aerospace newsletter and receive the latest content every week. We'll never share your email address.