It's good to talk in Portuguese
In just 10 years, Davenport Aviation has developed into a global supplier of aircraft parts, supplies, and equipment. It has a special interest in Africa because, as Chuck Grieve finds out, that's where it all started.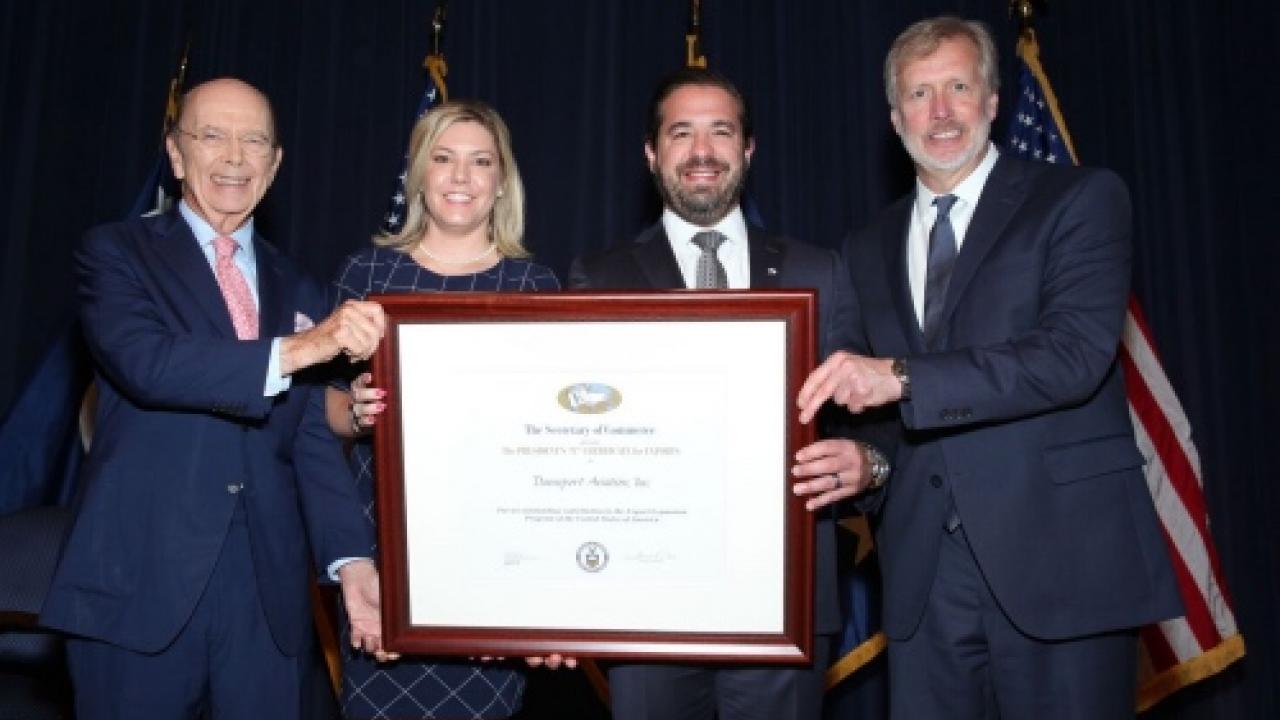 Starting a small business has plenty of challenges, especially in as competitive a field as aviation parts supply. Just ask Leah Simoes.
The owner and chief operating officer of US-based parts supplier, Davenport Aviation, is candid: "Nobody knows who you are or if you'll last. It takes a lot of hard work to build relationships with vendors, customers and banks."
That was Davenport's situation just 10 years ago. Clearly, its management and staff (the same two people in the beginning) have put in the effort.
From effectively a standing start in 2009, it now sells parts, supplies and equipment to airline customers in 28 countries and is projecting revenue of $17 million for 2019. It is also an approved US Government supplier to the Department of Defense and other government agencies.
Leah and her husband, Joao, who is the company's president and chief executive, founded their business on the strength of his experience in import/export and aviation and hers in emerging market strategy. Underpinning it all was a passion for business, the drive to build their own successful company – and an important competitive advantage.
Their African connections developed with the help of a common language, Portuguese – which happens to be Brazilian-born Joao's mother tongue – plus an understanding of the industry and the region from his earlier involvement here.
"Portuguese-speaking countries in Africa? There's only a handful of them," said Leah. "That was a very niche market."
But it provided an 'in', and was a big part of being able to start building relationships with the likes of TAAG Angola Airlines, Cape Verde Airline and Mozambique Airlines. Growth brought in business with airlines in Ghana, Kenya, Namibia, Nigeria, Rwanda and Tanzania, as well as Tunisair and Royal Air Maroc.
Africa remains a primary focus for Davenport's multilingual team of professionals, alongside Asia and Europe. From their base in Columbus, Ohio, they offer parts supply, round-the-clock aircraft-on-ground (AOG) support, global logistics and flexible payment terms. "We will always beat competitors' prices and payment options to make procurement faster and easier," said Joao.
It has proven a winning combination for African customers, one of whom said: "They are one of our main suppliers. They give us a good level of service."
The Simoes use international trade shows and missions to spread the word about their company. They follow up with tailored marketing material and outreach to specific regions and regular customer site visits.
Flexible finance is one of Davenport's key competitive tools and builds on the company's long-standing relationship with the Export Import Bank (EXIM) to provide credit terms to its customers. In the last five years, EXIM has reported more than $18 million in export transactions for Davenport.
This was a factor in the award of a prestigious president's 'E' award for exports from the US Department of Commerce to the business in 2017 for its "significant contributions" to export growth. The award citation noted Davenport's "creative use of financing to grow exports to emerging markets".
Said Leah: "Our business was born on exports. We know international trade well. Our buyers come to us for our expertise in quality, procurement and trade finance."
Though still relatively small, the business has grown substantially from its origins as a two-person start-up in the depths of the global economic downturn to a "multilingual, multicultural company with global reach". It now employs 25 people and has developed a reputation for customer service alongside reliability and quick turnaround.
And it never stands still, seeking ways to improve service and diversify. As part of this strategy, Davenport has looked into buying a manufacturer of aviation components, and is considering the possibility of, itself, becoming a maintenance, repair and overhaul (MRO) specialist in the next three-to-five years.
Davenport defines its core values as customer, commitment, collaboration and change. "We strive for excellence in quality and service on every order," said Leah. "I drive growth in my company by bringing innovation and progress to our systems.
"We do what we say we will do. We make our promise our passion."

Stay up to date
Subscribe to the free Times Aerospace newsletter and receive the latest content every week. We'll never share your email address.