Etihad engineers fresh opportunities
Every problem offers potential opportunities and even the pandemic is no exception, as Alan Dron found out when he spoke to Etihad's Engineering division.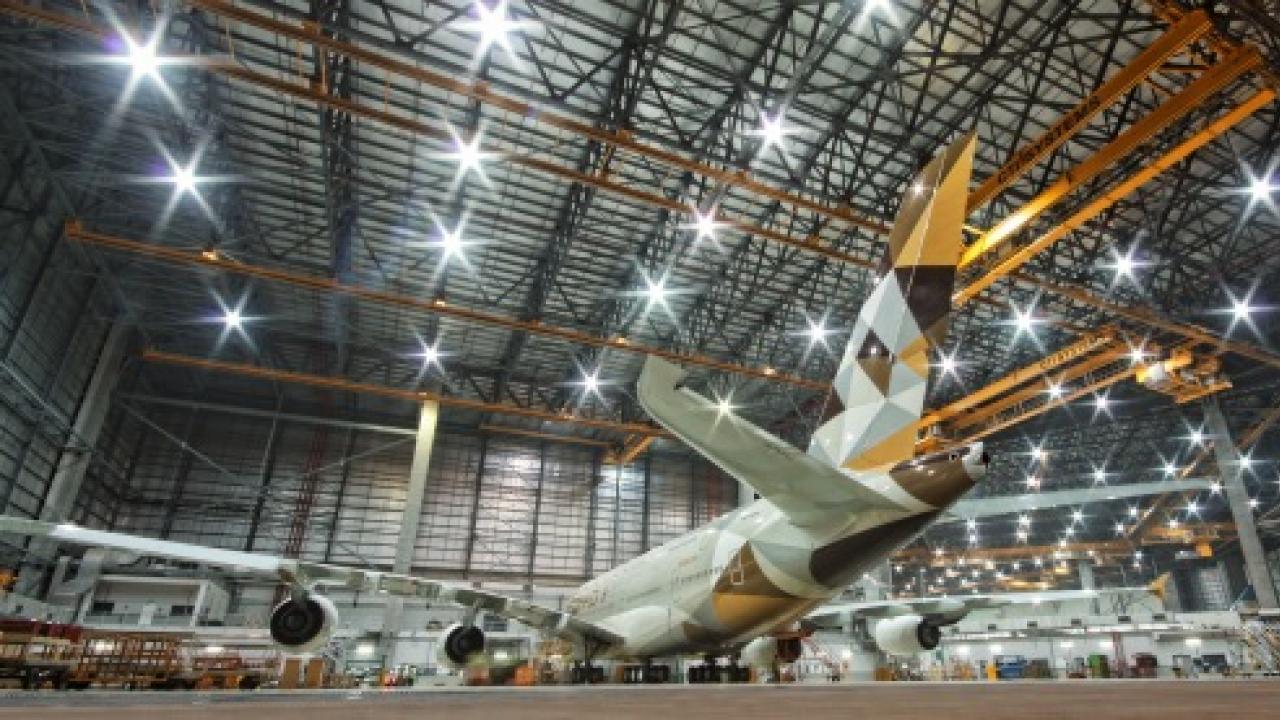 Not hanging around: The Etihad Engineering hangars continued to log around 150,000 man-hours of work per month during the pandemic. Picture: Etihad Engineering

The second quarter of 2020 saw the world's fleet of airliners grounded, with the exception of those operating repatriation flights for stranded passengers or ferrying urgently needed medical supplies around the globe.
Most airlines, faced with plummeting passenger loads and a plethora of quarantining regulations, felt they had no option but to ground their fleets.
Within weeks, stories were appearing in the aviation press of how the shutdown posed a major threat, not only to airlines but also to the maintenance repair and overhaul (MRO) companies that carried out major checks and kept their aircraft flying.
However, as the old saying puts it: "When life gives you lemons, make lemonade." Which is exactly what Etihad Engineering did.
The first major influx of work came from close at hand. Etihad decided to use the enforced down-time to bring all the aircraft in its 96-strong passenger fleet up to the same standard of cabin fit-out.
This process has been ongoing for some time, but having idle aircraft allowed the process to shift up a gear.
Seven 'legacy' Boeing 777-300ERs were "completely refurbished and brought in line with the rest of the fleet", said David Doherty, Etihad Engineering's head of MRO sales. "They were programmed to come in over the next 12 to 18 months, aligned with C-checks." However, this timetable was brought forward. The aircraft are now outfitted internally to the same standard as the rest of the airline's wide-body fleet, notably its newer 787s.
Similarly, a total of 23 Airbus A320s and A321s underwent cabin transformations by removing two rows of business class seats, while the economy-class cabin received new slimline seats, allowing increased passenger capacity.
Additionally, the airline's fleet of 787-9s and -10s, the remaining 777s, and those A320s that had already had new seats fitted, were brought in for what Doherty described as "a light cabin refresh".
He explained: "All the aircraft came into the hangar, had their carpets replaced, seat covers cleaned and replaced where required, and had areas, such as the sidewall panels, bulkheads, and toilet monuments repanelled, and lamination replaced."
Additionally, seatbacks in the A320-family economy-class were given new attachments to allow passengers to plug in their own electronic devices, through which they could stream entertainment content.
With freight capacity at a premium in the early months of the pandemic, Etihad also considered whether to strip seats out of the economy-class cabins to allow pallets to be fitted.
However, with some aircraft being used for repatriation flights, it was decided that the greatest flexibility could be achieved by leaving the seats in place and simply piling cargo on the seats, anchored with a tie-down cover.
Work on the Etihad fleet occupied the engineering division team for the first two months of the pandemic.
Beyond work on Etihad's own fleet, there were some major changes in the division's maintenance work for third-party airlines. There has been much talk in the industry of airlines deferring maintenance procedures on their fleets to reduce costs, but Etihad has found that just as many companies actually pulled maintenance forward.
"We have customers who have delayed their maintenance because they've already made the decision to store the aircraft. But some airlines have gone the other way," said Doherty.
"Cash considerations are a big issue for every airline, but some took the view that they would get any maintenance out of the way so their fleet was ready to fly as soon as possible.
"Those who deferred maintenance – yes, they've conserved cash, but they also have engineering tasks to complete before they can start making money again."
Airlines have been desperate to find parking space for temporarily idle aircraft and Etihad Engineering's apron became a valuable piece of tarmac. "We don't have the biggest parking space, but we had up to 12 aircraft parked on the ramp, with additional ones at our airport facility," concluded Doherty.
Stay up to date
Subscribe to the free Times Aerospace newsletter and receive the latest content every week. We'll never share your email address.