How the Black Hawk can give commercial operators an edge
Sikorsky UH-60 Black Hawk family helicopters have been used in Africa for several decades, with military operators including Egypt, Morocco, and Tunisia. Commercial operators, however, were non-existent… with one exception. Erwan de Cherisey reports.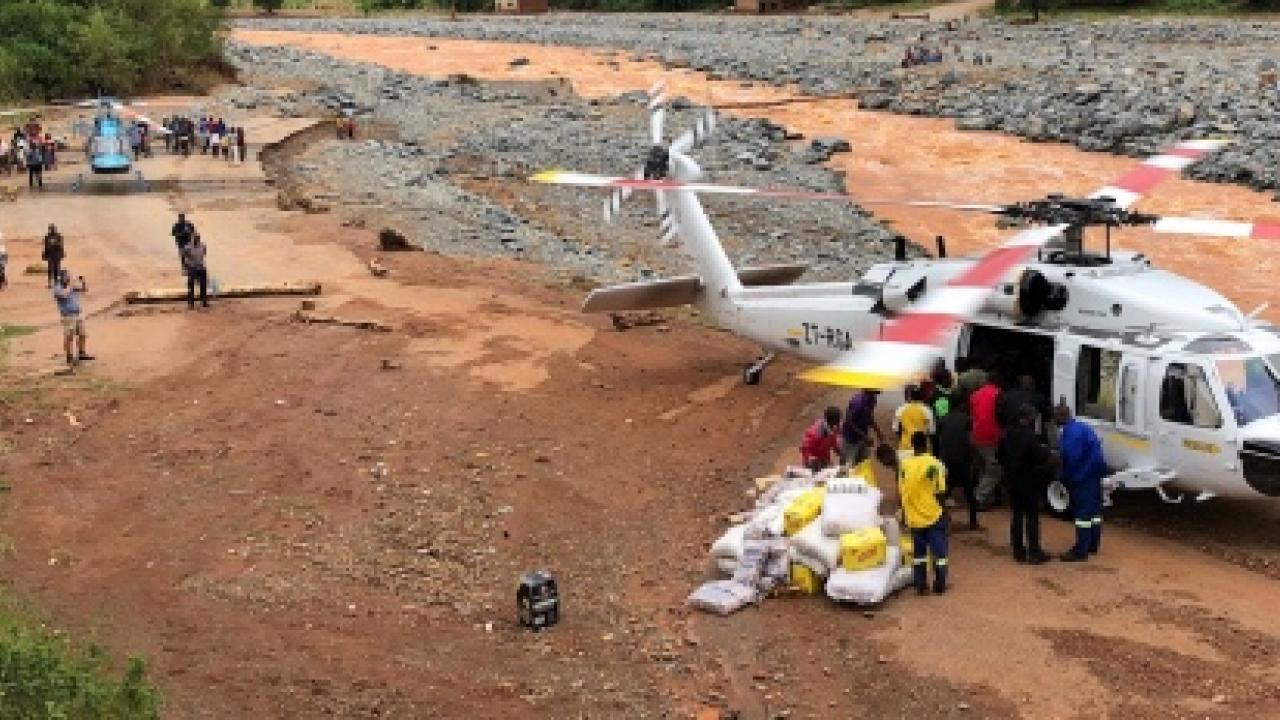 Black Hawk commercial operation in Africa has started, with South African helicopter operator, Leading Edge Aviation, acquiring a single former US Army UH-60A.
Company owner, Mark Jackson, explained that Leading Edge Aviation was established in 1996 in Nelspruit, Mpumalanga: "We initially did helicopter and fixed-wing refurbishing work, as well as freelance helicopter flying for local companies. We then started doing flood relief and emergency flying, assisting with the great floods of 2000 in Mozambique, then the Boxing Day Tsunami in Indonesia, and the earthquake in Pakistan later that year [2005]."
In 2006, the company purchased its first Bell UH-1H 'Huey'. The aircraft was a former US Army helicopter, which was acquired through US Company Billings Flying Services.
The UH-1H made its debut as a firefighting platform in South Africa in late 2006 and proved successful enough for Jackson to decide to procure a second example some time later. The Hueys flew several thousand hours in firefighting operations over the ensuing years. Yet, their age also started showing and Jackson, thus, started contemplating options for a replacement.
Billings Flying Services proposed he consider a used UH-60 from US Army stocks. Jackson warmed to the idea and, as a result, a UH-60A was purchased in August 2016 under the US Army's Black Hawk exchange and sales team.
In 2017, one of the Hueys was sold to get the necessary funding for the deposit on the Black Hawk. The UH-60 procured for Leading Edge was manufactured in 1980 and flew more than 4,500 hours with US Army special operation forces before being disposed of.
A restricted type certificate for the aircraft was approved by the US Federal Aviation Administration (FAA) for Billings Flying Services in March 2017. Obtaining the relevant flying authorisation for operating in South Africa then required coordinating between the FAA and the South African Civil Aviation Authority (SACAA). This was no easy task, given that the UH-60A would be the first of its type to be operated on the civilian market in South Africa.
In May 2017, the FAA restricted type certificate for the aircraft was approved by SACAA airworthiness inspectors, allowing Leading Edge to get the helicopter shipped to South Africa.
The Black Hawk arrived in country in October 2017.
Maintenance and support personnel training was conducted in October and November 2017 at Flight Safety International's West Palm Beach facilities in Florida, while aircrews were first trained at Billings by an FAA-approved Black Hawk instructor, who then provided additional training in Nelspruit.
Following reassembly and additional training, the aircraft started operating commercially: "We started flying the Hawk in mid-2018. Then, in September, October and November, we used her for firefighting in the Lowveld area with great success.
In August 2018, a fight between two Rhino bulls in the Highveld region left one of the animals stranded at the bottom of a valley. After unsuccessful attempts were made to remove it using ground means, the only option left was to airlift it out. Due to its weight of approximately 2.3 tonnes, using a Bell UH-1H was out of the question. The UH-60A, with its heavier lifting capability and significant engine power, proved a perfect match.
The lifting itself involved Leading Edge's UH-60A and a Robinson R44. The latter was used to dart the recalcitrant rhino from the air, sedating it for its airborne journey. The Black Hawk lifted the animal using its underbelly hook and a special set of harnesses, successfully relocating it.
In March 2019, Cyclone Idai hit southeast Africa, causing significant loss of life as well as damage to infrastructure in Mozambique, Malawi, and Zimbabwe. Leading Edge Aviation, which was carrying out firefighting operations at the time, was called in to help with relief efforts.
Following negotiations at government level, Leading Edge's fire-fighting contract was modified to allow for the UH-60 and the UH-1H to deploy to Zimbabwe.
The aircraft deployed to Mutare, in the Eastern Highlands, close to the border with Mozambique, where they joined several other civilian aircraft, as well as a number of Air Force of Zimbabwe helicopters.
"We mostly flew medicines, food, clothing, blankets and starter kits for the flood victims. We did limited search-and-recovery with local companies," Jackson said, adding that operational costs were met by Zimbabwean company Econet, with assistance from the Bill and Melinda Gates Foundation, as well as Richard Branson
Jackson emphasised several of the Black Hawk strongpoints: "The UH-60 has two engines and the capability to fly on one if needed. It also comes with three hydraulic systems, each independent of each other and it carries out its own leak check. It is very powerful in that it lifts its own empty weight."
Despite these impressive capabilities, the operating cost of the UH-60A is still perceived as an issue by a number of prospective customers but Jackson is confident that the huge potential of the aircraft and its successes over the past year have helped change mind-sets: "It costs twice the rate charged for the Hueys but delivers three times the amount of water with each drop. Not to mention that it cruises at one-and-a-half times the speed of the Hueys."
The rigid rotor system of the Black Hawk is another of its strengths, especially when operating in the firefighting role, where turbulences are a significant issue: "Quite
often the two-bladed Huey has to stand down whereas the Hawk would still operate effectively," Jackson enthused.
Leading Edge Aviation now has a long-term contract for both its Huey and Black Hawk, and is unlikely to find itself short of work, thanks to the very positive impression that its UH-60A has created in more than a year of intense operations.
While great challenges have been encountered, Jackson is positive about Leading Edge's Black Hawk endeavour: "Although I love operating my Huey, I do feel that we cannot rely on this type being around forever. The most important aspect is that of safety. Take nothing away from the Huey, they have more than proved themselves, but new technology and
multi-system type aircraft will be the way of the future.
"I have two sons that fly and, if only for them, I feel as a father that this is the best tool in the fire-fighting tool box and have peace of mind thinking about my decision."

Stay up to date
Subscribe to the free Times Aerospace newsletter and receive the latest content every week. We'll never share your email address.