Enter the dragon
A Saudi Arabian company has placed an order for more than 100 examples of the world's first heavy-lift unmanned freighter.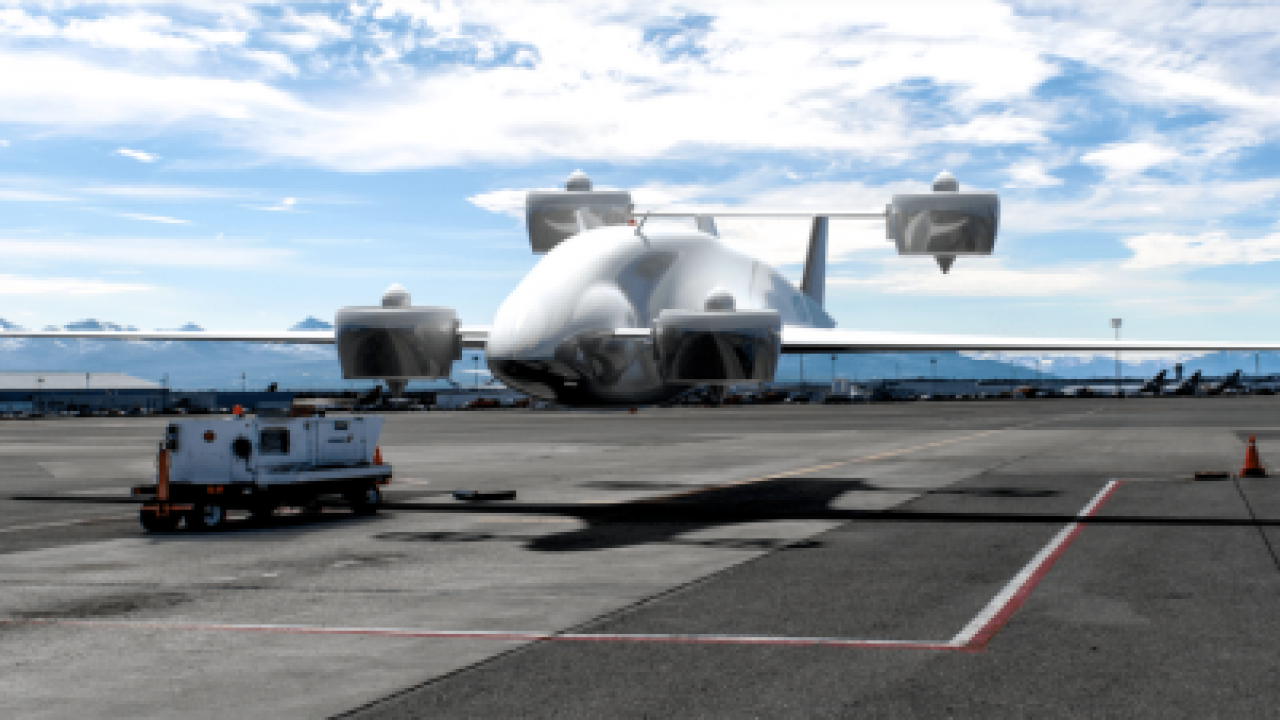 Picture: Sabrewing Aircraft.
In recent years, the idea of using unmanned vehicles to deliver urgent cargoes has taken hold in people's imaginations.
The initial machines used for this have been small, delivering even smaller packages.
Now, however, the Riyadh-based Arabian Development & Marketing Company (ADMC) has placed a major order for the world's largest unmanned freighter. Assuming certification proceeds as planned, deliveries are slated to begin as early as autumn this year. Alan Dron reports.
The aircraft, the US-developed Sabrewing Aircraft Rhaegal-B, will deliver up to 4,500kg at ranges of up to 1,800km. Significantly, it will be designed to carry standard airline cargo containers – two LD1s or LD3s, or three LD2s.
A prototype has already been built, said Sabrewing CEO, Ed De Reyes. This Rhaegal-A will be a development platform for the full-scale Rhaegal-B.
First flight of the Rhaegal-A was scheduled for last June, but the global pandemic delayed the programme.
However, the company still hopes that the first Rhaegal-B will be delivered to Saudi Arabia around mid-2021, for certification by both Saudi and US regulators.
ADMC's senior aerospace/defence advisor, Steven Chikos, whose previous career highlights include designing the head-up display for the US Space Shuttle and the cockpit of the Northrop Grumman B-2 strategic bomber, points to the Rhaegal-B's power train as one of its main differentiators from other unmanned air vehicle (UAV) designs.
"We don't have helicopter-type rotors being driven by a 1,000lb [455kg] bank of batteries. Instead, we have two turbines that power generators that give us thrust to the ducted fans," he explained.
These turbines are Safran Ardiden 3s, which produce 1300-1500kW each. The ducted fans will swivel, allowing either conventional or vertical take-offs and landings. Together with upward-folding wings, these will allow the Rhaegal-B to get in and out of smaller clearings than a helicopter could handle.
In operation, guidance coordinates will be loaded into the aircraft's on-board navigation system. However, US and European regulations demand that aircraft such as the Rhaegal-B must be remotely monitored by an instrument-rated pilot from a command centre, who can change the aircraft's course if necessary via satellite communications, said De Reyes.
ADMC and Sabrewing are aiming for an ambitious certification procedure. This is scheduled for some time in 2021, which is remarkably fast, but is aided by the fact that certification of a cargo vehicle is usually much quicker than for a passenger aircraft, said Chikos.
ADMC will be responsible for sales of the aircraft in Saudi Arabia, the GCC nations and Africa.
The Saudi company is seeking to build an assembly plant for the aircraft in the Middle East: "The Saudi Government is very keen to have technology transfer, so part of our mission is to train Saudi pilots and mechanics," said Chikos. "This will be part of our proposal."
When it comes to training the necessary pilots and mechanics to fly and maintain the Rhaegal-B, ADMC is in discussions with a major training academy, said company CEO, Ayman Zeibak. The plan is to develop a training facility in Riyadh; a further announcement on this is due early in 2021.
The initial plan is for a pilot to control a single Rhaegal-B but, as experience builds up, it is possible the pilot could simultaneously control up to four UAVs, said Zeibak.
An important part of Rhaegal-B's avionics fit will be 10 'detect-and-avoid' sensors, not only to recognise nearby aircraft but also to check that a remote landing zone is clear of obstructions.
Stay up to date
Subscribe to the free Times Aerospace newsletter and receive the latest content every week. We'll never share your email address.