Tactical Texans fit Tunisia to a T
The US State Department has approved a possible $234 million foreign military sale (FMS) of 12 Textron Aviation Beechcraft T-6C Texan II trainers to Tunisia. Jon Lake reports.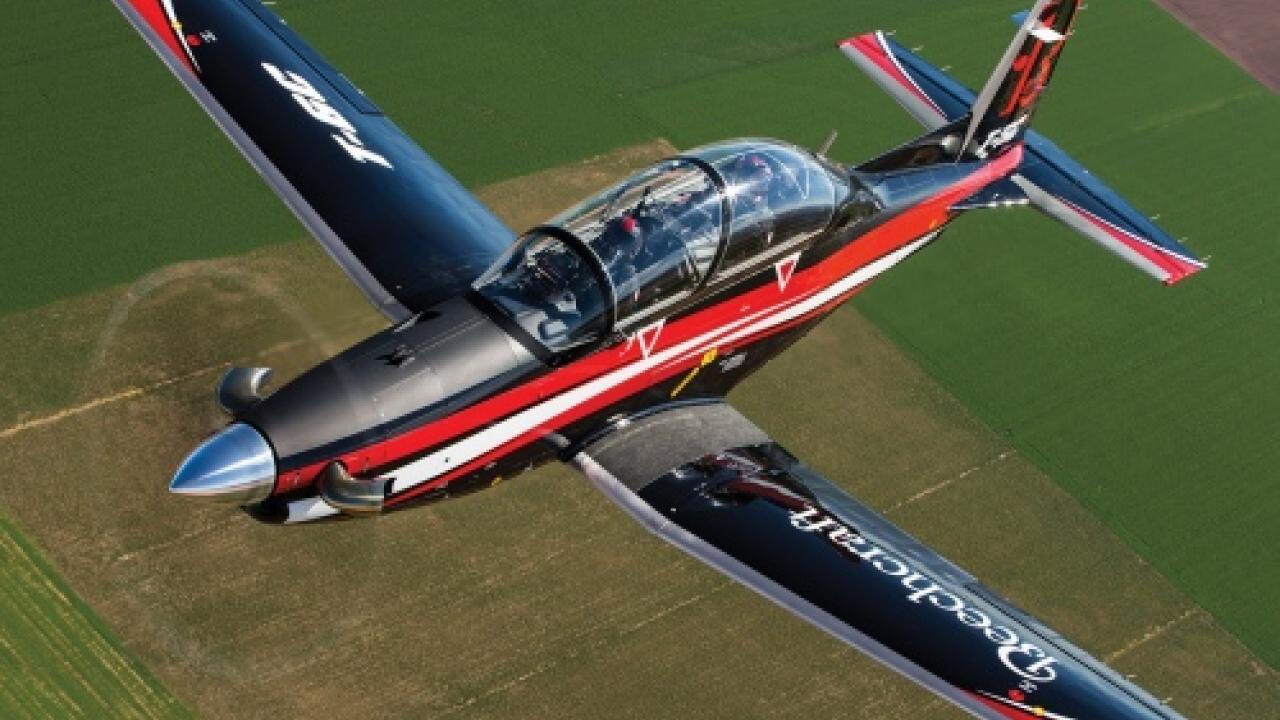 The US Defense Security Cooperation Agency (DSCA) delivered the required certification notifying Congress of the possible sale on October 10 last year.
It said that the proposed sale was intended to provide a replacement for "Tunisia's aging trainer fleet" and explained that it would allow the country to continue to train pilots for counter-terrorism and border security missions.
The Al Quwwat al-Jawwiya al-Jamahiriyah At'Tunisia (Tunisian Air Force) currently operates a number of different aircraft types in the training role, and several of these also have an operational role.
The air force uses the Siai-Marchetti SF-260 as its basic trainer, though these are also used in the light utility and liaison roles and some can be armed for counter-insurgency (COIN) and light attack missions.
The air force received nine Siai-Marchetti SF-260CTs and 12 SF-260WT Warriors between 1974 and 1978; the Warriors having underwing hardpoints allowing them to be armed, if required. About 18 SF-260s remain in use with Nos 13 and 14 Squadrons at Sfax-Thyna, with the SF-260WTs being concentrated within No13 Squadron.
Tunisian student pilots then move on to the jet-powered Aermacchi MB-326, some 10 of which serve with No11 Squadron at Sidi Ahmed. These are the survivors of eight MB-326Bs delivered in 1965, and five MB-326LTs and seven single-seat MB-326KT light-attack aircraft delivered in 1977.
The 12 new turboprop-powered T-6Cs seem most likely to replace these aging jets, filling the gap between the SF-260 and the nine surviving Aero L-59Ts (of 12 delivered) that operate in the lead-in fighter training and light-attack roles. The L-59Ts equip No16 Squadron at Gafsa.
Though powered by a 1,100hp Pratt & Whitney Canada PT6A-68 turboprop engine, the T-6 has jet-like performance and handling characteristics, with a speed of 320mph, an initial rate of climb of 3,100ft (944.8m) per minute and the ability to reach 18,000ft (5,486.4m) in less than six minutes.
The aircraft has a pressurised cockpit and the pilots sit on Martin Baker zero-zero ejection seats, while the tandem seats provide a fighter-like environment for the student pilot in the front seat.
Although the Texan is not a jet trainer, it offers tactical training capabilities that would previously have been confined to more expensive, higher-performance trainer aircraft.
The T-6 was originally developed to meet the US Air Force and US Navy joint primary aircraft training system requirement.
The T-6A was conceived as a relatively minimum change derivative of the commercial off-the-shelf Pilatus PC-9, with minor modifications to meet specific US requirements. These included a vapour-cycle air conditioner and on-board oxygen generation system and an increased canopy thickness. The latter was intended to prevent a 4lb (1.8kg) bird from penetrating the cockpit at a speed of 270kts (500km/h).
The leading edges of the wing, horizontal stabiliser and vertical fin were also strengthened with an additional spar to provide better bird-strike resistance.
The flight controls were modified to improve the aircraft's flying qualities, while a number of modifications were incorporated to make maintenance easier, and to shorten turnaround times between sorties.
In the event, additional requirements resulted in delays, cost increases (from an initial estimate of $3.9 million to almost $6 million per aircraft), and weight increases, such that the production T-6A weighed 22% more (1,100lbs) than the Pilatus-built PC-9, while parts commonality was limited to the landing gear tyres.
The T-6A made its maiden flight on July 15 1998.
The T-6B was an upgraded version of the T-6A, with a digital glass cockpit (the result of a company-funded avionics upgrade), used by some US Navy units.
The T-6C is an upgraded export variant, with a digital glass cockpit (like that fitted to the T-6B) including a modern Sparrow Hawk head-up display, an upfront control panel, three colour flat panel multifunction displays, and hands-on-throttle-and-stick controls in each cockpit, as well as a data transfer module. The aircraft also features an embedded synthetic air-to-ground and air-to-air training capability.
The T-6C is also fitted with underwing hardpoints (like those fitted to 20 T-6A NTA aircraft delivered to the Hellenic Air Force). This allows them to undertake live weapons training and COIN missions. The underwing hard-points can also accommodate auxiliary fuel tanks.
For many air forces, the advanced glass cockpit of the T-6C would be broadly representative of the cockpits of current front-line combat aircraft. This is not the case in Tunisia, where the air force's elderly Northrop F-5E fighters are equipped with old fashioned legacy analogue cockpits.

Stay up to date
Subscribe to the free Times Aerospace newsletter and receive the latest content every week. We'll never share your email address.