Somalia battles for an air force to fight against terror
The Somalia National Air Force was decimated by the Ogaden War with Ethiopia in the late-1970s and the civil war in the 1990s. It now has no aircraft and has been reduced to guarding the airport. However, the Somali Government has approved a plan that will reboot the service by training pilots and buying aircraft so it can contribute to the fight against al-Shabaab. Tim Fish reports from Mogadishu.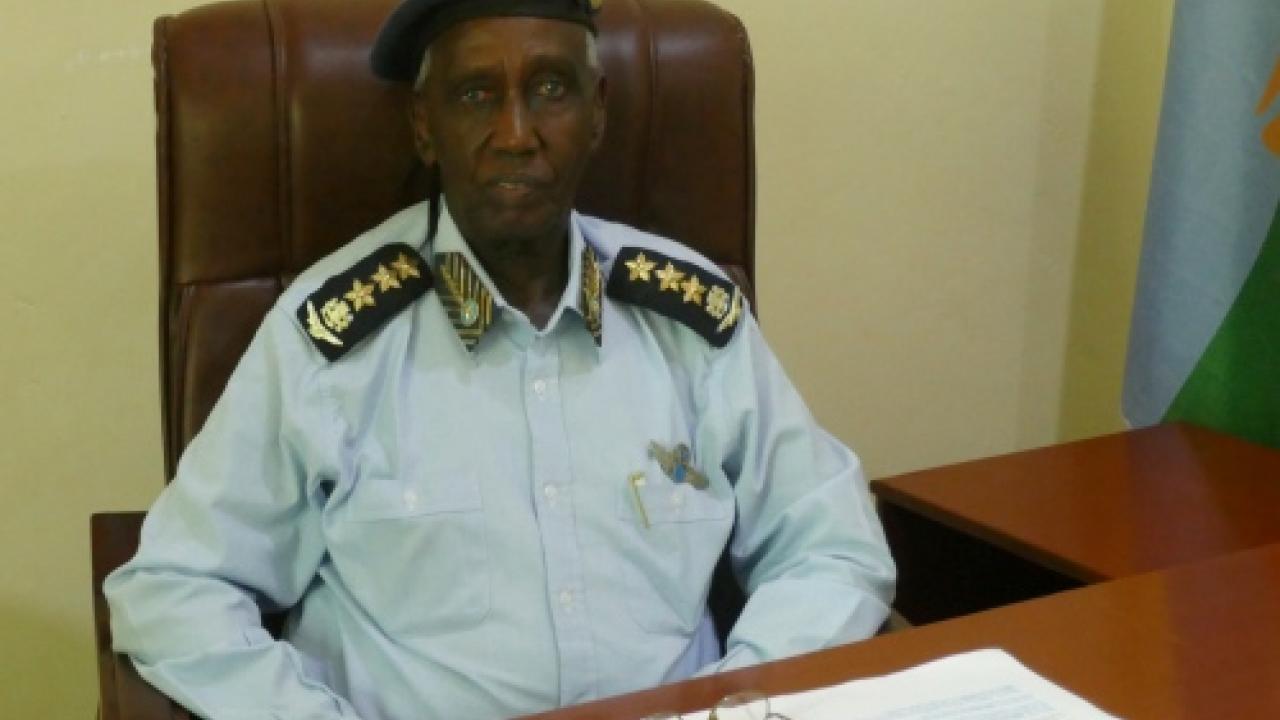 General Mohamud Sheikh Ali, the Somali National Air Force (SNAF) commander, admits that he is going to have to 'start from scratch' to introduce any new capabilities.
The air force headquarters building was renovated in November 2016.
"It was destroyed by the civil war and had become a refugee camp," explained the General. "We had nothing. It was Somali business that helped rebuild the office.
"We were the premier air force in Africa in the 1960s and 70s. Now we have no air force. We have the manpower, but we don't have the equipment because building an air force is not easy. We need money and resources but the Somali Government does not have any, so we are building for the future."
Although Somalia no longer has enemies among its neighbours, it is still engaged in an internal conflict and has very real threats that highlight a need for an air force.
Ali said that the number one priority was the fight against al-Shabaab, providing support to the ground forces. In this kind of war an air force can make a real difference as it transports soldiers, and can provide medical evacuation, but it is costly.
He said the second priority was maritime security.
Somalia has 3,333km of coastline that needs to be defended from a variety of threats, including illegal fishing, illegal waste dumping, pirates and drugs trafficking, as well as the illegal harvesting of marine resources without compensation.
An air force can also offer a search and rescue capability over sea and land. "Therefore, the SNAF has new responsibilities to safeguard the resources of the country," said Ali.
Thirdly is the requirement to assist government communications. Ali explained there is a poor road network and no trains. The roads are often a target for attack by al-Shabaab and, therefore, aircraft are needed for transportation.
The aim is to acquire light and medium aircraft and helicopters for this purpose because it will be cheaper than using contracted Russian and Ukrainian Mi-8 helicopters. Furthermore, because of the danger of using the roads, the aircraft need to be able to operate from small airstrips in the bush.
"The government is committed to building a small but efficient air force. We have a plan," said Ali.
"First we will train people – the pilots, engineers, technicians and ground support staff. After that we will look for good small aircraft that can carry 10-120 passengers for government and Army transportation. The light capability will be for combat operations and the medium can take some of the load off of the UN, which provides this level of transport capability.
"It is well known that in Somalia the UN is transporting a lot of water around and, when all the costs are taken into account, moving one litre of water is costing the equivalent of 1kg of gold. It is unaffordable, so we need our own aircraft. If Somalia did its own transportation for the UN it could charge for its services, through the donor programme. It would be cheaper for the UN and Somalia could recoup some money. It is a part of the business plan to bill for services so that Somalia can benefit from that."
The plan is expected to get presidential approval shortly and the SNAF is already working towards acquiring its first aircraft in 2018, second-hand either fixed-wing or rotary. Suitable aircraft already identified include: Britten-Norman BN-Islander light utility aircraft; DE Havilland Canada DHC-6 Twin Otter STOL utility aircraft; British Aerospace BAE 146 short-haul airliners; CASA/IPTN CN-35 medium transport aircraft; CASA C-212 Aviocar STOL medium transport aircraft; and the Shorts SC-7 Skyvan medium transport aircraft.
Also in the short term, there is a suggestion of an unmanned aerial system (UAS) detachment to assist the Somali Stabilisation Force and the National Intelligence and Security Agency (NISA) in Mogadishu, but this will require ground support, technicians and facilities.
In the medium term, the SNAF wants to acquire helicopters for tactical lift, casualty evacuation and intelligence, surveillance and reconnaissance – it is in talks with Russia about a Mi-17 capability. Long term it aims for a light close air support aircraft like the Super Tucano A29 or Archangel to give direct combat support to the Somali National Army (SNA).
But the first phase will be for the SNAF to regenerate the capability to resupply and provide logistical support to the SNA.
The SNAF has just 200 men, which is enough to secure the northern part of Mogadishu International Airport and Afisoni Base under the Mogadishu security plan, with the assistance of the UN and AMISOM. But the problem is that SNAF soldiers are not trained as air force personnel and often come from other organisations following basic training. It has no pilots, technicians or air traffic controllers, so to support the expansion it will grow to 300 personnel next year.
The SNAF also needs fire-fighters, ground-handlers, operations officers and a weather team. So, to get the right type of people, Ali will increase the overseas training quota and send more people abroad. However, the SNAF needs assistance and offers of hosting and training.
"We are looking for any country to help meet our training requirement; we are knocking on every door for a government to give support – Arabic, Asian, anyone. Some training is already under way in Turkey, where there are air traffic controllers and technicians being taught and officers at the military academy. From next year we hope to start training the pilots," added Ali.
Turkish involvement in Somalia is growing; it already owns the port and airport (from which the Somali Government gets no income) and, on September 30, opened a new training facility near the southern end of Mogadishu International Airport that can support more than 300 trainers and act as a base for Turkish military personnel.
Other prospects for training include sending personnel to Egypt and Italy. Ali said that discussions are under way but he is waiting for a formal invitation. He explained that when planning for training there was a need to know how many to train and what equipment they would be using and the aircraft they would be operating so it had the right crew complement.
"For example, if we get five aircraft then we may need a crew of 20 and this is not too much. Or two aircraft and two helicopters is not so much either. But we will ask to send people to the US or UK, or maybe pay for them to train in Oman or the UAE," he added.
"We are looking for second-hand aircraft that are good quality and refurbished to our requirements. It is not difficult to get aircraft, but it is more difficult to get the budget. We can get small aircraft from Britain, they are ready to sell next year, or we can acquire them from other countries."
Ali is aware of the challenges in establishing even a small capability because the SNAF lacks experience in operating aircraft, which is why the training element is so important.
"The challenge is the funding, to get a budget. But I am sure we will have something, even to get one or two small aircraft. I know my superiors in government are thinking about this. They are committed and there is political weight behind it."
One estimated sum to establish and support a new air force is about $50 million a year. The World Bank recently reported that this is what it would cost for a small African air force but Ali believes it could be done for much less with donations, contributions, investment or partnerships.
"When Somalia first became independent we had support from Italy and Russia and had pilots training in 1956 in advance of independence, but we don't even have that, so it is a harder job now. Therefore, even if we take one step ahead, I will be happy."
Ali said that while the international community was happy to support Somalia's land forces it won't support an air force or navy. "But they must realise that the land force alone will not succeed in liberating the country by itself, so we want assistance from any private company or government that is willing to help and we offer an open hand without conditions."

Stay up to date
Subscribe to the free Times Aerospace newsletter and receive the latest content every week. We'll never share your email address.