Senegal set for first CN23MPA
Senegal's first CN235 maritime patrol aircraft (MPA) has been ceremonially rolled out.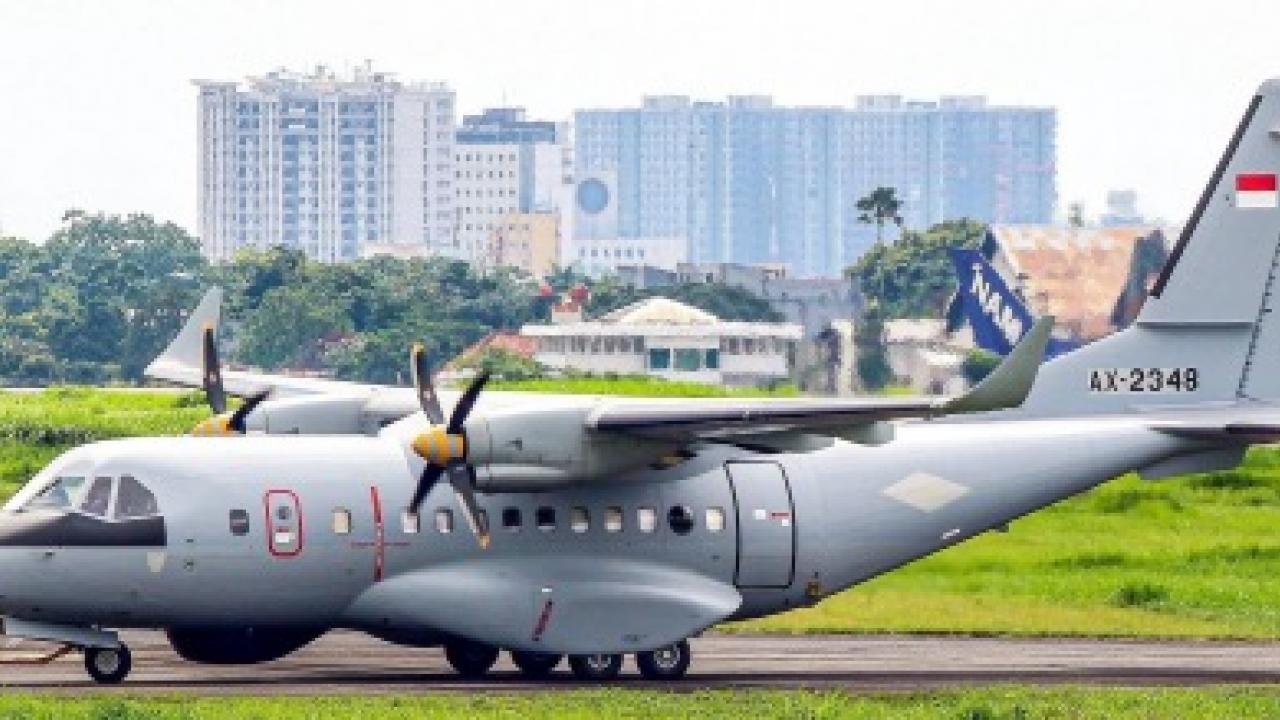 Fittings: The first CN235MPA for Senegal is fitted with under-belly search radar and an under-nose EO/IR turret. Picture: Abdiel IR.
Indonesian Aerospace (PT Dirgantara Indonesia) showed off what it described as the second of two CN-235 aircraft for the Senegalese Air Force at Bandung/Husein Sastranegara Internal Airport. Writes Jon Lake.
Senegal already has two transport versions of the CN235 in its inventory, a CN235-220AT and a CN235-220M – both operated by the Escadre de Transport at Dakar/Yoff.
One of these is a second hand ex-commercial airliner model originally flown by Indonesia's Merpati Nusantara Airlines and later converted to military configuration. Another ex-airliner was transferred to Guinea.
It seems that two MPA versions will now also be delivered – the newly rolled-out CN235-220MPA, still wearing the Indonesian test registration AX-2348 and expected to become 6W-TTD, and a further machine, expected to become 6W-TTE.
This reflects the ever-growing piracy threat in the Gulf of Guinea, which countries like Senegal, Côte d'Ivoire, Ghana and Nigeria are now having to tackle.
The CN235 was the product of a joint venture between Construcciones Aeronáuticas SA (CASA) of Spain and PT Dirgantara Indonesia, formerly known as IPTN. The two companies formed Airtech International to manage the programme and to jointly develop the original Series 10 and Series 100/110 versions.
Later versions were developed independently – so that there are competing Spanish and Indonesian MPA variants, with CASA offering the CN235MP Persuader and IPTN offering the CN235MPA.
The Spanish CN235MP Persuader featured a belly-mounted radar, while the Indonesian MPA version originally had a nose-mounted search radar in an extended nose radome, and an antenna fairing, probably serving an electronic support measures (ESM) system, on top of the cockpit.
The new Senegalese CN235MPA has a configuration similar to the Persuader, however.
All MP and MPA variants have an electro-optical/infrared sensor turret under the nose, and are offered with a number of radar options, including the Thales OceanMaster or Searchmaster and the Telephonics APS-143C(V)3.
Stay up to date
Subscribe to the free Times Aerospace newsletter and receive the latest content every week. We'll never share your email address.