NAF breaths new life into Albatros
Nigeria's continuing counter-insurgency campaign against Boko Haram is the driving force behind a further small increase in the capabilities of its air force. Alan Dron reports.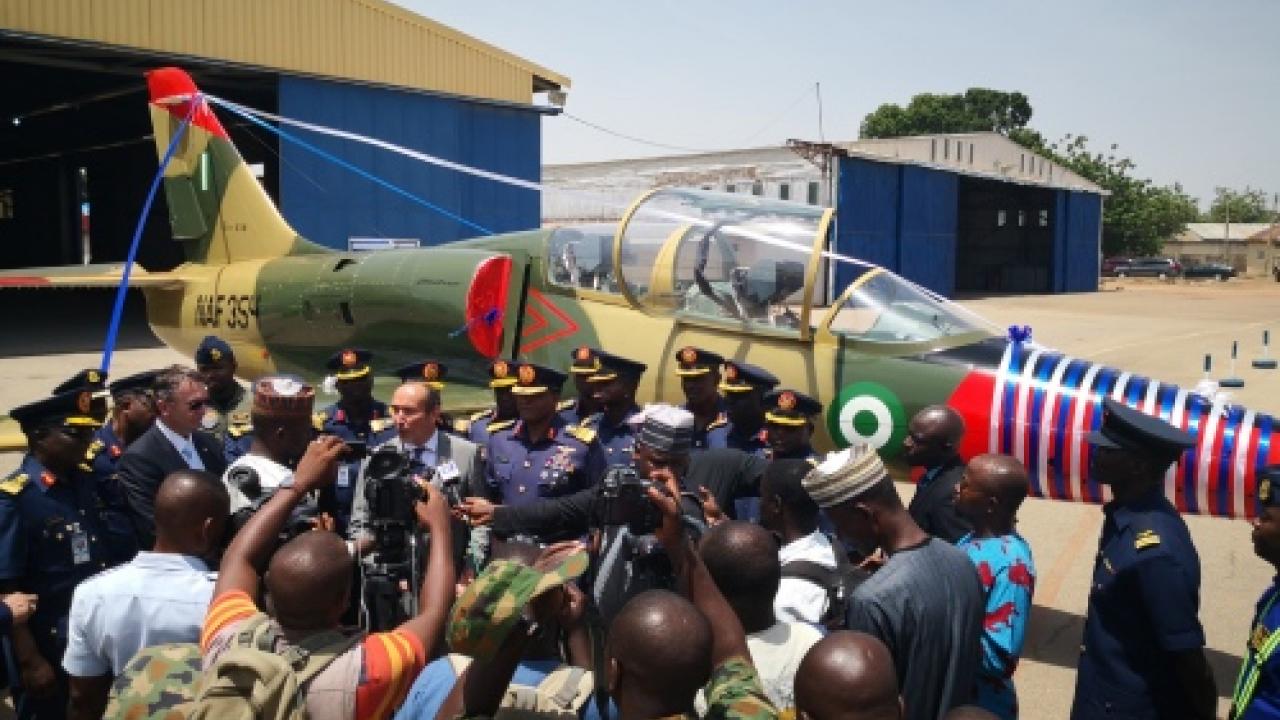 Three stored Aero L-39ZA Albatros advanced jet trainers have been brought back into service to help provide an increased stream of combat pilots for Nigeria's air arm, which has been heavily involved in ground attack duties against the terrorists.
Although most L-39s were built in the 1980s, the Czech-built jet remains in service with several African air arms.
Its relative simplicity, sturdiness and ease of maintenance, makes it a popular choice, with differing variants being used for training and light attack roles.
Nigeria's examples are understood to have been used for both types of missions.
Nigeria is thought to have around 19 L-39s in its inventory, although unserviceability has considerably reduced the number available for use in recent years.
The three aircraft, identified in the Nigerian media as bearing the serials NAF 352, 354 and 364, were handed over during a ceremony on June 21 at the service's 403 Flying Training School (403 FTS) in Kano, northern Nigeria.
The aircraft were reactivated by technicians from manufacturer Aero Vodochody, assisted by Nigerian Air Force (NAF) personnel.
Speaking at the handover, NAF Chief of Air Staff, Air Marshal Sadique Abubakar, welcomed the transfer of skills to Nigerian engineers and technicians that the project had involved and expressed hopes that Aero would be able to assist in the reactivation of a further six L-39ZAs.
Abubakar added that the restoration to service of the L-39ZAs was part of an overall initiative to undertake as much maintenance and training work in-country as possible.
"The domiciling of the maintenance and training locally will enable the NAF to make huge foreign exchange savings, which can then be channelled towards providing additional facilities to enhance NAF's training and maintenance efforts,'' he told local journalists.
Nigeria needs to ensure a steady pipeline of new pilots to help fill the cockpits of new aircraft that are being inducted to boost the service's frontline units, such as a dozen Embraer Super Tucano ground-attack turboprops and PAC/CAC JF-17 Thunder lightweight multirole fighters developed jointly by China and Pakistan.
Although Nigeria has, so far, only ordered an initial batch of three JF-17s, more are expected to follow. The NAF is also buying 12 Mil Mi-35 combat helicopters from Russia.
Senior officers at 403 FTS are understood to have complained in recent months that they had insufficient aircraft with which to train the number of new pilots needed for the NAF's frontline units. Restoration of the three L-39ZAs can be seen as part of the efforts to solve that problem.
"The reactivation [of the L-39ZAs] will ensure that the NAF increases the number of fighter pilots available to man its existing fighter jets, as well as the new platforms, such as the A-29 Super Tucano and JF-17 Thunder multirole fighter, which are to be inducted into NAF inventory soon," said a spokesperson.
Quoted in the Nigerian media, Abubaker added: "The handing-over ceremony of the three reactivated L-39ZA aircraft marks a positive turning point in our efforts to ensure that the NAF is able to sustain jet training of our potential pilots in this school.
"The support provided by the federal government has, no doubt, had a positive impact on the ability of the NAF to meet the operational needs and requirements of the armed forces.
"It has also enhanced our efficiency and improved provision of welfare and other services to our personnel."
The Czech ambassador to Nigeria, Marek Skolil, told the handover ceremony that Aero would be prepared to provide Nigeria with the latest-generation L-39NG (new generation) – Senegal has already ordered four of the latest variant – although whether this will appeal to the NAF when its finances are committed to the new types already ordered is perhaps doubtful.

Stay up to date
Subscribe to the free Times Aerospace newsletter and receive the latest content every week. We'll never share your email address.