Marks out of ten for Scorpion prototype
Royal Saudi Air Force pilots flew a series of 10 evaluation flights in Textron AirLand's production-representative third prototype while the aircraft was en route to participate in the Dubai Air Show. It is believed the UAE Air Force and Air Defence then also briefly evaluated the aircraft. Jon Lake reports.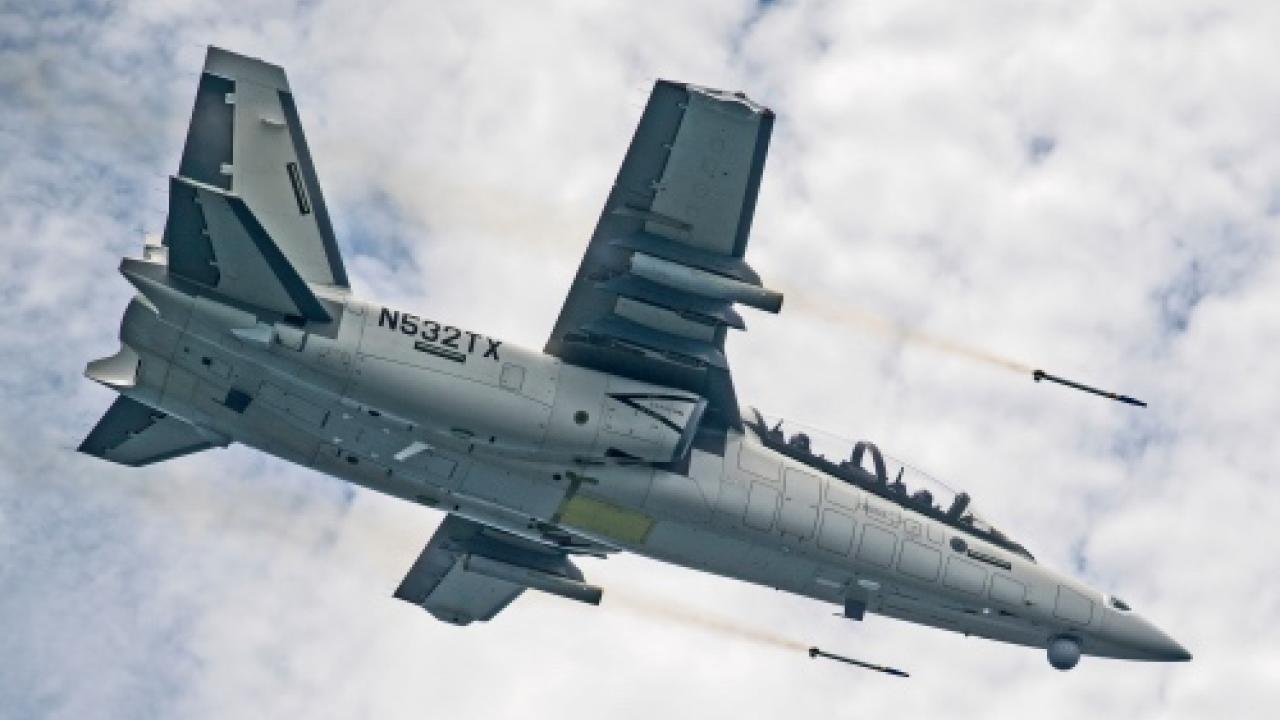 Light attack and intelligence, surveillance, and reconnaissance (ISR) aircraft have been the subject of a great deal of interest over the past year or two, since they promise to meet the requirements of today's asymmetric warfare campaigns at a more affordable cost than conventional fast jet multi- or swing-role fighters.
The UAE's innovative use of crop-duster-based Iomax Border Patrol Aircraft and Archangels during combat operations over Yemen, Libya and elsewhere, demonstrated the usefulness of aircraft in this category, while the US Air Force and Navy have conducted a series of evaluations of various light attack and ISR aircraft.
Most recently, the Embraer/Sierra Nevada A-29, Beechcraft AT-6 Wolverine, L3 Longsword and Scorpion participated in a test/evaluation campaign as part of the US Air Force's OA-X initiative in August 2017.
There is no programme of record to actually procure a light attack aircraft for the USAF, but the service is evaluating the potential of this class of aircraft, and in doing so has attracted the attention and interest of other air forces, including Saudi Arabia and the UAE.
The UAE actually sent observers to the OA-X fly-off. The Emiratis were among representatives from about a dozen of the USA's international partners, including Canada, Australia, and Paraguay.
It is not known if Saudi Arabia was represented, although the kingdom's serious interest in this class of aircraft was revealed during US President Donald Trump's visit to Saudi Arabia in May 2017, when a $110 billion package of arms deals included $2 billion set aside in a memorandum of intent for an unspecified type of "light close air support" aircraft.
In July 2017, Scott Donnelly, Textron's chief executive, revealed that Saudi Arabia was considering acquiring the Textron AirLand Scorpion.
Textron AirLand's production-standard third prototype Scorpion light-attack aircraft (N532TX) was one of two aircraft used during the USAF's OA-X evaluation, and was subsequently chosen to be the aircraft displayed at the Dubai Air Show in November 2017. The aircraft is fitted with an L3 Wescam MX-15 electro-optical, infrared sensor turret under the nose, and is cleared to carry a range of weapons, including 500lb GBU-12 Paveway II laser-guided bombs, guided and unguided rockets, including the 70mm advanced precision kill weapon system II, a laser-guided rocket, and a 0.50 calibre machine gun.
Textron plans to integrate the GPS-directed GBU-39/B small diameter bomb (SDB) and GBU-53/B small diameter bomb II (SDB II), as well as the GBU-31/32/38/54 joint direct attack munition (JDAM) family, and the multi-mode MBDA Brimstone missile.
The Scorpion has a relatively large, reconfigurable mission bay that could accommodate a range of sensors and other payloads, including electro-optical and video cameras, radar and laser imaging equipment, electronic warfare, warning and self protection equipment or extra fuel.
The aircraft departed early and visited two bases in Saudi Arabia from October 29 to November 9 for an 11-day, 10-flight demonstration/evaluation programme. Textron test pilot, Brett Pierson, revealed that one of the bases was King Faisal Air Base, co-located with the Tabuk Regional Airport.
Pierson, who helped instruct a number of Royal Saudi Air Force pilots during the evaluation, said that it had taken about half-a-day to take a qualified pilot from ground training to taxiing, taking off and landing.
"They saw that the Scorpion is a great ISR and light attack aircraft," he said. "They saw the ability to loiter over a target area for long periods with very low fuel burn rates, which is what drives the very low hourly operating cost.
"We did drop inert GBU-12s and it was the Saudi pilots who did that. Typically they were doing those bomb drops within half-an-hour of taking off on their very first flight in the aircraft."

Stay up to date
Subscribe to the free Times Aerospace newsletter and receive the latest content every week. We'll never share your email address.