Hawk helicopters pave the way for troops' rescue
Jon Lake reports on a vital helicopter rescue mission near the Somali border with Kenya.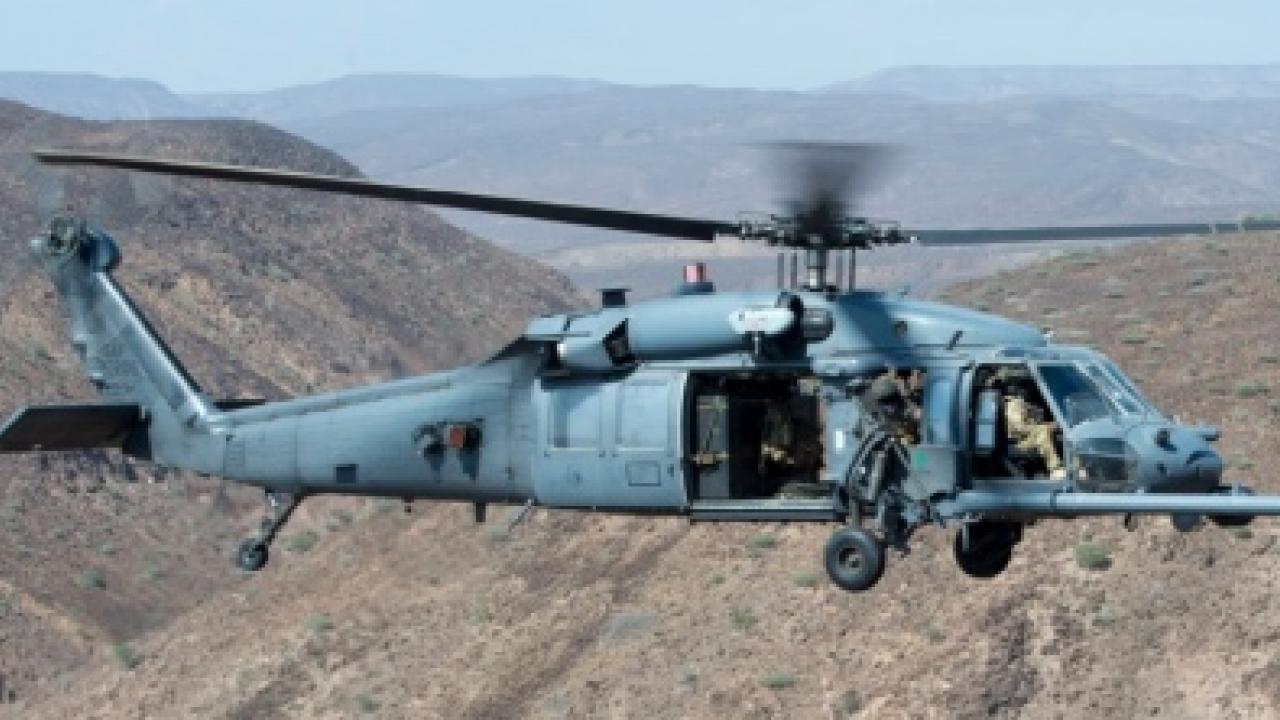 When terrorists from Al Shabaab attacked a force of about 800 US, Kenyan, and Somali troops near the Somali border with Kenya, US Air Force HH-60G Pave Hawk helicopters raced to the scene to evacuate the dead and wounded.
Other aircraft helped to minimise further casualties, providing on-scene intelligence, surveillance, and reconnaissance and perhaps some suppressive fire.
US personnel were assisting Somali forces and Kenyan peacekeepers, who were operating in Somalia as part of an African Union-led mission building a new forward operating base near the village of Sanguni.
They formed part of Operation Octave Shield, the US mission in Somalia. Construction of this base was part of a broader effort aimed at securing the area from Al Shabaab, an Islamist insurgent group sometimes described as Al Qaeda's franchise in Somalia.
The Al Shabaab insurgents, who attacked the outpost on June 8, were armed with mortars and heavy machine guns, and managed to wound several US personnel – the first US military casualties in Somalia since May 2017, when a US Navy SEAL died during a raid on an Al Shabaab militant compound.
The rescue in Somalia was a considerable improvement to the response in Niger in October 2017 when four US soldiers were killed during an ambush by Islamic State in the Greater Sahara insurgents. Reinforcements had been slow getting to the scene and casualty evacuation was chaotic.
Thereafter, for large, multi-day operations in Somalia, the US has ensured that rescue helicopters and armed air support aircraft are usually on standby.
The 449th Air Expeditionary Group personnel recovery task force provides personnel recovery capability for the US combined joint task force-Horn of Africa (CJTF-HOA).
It uses Sikorsky HH-60G Pave Hawks and HC-130P Combat King Hercules tankers based at Camp Lemonnier in Djibouti, which are respectively assigned to the 81st and 82nd Expeditionary Rescue Squadron (ERQS) and the 303rd ERQS.
US Africa Command (AFRICOM) has said that no helicopters are permanently forward-deployed in Somalia, but that this would not preclude short-term operational movements.
Reports suggest that the US military has regularly deployed Pave Hawks to bases inside Somalia to support specific missions since about June 2017. Bases inside Somalia include Mogadishu, Kismayo and a Somali air base at Baledogle.
On June 8, the HH-60s were pre-positioned at a US forward operating base at Kismayo Airport. They were on scene within 20 minutes of receiving a distress call. The helicopters loaded four casualties and flew them to Kismayo.
On board the helicopters medical personnel stabilised three of the wounded, but the fourth, US Army Sergeant Alexander Conrad, a member of the 3rd Special Forces Group (Airborne), died of his injuries after the initial evacuation. He was the first American to die in combat in Africa since the Niger ambush.
The three wounded personnel and the sergeant's remains were then evacuated from Kismayo to Nairobi on board a C-130J Hercules from the 75th Expeditionary Airlift Squadron (also based at Camp Lemonnier). The decision to fly to Nairobi rather than Camp Lemonnier was a matter of time – the Kenyan capital lying about 400 miles west of Kismayo, while Djibouti was 800 miles north.
Medical staff from the US Embassy in Nairobi took charge of the casualties, who were temporarily transferred to a civilian hospital. On June 10 they were flown on to an undisclosed location for "additional medical evaluation" on board a US Air Force KC-135R tanker. Their destination may have been Camp Lemonnier, or perhaps the US Army Regional Medical Center at Landstuhl in Germany.
The Sikorsky HH-60G Pave Hawks used in the rescue are dedicated to the recovery of personnel under hostile conditions, including combat search and rescue.
They are fitted with an automatic flight control system, a forward-looking infrared system, a colour weather radar, a retractable in-flight refuelling probe, internal auxiliary fuel tanks, and 7.62mm miniguns or .50 calibre machine guns.
To improve air transportability and to allow shipboard operations, the HH-60G also has folding rotor blades.
The HH-60G is due to be replaced by the HH-60W '60 Whiskey', a combat rescue variant of the newer UH-60M.

Stay up to date
Subscribe to the free Times Aerospace newsletter and receive the latest content every week. We'll never share your email address.