First UAE spyplane breaks its cover
In addition to its openly acknowledged procurement of three Saab GlobalEye airborne early warning aircraft, based on Bombardier's Global 6000 platform, the UAE is also set to receive two further Global 6000s converted for electronic intelligence (ELINT) or signals intelligence (SIGINT) duties under a more secretive programme. Jon Lake reports.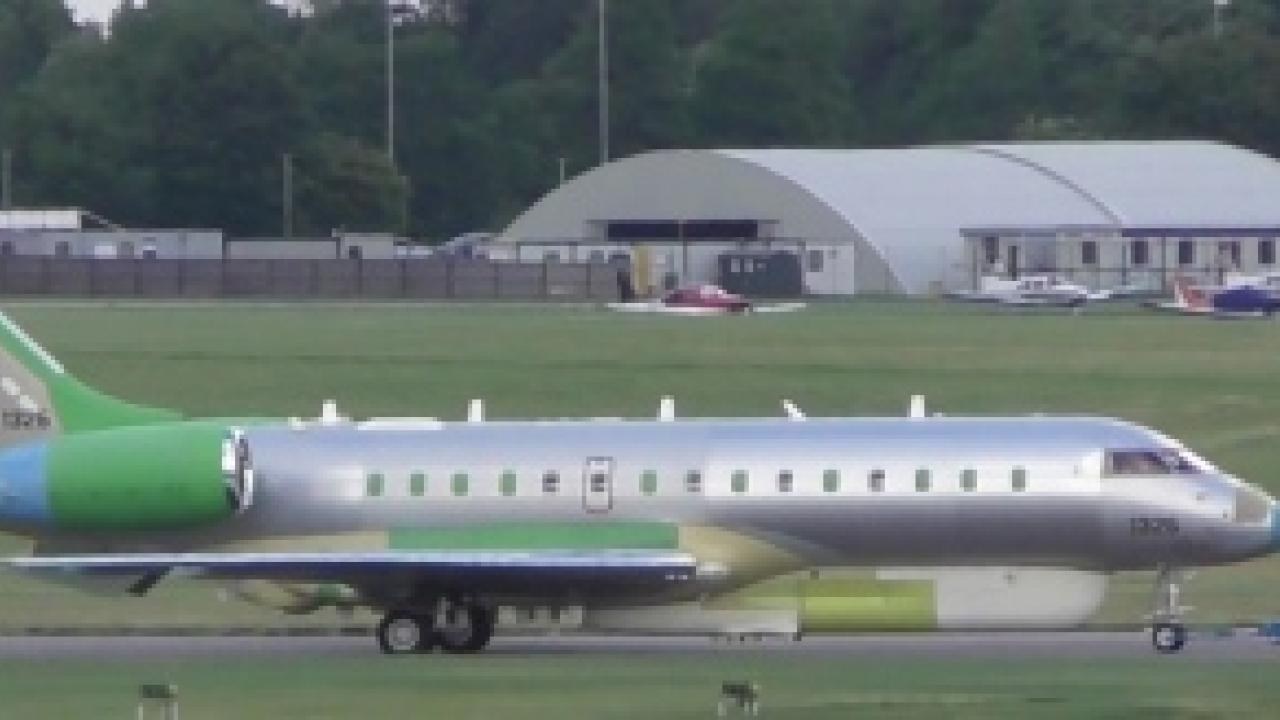 The first of the UAE's two shadowy spyplanes has been spotted and photographed undergoing pre-delivery testing at Marshall Aerospace's facility at Cambridge Teversham Airport in the UK.
The Global Express family forms the basis of a number of military special missions variants, including the Saab GlobalEye, the UK RAF's Raytheon Sentinel R1 radar surveillance aircraft, and the US Air Force's Northrop Grumman E-11A battlefield airborne communications node, (BACN), which allows disparate battlefield communications systems to share data, and allows fifth-generation fighters, like the F-22 and F-35, to share their sensor picture with older aircraft.
The UAE is understood to have helped fund development of the GlobalEye – also known as the swing-role surveillance system (SRSS). It carries a new S-band Erieye-ER airborne early warning (AEW) radar, which has its active electronically scanned array (AESA) carried in a 'ski-box' fairing above the fuselage, and an X-band Leonardo Selex Seaspray 7500E maritime search radar under the forward fuselage. The Erieye ER uses gallium nitride semiconductor technology to allow more power to be transmitted.
Saab is currently carrying out extensive modifications to a green Bombardier Global 6000 to convert it into the first of three SRSS GlobalEye's for the UAE.
When the UAE decided to procure a SIGINT aircraft, it made sense to base it on the Global 6000 in order to gain some commonality with the GlobalEye, especially as such an aircraft requires the same blend of endurance, long range and high altitude performance as an AEW platform. Surprisingly, though, the Emiratis did not turn to Saab, whose Sirius SIGINT system could be integrated on a variety of different platforms, including the Global 6000.
Details of the Emirati SIGINT programme remain sketchy. The two aircraft involved were delivered with Isle of Man registrations, and were registered to a Swiss-based company, AGT (Asia Global Technology) International, which was previously responsible for the UAE's Falcon Eye surveillance system and the Abu Dhabi safe city project.
The two aircraft were reportedly delivered to maintenance, repair and overhaul company Marshall Aerospace's facility at Teversham, where it is understood that work was carried out on them by Marshall and Spec Ops Technology – a US, Netherlands and UAE-based company that specialises in airborne intelligence, surveillance and reconnaissance (ISR) platforms.
The first aircraft, carrying the UAE serial 1326, emerged from Marshall Aerospace's hangars on April 27. It superficially resembled a Raytheon Sentinel, albeit without that type's prominent dorsal satcom hump, and with a host of minor differences.
The large ventral canoe fairing was very similar in shape and size, however, extending back from just behind the nose gear bay to the centre of the wingbox, leading some analysts to question whether it might be based on the flight-cleared shape and structure of the Sentinel canoe.
The fairing did not seem to have a large dielectric section, so appears unlikely to accommodate a surveillance radar, and would seem most likely to contain 'spinners' (tuning heads) for ELINT equipment. It may also have an electro optical/long-range oblique photographic (EO/LOROP) sensor.
A large antenna farm behind the wing, with about a dozen feelers, would seem likely to serve COMINT equipment, while there appears to be a number of antennas for missile and/or radar warning receivers.
Two ventral fins are fitted for stability, but these look smaller than those fitted to the Sentinel.
On top of the fuselage are an array of satcom antennas and a number of unidentified blade aerials. Extra cooling is provided by an additional non-standard intake on the port side of the rear fuselage, next to the engine.
The first aircraft carried out some rejected take-offs, taxi trials and high-power runs on June 4 before making a four-hour test flight on June 21. The aircraft made a second test flight on July 7.

Stay up to date
Subscribe to the free Times Aerospace newsletter and receive the latest content every week. We'll never share your email address.