Every picture tells a story: Photo reveals Saudi RE-3A revamp
One of a pair of Royal Saudi Air Force (RSAF) RE-3 signals intelligence (SIGINT) aircraft has recently been upgraded. Jon Lake discovers more.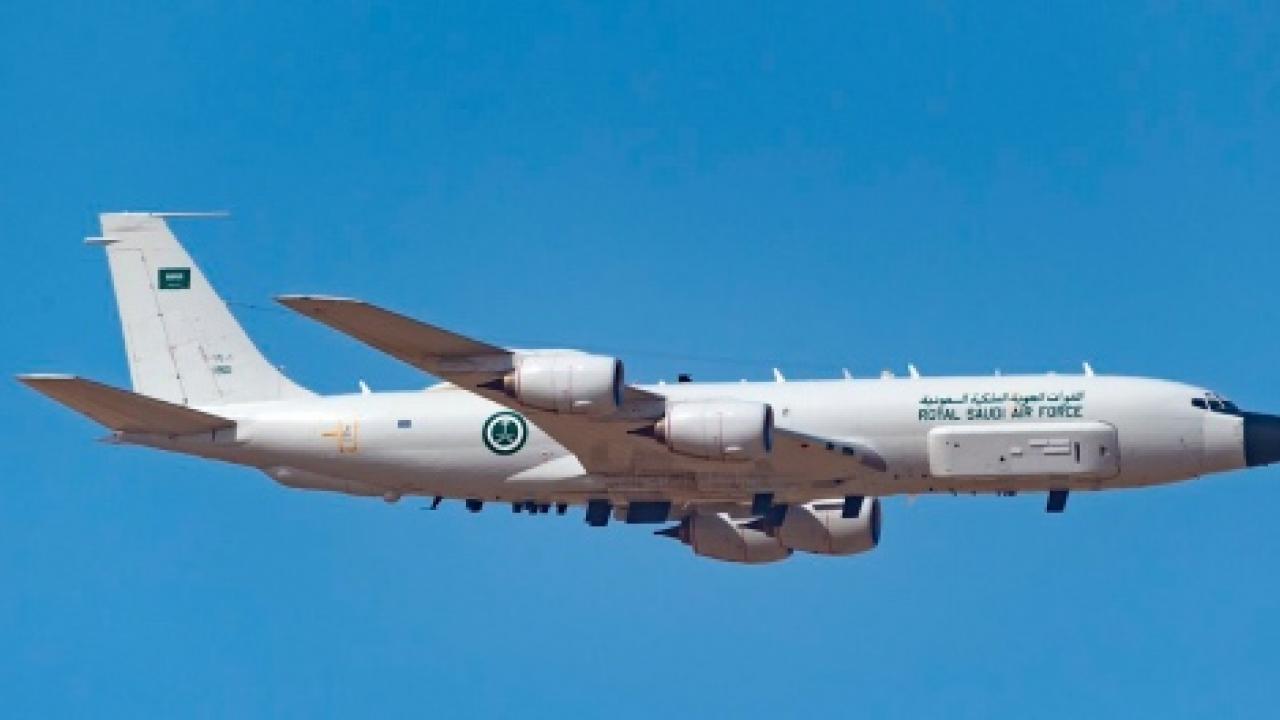 Photographs taken during a flypast marking the end of the multi-national Gulf Shield military exercise in April 2018 were pretty revealing.
They showed that the RSAF's RE-3A tactical airborne surveillance system (TASS) SIGINT platform now more closely resembles the current Baseline 11 standard RC-135V/W Rivet Joint, as flown by the US Air Force and British Royal Air Force.
The RSAF originally received eight Boeing KE-3A air-to-air refuelling tankers in 1986, augmenting five E-3A airborne warning and control system (AWACS) aircraft. All 13 aircraft were delivered as part of the Peace Sentinel programme.
In 1998, the penultimate Saudi tanker was delivered to Raytheon Intelligence, Information and Services (the former E-Systems) at Majors Field, Greenville, Texas, where it was converted to become an RE-3A SIGINT platform, equipped with the Raytheon TASS.
Subsequent to its conversion to RE-3A standards, the aircraft returned to the USA for maintenance and/or further upgrade during December 2001. It was finally re-delivered to the RSAF on January 9 2004.
The aircraft had distinctive 'cheek' fairings similar to those fitted to the RC-135, and had a ventral antenna farm similar to contemporary Block VI Rivet Joint aircraft, but lacked the extended 'hog nose' of most US RC-135 variants.
The antenna farm included a multi-element, multiple communications emitter location system (MUCELS) aerial array below the centre fuselage, with another multi-element blade aerial array below the rear fuselage. The aircraft also had a dorsal array that included at least seven blade antennas.
A second aircraft, a former Boeing E-6A/YE-8B trials jet, sold to E-Systems in 1996, was then resold to Saudi Arabia for conversion to a similar standard, albeit with an improved TASS (ITASS) systems architecture, as the sole RE-3B.
The design, development, integration and ground and flight-testing of a TASS on board an RSAF E-6 aircraft was the subject of a US Defense Security Co-operation Agency (DSCA) notification to Congress, announced on September 5 1996. The project was valued at $350 million and included the provision of an associated ground station, an initial spares holding, classroom and 'on-aircraft' training services and overseas system support.
Modification of the E-6A/YE-8B to RE-3B configuration was understood to have been undertaken by E-Systems/Raytheon Intelligence, Information and Services (which became the L3 Mission Integration Division when L3 acquired Raytheon Aircraft Integration Systems in 2002).
The configuration of the RE-3B remains unknown, as the only known photo of the aircraft did not clearly show the antenna arrays or forward fuselage. It does seem to have retained E-6 type wingtip pods, which included high frequency satcom and electronic surveillance measure (ESM) antennas on the E-6.
Some sources suggest that there may have been a third intelligence, surveillance, and reconnaissance (ISR) conversion, known as the KE-3B TASS. It is uncertain as to whether this aircraft ever existed, or whether it may have been the designation for an interim configuration of the RE-3A or RE-3B.
The conversions were managed on the RSAF's behalf by the US Air Force 645th Aeronautical Systems Group, better known as the Big Safari special projects office. Big Safari was also responsible for most USAF SIGINT and ISR programmes.
The RSAF RE-3A and RE-3B aircraft are assigned to the 19th Squadron at Prince Sultan Air Base at Al Kharj in central Saudi Arabia. They operate alongside a pair of King Air 350 surveillance platforms.
In August 2009, the US Government approved the sale of upgrades for the Saudi RE-3s, valued at $530 million. These focused on upgrading the aircraft's ability to transmit information reliably and securely to suitably equipped ground stations.
The systems installed included AN/ARC-230, AN/ARC-210(V) or AN/ARC-231 high frequency and very/ultra high frequency secure voice/data systems, multifunction information distribution system low-volume terminals, and various cryptographic systems, together with logistics, training and infrastructure packages.
The aircraft were also included in a communication and navigation surveillance/air traffic management (CNS/ATM) upgrade package that was applied to the RSAF's E-3s and KE-3s.
The more recent upgrade is believed to enhance interoperability with US Air Force and other coalition forces, while providing flexible options for future growth.
It is believed that the on-board sensor suite will allow the mission crew to detect, identify and geolocate signals throughout the electromagnetic spectrum up to 130 nautical miles (240km) away.

Stay up to date
Subscribe to the free Times Aerospace newsletter and receive the latest content every week. We'll never share your email address.